Events
Edit Bucket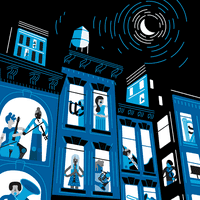 Friday, May 6, 2016
Fri, May 6 | WQXR presents the finalists of its first ever Moonlighters Competition in The Greene Space.
Tickets: $15
Edit Bucket

Friday, May 13, 2016
7:00 PM
Groundbreaking opera, theater, and festival director Peter Sellars joins Q2 Music host Helga Davis to share performances by select musicians from the 2016 Ojai Music Festival in California.
Royal Opera House HD Screenings at Symphony Space
Symphony Space and WQXR host an on-going series of high-definition screenings from London's Royal Opera House. The next screening is Donizetti's "Lucia di Lammermoor" at 3 pm on Sunday, May 22. Screenings and ticket information.

Wednesday, May 25, 2016
7:00 PM
The NY PHIL BIENNIAL comes to The Greene Space with a special edition of the Yale School of Music's illustrious new-music series, New Music New Haven. 

Wednesday, May 25, 2016 through Saturday, May 28, 2016
WQXR is a media partner of Classical:NEXT, a conference bringing the diverse scenes of classical music together, offering a forum to exchange and develop new ideas for classical and contemporary music. The next edition will take place in Rotterdam, The Netherlands, May 25-28, 2016.

Thursday, June 9, 2016 through Sunday, June 12, 2016
Q2 Music is a media partner for the 70th Ojai Music Festival.  
Founded in 1947 with an ear toward balancing the classics with more contemporary offerings, the Ojai Music Festival is now a showcase for progressive, experimental programming and adventurous music-making. The festival takes place in the verdant Ojai Valley of Ventura County and boasts a loyal audience eager for musical discovery. 

Tuesday, June 21, 2016
WQXR is a media partner of Make Music New York, a live, free musical celebration on June 21, the longest day of the year, with over 1,200 concerts on streets, sidewalks, and parks across the five boroughs.

Join us in The Greene Space at WNYC for live radio shows, concerts, visual arts, debates and much more. Now presenting "Answer Songs" with Rick Moody, Bullseye Presents: "Make Your Thing" with Jesse Thorn and John Hodgman, and The World Is Round: A Children's Audio Play.