Events
Edit Bucket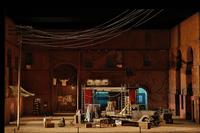 Monday, April 6, 2015
Mon, Apr. 6 | Hear favorite selections from the Metropolitan Opera's spring productions sung by current Met stars.
Seating is general admission.
Tickets: $40
Edit Bucket

Saturday, April 11, 2015
11:00 AM
Sat, Apr. 11| A Family Concert with Kaleidoscope, the Teaching Artist Ensemble of the New York Philharmonic. For children ages 8-12.
Royal Opera House HD Screenings at Symphony Space
Symphony Space and WQXR host an on-going series of high-definition screenings from London's Royal Opera House. The next screening is Kurt Weill and Bertolt Brecht's Rise and Fall of the City of Mahagonny at 3 pm on Sunday, May 3, 2015. Screenings and ticket information.

RadioLoveFest: WQXR Eine Kleine Trivia Nacht at BAM
On Wednesday, May 6, WQXR presents Eine Kleine Trivia Nacht, a quiz show hosted by singer, songwriter and bandleader Julian Fleisher. Comedians Ana Gasteyer and Dave Hill are paired with an expert from the classical music world, facing off in a battle of wits. Tickets.

RadioLoveFest: WQXR Beethoven Piano Sonata Marathon at BAM
On Saturday, May 9, find your Beethoven bliss in this 13.5-hour marathon event featuring live performances of all 32 of the composer's sonatas. Pianists include Timo Andres, Inon Barnatan, Alessio Bax, Michael Brown, Ran Dank, Adam Golka, Conor Hanick, Soyeon Kate Lee, Shai Wosner and more. Tickets.

Wednesday, May 13, 2015
7:00 PM
Wed, May 13 | Be the first to hear the upcoming release from the ensemble with a performance of the complete album live from The Greene Space at WQXR.

Join us in The Greene Space at WNYC for live radio shows, concerts, visual arts, debates and much more. Now presenting the 2015 Battle of the Boroughs, Soundcheck Live: Guster, Wendell Pierce and Jackie Alexander in Conversation and The Taiwanese Table: Cuisine and Identity.