Events
Edit Bucket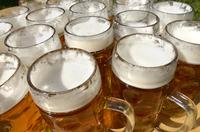 Thursday, February 25, 2016
Thurs, Feb 25 | WQXR returns with a Classical Beer Jam celebrating great New York composers during New York Beer week. 
Limited seating available on a first-come, first-served basis; Must be 21 and show ID
Tickets: $25
Edit Bucket

Friday, January 29, 2016 through Saturday, March 19, 2016
Q2 Music is a media partner of the Ecstatic Music Festival, bringing together alt-classical and popular music. January 29 to March 19, 2016.
Hailed as "the alt-classical world's main showcase" (The New York Times) and "a kind of heaven for show-goers in search of the ever-elusive, one-of-a-kind live music experience" (The Village Voice), Kaufman Music Center's Ecstatic Music Festival returns for its sixth year, bringing together composers and performers from different musical genres or scenes for collaborations leading to performances that are adventurous and utterly unique.
Royal Opera House HD Screenings at Symphony Space
Symphony Space and WQXR host an on-going series of high-definition screenings from London's Royal Opera House. The next screening is Verdi's "La Traviata" at 3 pm on Sunday, March 6. Screenings and ticket information.

Friday, March 11, 2016
7:00 PM
Fri, March 11 | Hear tomorrow's stars today! Join us as baritone Benjamin Dickerson and pianist Alden Gatt perform and talk about their competition experiences.

Friday, May 13, 2016
7:00 PM
Groundbreaking opera, theater, and festival director Peter Sellars joins Q2 Music host Helga Davis to share performances by select musicians from the 2016 Ojai Music Festival in California.

Wednesday, May 25, 2016
7:00 PM
The NY PHIL BIENNIAL comes to The Greene Space with a special edition of the Yale School of Music's illustrious new-music series, New Music New Haven. Tickets on sale soon.

Join us in The Greene Space at WNYC for live radio shows, concerts, visual arts, debates and much more. Now presenting "Answer Songs" with Rick Moody, Bullseye Presents: "Make Your Thing" with Jesse Thorn and John Hodgman, and The World Is Round: A Children's Audio Play.