New York Now
On-Demand Audio: Hotel Elefant's Politically-Charged Season Premiere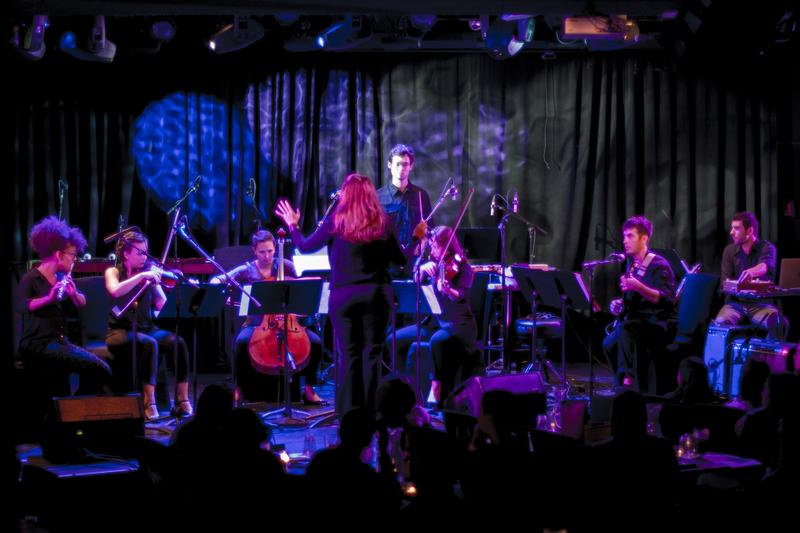 On September 14, the New York-based ensemble Hotel Elefant presented "speakOUT:" a program of politically and emotionally charged music ranging in subject from the televised suicide of a Pennsylvania senator to a child photographed during the Iraq war.
Anchoring the concert was the music of Iranian-born composer Sahba Aminikia, whose three pieces – She'tābān (In Haste), One Day, Tehran and Sooge Sohrab – provided a snapshots of tensions in modern Iran.
Matt Mark's This Will Hurt Someone set the final words of former Pennsylvania senator Robert Budd Dwyer – spoken just before he committed suicide in front of news reporters at a press conference – to a lilting, ukelele-driven pop song. Leaha Maria Villarreal's Piano Trio I was composed in memory of her late mother on the 25-year anniversary of her passing. The driving, repetitive rhythms of the string trio conjure both the intensity of a car crash and the racing heart of the composer in the aftermath of the tragedy.
The evening also featured two world premieres. Sewing Room Daguerreotype, by Hannis Brown (assistant producer for Q2 Music), is inspired by the black and white photographs of his ancestors that lined his grandmother's sewing room when he was a child. The music charts their imagined journeys from Eastern Europe to the United States. Mary Kouyoumdjian's Children of Conflict: Samar's Song is part of a series of pieces inspired by photographs of children who have lived in war-torn countries. Samar's Song is based on a portrait of a child in Iraq taken by the late Pulitzer Prize-winning photographer Chris Hondros.
Complete Program:
Audio for Sahba Aminikia's Sooge Sohrab is not available.
Engineers: Edward Haber (technical director and remix of Sewing Room Daguerreotype), Irene Trudel (music mix), George Wellington. Additional mastering was done by Curtis MacDonald.
Hotel Elefant is a flexible ensemble of more than twenty musicians founded by composers Leaha Maria Villarreal and Mary Kouyoumdjian. Past performances include Lincoln Center, Look and Listen Festival, and the Bang on a Can Marathon; collaborations with IKTUS Percussion and The Nouveau Classical Project; partnerships with Experiments in Opera, Ear Heart Music, and Opera on Tap; and a debut Carnegie Hall performance praised by The New York Times as "deeply felt."