1,000 Voices Unite for Premiere of 'The Public Domain'
Sunday, August 14, 2016 - 09:07 AM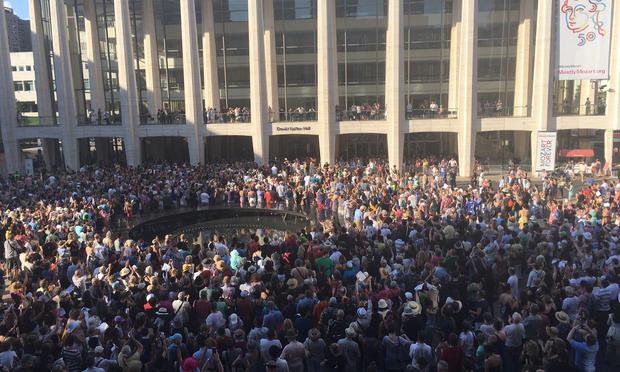 (Amanda Angel/WQXR)
When it presented its first summer festival 50 years ago, Lincoln Center proudly used its air conditioned hall as a selling point for music lovers wanting a repreive from the steamy New York weather. So it was somewhat ironic that the centerpiece of its 50th anniversary celebration, presented Saturday, would require thousands to stand in the blazing heat.
However, not even a heat index of well over 100 would stop the performance of David Lang's the public domain, a choral work for 1,000 voices. Commissioned for this semicentennial season, the work involved the participation of mostly amateur choristers from around the New York metropolitan area. They had been meeting for weeks to learn the music, words and Annie-B. Parson choreography. Extra bottles of water were brought in and a slow entrance onto the plaza was condensed from 40 minutes to less than 10 to minimize the singers' time in the heat. Nothing short of thunderstorms was going to stop these vocalists from receiving their Lincoln Center debuts.
David Lang wrote the public domain after completing a similar-sized choral work in Birmingham, England, called crowd out. Whereas the earlier piece examined the darker mob mentality side of humanity, the public domain delved into more uplifting aspects of shared experience. In fact, the composer developed the libretto by having Google autofill the phrase: "One thing that we all have is our ...". Only the positive and G-rated returns were included.
As the singers filtered into the Lincoln Center plaza, like an opening ceremonies of choruses (each of the five differently colored flags represented approximately 200 singers), conductor Simon Halsey, director of the London Symphony Chorus, stood on the rim of the iconic Lincoln Center fountain. The a cappella piece began with soft murmurs intoned erratically, leading to a slow progression of notes, which built into chords and then short motifs. The direction in both the score and choreography had the choristers slowly coming closer in sync, disparate movements and imprecise rhythms galvanized into a unified harmonic mass. Eventually the choristers all sang together, commanding full attention of the large audience along the plaza.
As the piece faded to its quiet conclusion. The group exploded in unison once more. To applaud its creators.
in case you were wondering what #ThePublicDomain @LincolnCenter looked like

pretty cool https://t.co/O32AJahvc0

— david lang (@davidlangmusic) August 14, 2016
Aerial view of premiere of @davidlangmusic's #thepublicdomain. 1,000 singers mixing with the audience. pic.twitter.com/2ePHEQme6J

— Lincoln Center (@LincolnCenter) August 13, 2016
More in:
The WQXR e-newsletter. Show highlights, links to music news, on-demand concerts, events from The Greene Space and more.