Calling All Marching Band Fanatics
November is "Woodwinds and Brass Month" on WQXR. This seems particularly appropriate given the fact that each November we welcome some of our nation's finest high school and college woodwind and brass players to the Big Apple to play in the annual Macy's Thanksgiving Day Parade. And, as if that isn't enough excitement for one topic, the American March King – composer John Philip Sousa – was born November 6, 1854!
So, let's talk about marching bands.
I never played in a marching band. But, I have lots of friends who did. And, it seems to me that they had a great time. Many of them have carried the experience into their adult lives and have found ways to continue playing as a hobby.
For instance, there's an ensemble in Dallas that I have performed with known as the Metropolitan Winds. It's an all-volunteer adult group that plays everything from classical transcriptions to contemporary wind band literature and traditional military band selections. Most of the musicians were in marching bands when they were younger, and I'm here to tell you that they play as well as or better than many professional groups.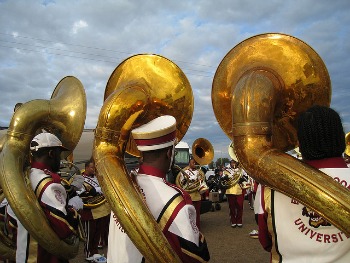 In this day and age when we spend a lot of time talking about the lack of music education in schools, let's not forget our marching band tradition. Talk about a constructive way to keep kids busy! They stay out of trouble and develop a skill that has the potential to give them lifelong pleasure at the same time!
I'm eager to hear what you have to say about this topic. Did you play in a marching band? Do you still play today? And, what makes being in a marching band so much fun anyway? And, finally... Are marching bands different than they were – say – 20 or 30 years ago?