Five Pieces that will Change Your Mind about the Bassoon
As the bassoonist in Imani Winds, the busy New York wind quintet, Monica Ellis acknowledges that her instrument will never overtake the violin or piano on the world's major concert stages. "The record labels aren't chomping at the bit to get solo bassoon works recorded," she admits.
But Ellis also believes that plenty of composers have tapped the expressive potential of the bassoon beyond the clichés of being the jovial clown of the orchestra who plays the grandfather in Prokofiev's musical fairy tale Peter and the Wolf.
"We do get to difficult things and it's not just this big, clumsy, cumbersome instrument," she said. "It has this three-and-a-half or four-octave range and the best pieces express themselves in all aspects of the instrument and not just play bass lines and low burpy stuff."
With that in mind, we asked Ellis for five pieces that show off the best aspects of the bassoon.
1. Saint-Saëns - Sonata for Bassoon and Piano
"We've got a whole trough of Vivaldi concertos and, of course, the Mozart Concerto but after that we don't really have a Brahms a Rachmaninoff solo piece," said Ellis. "Saint-Saëns knocked it out of the park with this early romantic three-movement piece. It allows for the instrument to shine in all the right places. It has all the money notes – the ones that are easy to sound good on."
2. Villa-Lobos - Ciranda das sete notas
The "Dance for Seven Notes" finds Heitor Villa-Lobos writing in his Brazilian-folk idiom and drawing some evocative colors from the bassoon in the process. The "seven notes" of the title are simply the notes of the C-major scale, and Villa-Lobos uses them as melody, ornamentation and bass line. "It's not a terribly complex piece but it's just one of the most beautiful pieces in the world," Ellis insists. "I like to think that the singing quality of the bassoon is out of this world. Obviously, I'm biased." Ellis recommends a recording of this piece by her teacher, the New York bassoonist Frank Morelli.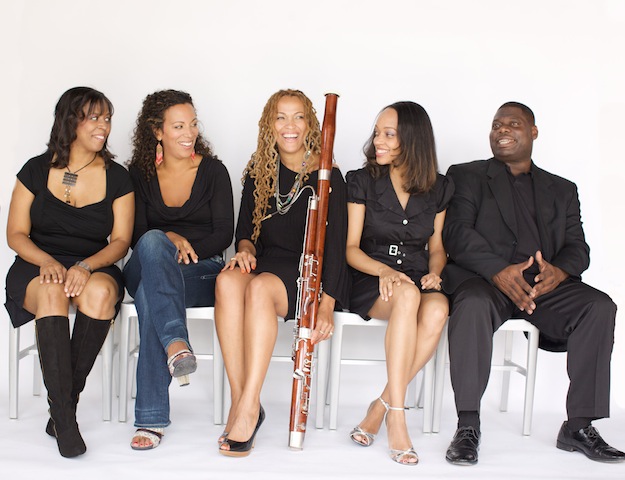 3. Paquito D'Rivera - Lauro for bassoon (Five Venezuelan Waltzes for Solo Bassoon)

The Cuban-born saxophonist, clarinetist and composer Paquito D'Rivera, who has written and arranged ensemble pieces for the Imani Winds, adapted five pieces by the legendary Venezuelan guitarist/composer Antonio Lauro for solo bassoon. "These pieces are so effective," said Ellis. "He's able to translate these traditional solo guitar pieces – and that same effect of having twenty fingers – for bassoon without it sounding awkward. I've enjoyed playing them."
4. Ludwig Milde - Fifty Concert Studies, Opus 26, for Bassoon
Ellis admits that the Concert Studies by Ludwig Milde weren't written for a mass audience: "They are straight-up etudes, not solo pieces per se. They call them concert studies. They progressively get harder. We use these pieces as ways to get at solo repertoire. We use them as a portal. One study will focus completely on the art of playing legato as smoothly as possible with a completely contrasting staccato section."
5. Jeff Scott - Elegy for Innocence for Bassoon and Piano
Jeff Scott is not only the French horn player in the Imani Winds, but also a busy New York arranger and composer. His works for Imani Winds include the African-inflected Titilayo and an arrangement of Piazzolla's Libertango. This piece captures the bassoon's lyric qualities. "This goes through a number of ideas," said Ellis. "It's very melodic-based and beautiful soaring lines."
Bonus track: Michael Daugherty – Dead Elvis

This coloful, hard-charging bassoon concerto calls for the soloist to dress like Elvis (think sequined white suit, big matching shades and spacious sideburns). Daugherty's music is undeniably clever, with references to "It's Now or Never" and a bossa-nova retooling of the Dies Irae. "It's not an easy piece at all," Ellis maintains, adding that she has yet to play it. "You can't just sit and play that piece. You have to look at it in the big picture of a show it's meant to me. But it's great. I appreciate it for what it is. The audience goes wild for it. One of these days I'm going to pull out the music and see if I want to tackle it."
What are your favorite pieces featuring the bassoon? Weigh in below in the Comments section.