I Was a Teenage Trombonist
Sounds like a horror movie, doesn't it? Well, for my family and friends, perhaps it was -- but this isn't their blog post, now, is it? So my trombone tale is very much a happy one, except for the beginning.
You see, I really wanted to play the flute. But my school band director – L. Dean Maxwell, where are you now? – was probably plugging a lower-brass-section hole he saw in the future of his ensemble when he recommended the instrument that would become mine. I do distinctly remember him grabbing my lower lip and saying, "You need a big upper lip to play the flute," and thus was the trombone thrust into my hands.
It didn't take long for me to appreciate the instrument – its gleaming brass beauty, its grand brash sound, and its slide – a unique quality among instruments. I played in concert band, in the pep band at ballgames, and in the marching band – the only possible way I would ever legitimately be seen on a football field.
The trombone has been around since sometime in the late 1400s. The English for a long time called it a sackbut, and that smaller, mellower version of the instrument is still played in some early music groups. The difference between the two is chiefly one of scale. Trombones have a bigger "bore" – that's the diameter of the coiled pipe that makes up the instrument. Because they have more pipe to fill, they need more "hot air" to play – and they make a significantly more powerful sound.
In the instrument's early years, trombones were used not to stand out but to supplement the sound of choral singers. They were supposed to be soft. But a bit later, composers realized the potential in the instrument, and wrote to bring out what I think is their best quality in an orchestra:  Muscle. Trumpets race and shimmer; horns blaze and shine; tubas stand firm with a wall of sound; but trombones... trombones get in your face. They are the sound of strength, and the sound of menace. If the symphony orchestra was a busy nightclub, the trombones would be the bouncers.
Mozart used the trombone to announce the Last Judgment in his Requiem ("Tuba mirum"). That's no ordinary trumpet; it's the sound that wakes the dead. And that growl that opens Sibelius's Finlandia?  Sure, the whole brass section is involved, but the real threat is coming from the trombones. Berlioz, Dvorak, Brahms, and Wagner also wrote wonderful parts for the trombone section. 
A famous trombone solo in Mahler's Symphony No. 3 is a good example of the instrument's no-nonsense nature, and the whole section teams up at the end of the passage. Listen to it below, in the 1961 New York Philharmonic/Leonard Bernstein performance.
On the other hand, can any orchestral instrument croon as well as a trombone? Exhibit A: Tommy Dorsey's theme song, "I'm Getting Sentimental Over You." No further evidence need be supplied. (You can see Tommy play a bit of it in this video, at a minute-and-a-half in. It's a short clip, but sweet.) 
For something in that line from the classical repertoire, hear the solo turn in Ravel's Bolero below, from a London Symphony/Michael Tilson Thomas performance. 
How trombonists play jazz will always be a mystery to me. The physical movements between notes on the trombone are bigger than the distance covered in closing the holes on a woodwind or pushing a valve on a trumpet or horn, so you can't play trombone notes rapid-fire as you can on other instruments. But somehow, jazz players do it. Check out this video of the great West Coast session trombonist Dick Nash, playing with his son Ted at the opening of Jazz at Lincoln Center in 2004. All those notes – and the right ones, too – out of nowhere.  It's just amazing.
Right here in New York is one of the greatest classical trombonists in the world: Joseph Alessi, Principal Trombone of the New York Philharmonic. He has commissioned and premiered new trombone compositions, is a well-known clinician around the globe, and has led a trombone choir at Juilliard. Below you can hear the 12-member choir of 2009 playing Vaclav Nehlybel's Tower Music for Eight Trombones at a concert in the Chapel at West Point.  It's an unusual, exciting sound.
My trombone playing didn't continue much past high school, but – as so many listeners who responded to Midge Woolsey's blog post empathized – my band days were a fantastic experience. Thanks to good ol' L. Dean Maxwell and a supportive school administration, I played the trombone in Europe:  My high school concert band went on a three-week tour of the continent in the summer of my sophomore year. Our marching band even played a halftime show at a Denver Broncos game, which was very memorable, but not for entirely positive reasons; in fact, I endured a brass player's nightmare that cold December afternoon.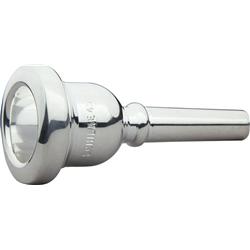 During the game's first half, the air temperature dropped to below freezing -- dangerous conditions for brass players, because your instrument freezes. You have to keep the mouthpiece (pictured, right) warm, either in your pocket or by carefully blowing air through it, because if you touch a frozen metal mouthpiece with wet skin – say, just as an example, your lips – unless that metal is warmed to above freezing, the skin will stay on that mouthpiece when you take your lips away. 
Well, try as I might, between staying in formation and carrying the horn in the proper position, I couldn't keep the metal warm enough in that freezing air. I didn't really feel the pain until after we were finished, and I noticed the water from the spit valve was running red. My frozen mouthpiece claimed some skin that day.
But that's the only time my trombone caused me any serious pain. Even though I was never a great player, I had great experiences thanks to that instrument, and I thrill to the trombone's sound today. And I don't regret one bit not getting to the play the flute. Oh, by the way, flutists -- is there any truth to that upper-lip thing?