Beethoven at 240
Saturday, December 18, 2010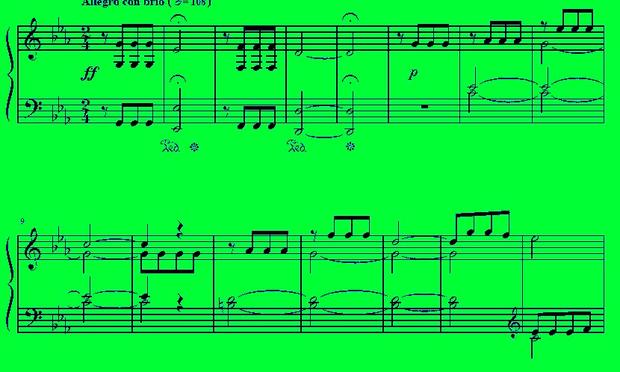 Long before movements like minimalism, rap, or punk — which do a lot with a little — there was Beethoven, the preeminent master of musical efficiency. This week, All Ears celebrates LvB's ability to create large-scale works from a few modest musical ideas. Peering though this lens, Terrance includes Steve Reich's Proverb and Duke Ellington's C Jam Blues, both longer pieces that get serious musical mileage from small musical cells.
In the midst of revolutionizing the western music canon (while going deaf), LvB also brought the scherzo form into prominence in the 1790's, eventually replacing the minuet. To honor this contribution, Terrance scherzos his way through Brahms, Ives, Stravinsky, and Moravec.
Playlist:
Piano Sonata No. 15 in D Op 28 "Pastoral",  Andante
Ludwig van Beethoven
Vox Classics

Pizz Hocket
Mary Ellen Childs
Cornelius Dufallo,violin
Ralph Farris, viola
Dorothy Lawson, cello
Mary Rowell, violin
Innova

String Sextet No. 2 in G, Op. 36: II. Scherzo (Allegretto)
Johannes Brahms
Alban Berg Quartet
Angel/EMI

Piano Sonata No. 29 in B-flat, Op. 106, "Hammerklavier": II. Scherzo - Assai Vivace
Ludwig van Beethoven
Angel/EMI

Xiao Yue Er Gao ("High Little Moon")
Chinese Traditional
Wu Man, pipa
Smithsonian Folkways

Scherzo
Paul Moravec
Trio Solisti
Naxos

25 Irish Songs, WoO 152, No. 3: Once More I Hail Thee
Ludwig van Beethoven
Christopher Maltman, baritone
Malcom Martineau, piano
Marieke Blankestijn, violin
Ursula Smith, cello

F-A-E Sonata: Scherzo in C Minor
Johannes Brahms
Vanessa-Mae, violin
Pamela Nicholson, piano
Angel/EMI

Proverb
Steve Reich
Paul Hillier, conductor
Steve Reich Ensemble
Nonesuch

C Jam Blues
Edward K. (Duke) Ellington
Mulgrew Miller, piano
Niels-Henning Ørsted Pedersen, bass
Bang & Olufsen

Road Movies
John Adams
Jennifer Koh, violin
Reiko Uchida, piano
Cedille

Scherzo: Holding Your Own
Charles Ives
Kronos Quartet
Nonesuch

Scherzo "a la Russe"
Igor Stravinsky
Berlin Philharmonic Orchestra
Bernard Haitink, conductor
Philips

Scherzo
Coleridge-Taylor Perkinson
William Chapman Nyaho, piano
MSR

Symphony No. 9 "Choral": Scherzo
Ludwig van Beethoven
London Symphony Orchestra
Bernard Haitink, conductor
LSO Live

Andante for Piano ('Andante Favori') in F, WOO 57
Ludwig van Beethoven
Claudio Arrau, piano
Philips
The WQXR e-newsletter. Show highlights, links to music news, on-demand concerts, events from The Greene Space and more.