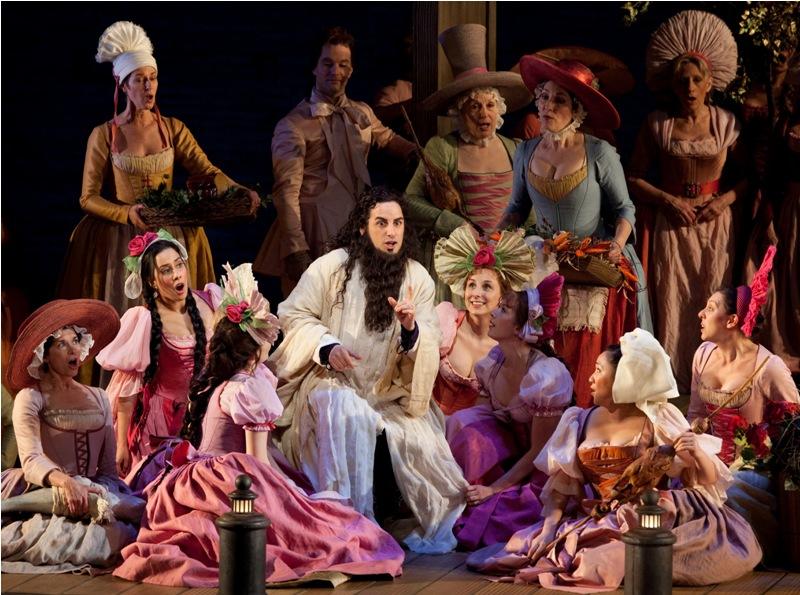 Subterfuge, innuendo and a good deal of bawdy fun usher Le Comte Ory onto the Met stage for the first time ever in a production by Bartlett Sher. The opera stars tenor Juan Diego Flórez as the oft-disguised Ory, soprano Diana Damrau as countess Adèle, and mezzo-soprano Joyce DiDonato as Isolier, Ory's page.
The action hinges on the sometimes menacing, often antic-prone amorous tension between the three, as the Count finds himself left alone in a town full of women abandoned by their Crusade-fighting men. New York Times critic Anthony Tommasini described the final scene between the three stars as a "vocally haunting, physically uninhibited performance."
Sher chose to stage Le Comte Ory as an opera within an opera, not a theme found within Rossini's original score but not far-fetched, as the opera was actually forged from two different works: Rossini's earlier Il Viaggio a Reims (1825), and a short play by Eugène Scribe and Charles-Gaspard Delestre-Poirson.
Le Comte Ory had its premiere at the Paris Opera on August 20, 1828. The opera has largely been excluded from America's opera repertory, but has had flashes of success elsewhere, including a popular revival at the Glyndebourne Festival in 1954 and again at the German State Opera in 1957.
Gioachino Antonio Rossini began writing opera when he was only 14 years old and by his early twenties was firing off several completed opera scores each year. La Pietra del Paragone, considered his first substantial success, had its premiere at La Scala in 1812 and was staged an astonishing 50 times in its first season. In 1822, Rossini traveled to Vienna and later Paris, where Charles X feted the by-then widely celebrated composer, giving him a 10-year contract coupled with promise of a generous pension for life.
Rossini wrote William Tell under that contract, the only opera he would finish before Charles X was forced to abdicate in 1830. Although only 37 years old, Rossini would not write another opera in his life. The composer turned instead to sacred music, songs, instrumental pieces and piano works. Yet at the height of his opera powers, Rossini completed an average of two complete scores per year for 19 years, finishing a total of 38 operas in his life.
While Rossini has been derided for churning out opera that sometimes reveals recycled work and themes, he is credited with revolutionizing the very way opera was written. Rossini specified ornaments and cadenzas, rather than allowing singers to improvise. His use of strings to accompany recitatives was considered a pioneering step away from the traditional piano or harpsichord. And he introduced what came to be known as the Rossini crescendo, a short, repeated phrase that remains unchanged but for its increase in volume.
Cast and credits:
Conductor: Maurizio Benini
Countess Adèle: Diana Damrau
Isolier: Joyce DiDonato
Ragonde: Susanne Resmark
Count Ory: Juan Diego Flórez
Raimbaud: Stéphane Degout
The Tutor: Michele Pertusi
Production: Bartlett Sher