WQXR Classical Comedy Contest
The competition was stiff, musical, and hilarious at Carolines on Broadway, when nine musical acts went for broke in the WQXR Classical Comedy contest on November 8th. The WQXR Classical Comedy Contest is a partnership between the legendary comedy club and the nation's most listened-to classical radio station. The competitors – including a violinist/stand-up comic who plays with the Toronto Symphony and two percussionists who met at Ringling Bros. and Barnum & Bailey Clown College – were chosen from 79 hopefuls from around the world. The winner, Igor Lipinsky, was selected by a world-class line-up of judges from the worlds of comedy and music. The contest was presented as part of the New York Comedy Festival.
The hour-long show, edited for TV, will air at midnight Dec. 8 (into Dec. 9) and at 5:30 p.m. Dec. 10 on WLIW21, and at 10:30 p.m. Dec. 9 on Thirteen WNET.
Watch the entire TV special from WNET: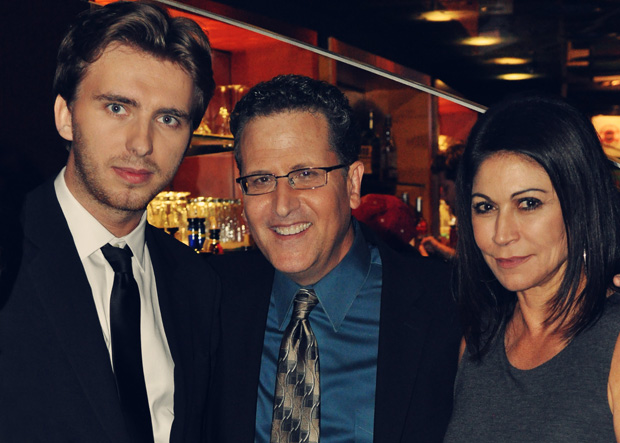 Winner Igor Lipinsky, Elliott Forrest, Caroline Hirsch
WQXR Classical Comedy Contest finalists:
Magnus Martensson – pianist/comedian
Jim Wallenberg – stand-up violinist
David Cope – stand-up harpist
Igor Lipinski – pianist and magician (WINNER!)
Gabor Vosteen – visual comedian/recorder player
Steve Russell and Kobi Shaw – cranial percussionists
Sarah Worthington and Nathan Carver – singer and musical saw
Elizabeth Tryon & Mark Janas – Opera singer with Rogue Accompanist
About the WQXR Classical Comedy Contest
There is a long and grand tradition of mixing classical music and comedy. Did you know SNL's Ana Gasteyer is a trained violinist? That Jamie Foxx is a classical pianist? From Victor Borge's musical punctuation; Peter Schickele's 'discovery' of the music of PDQ Bach; Danny Kaye conducting orchestras; Jack Benny and his violin to Bugs Bunny and Elmer Fudd singing opera, classical music and comedy have often been intertwined.
Finalists performed at Carolines on Broadway on November 8th, 2011 as part of the New York Comedy Festival. Celebrity judges included Peter Schickele of PDQ Bach fame, comedian Robert Klein, IMG's Charles Hamlen and opera star Deborah Voigt.
Watch this video for a preview of some of our finalists!