Top Five Loudest Compositions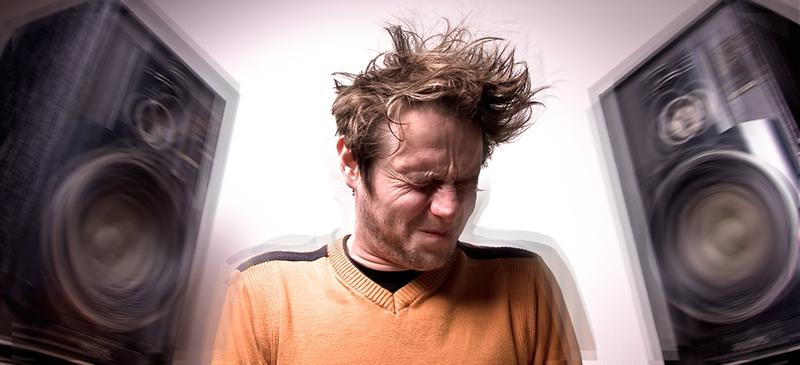 Fortissimo just isn't enough for some people. To show just how ear-shatteringly bombastic some composers want their music played, they have been known to double, triple and even quadruple those fortes (And we thought fff meant as loud as you can possibly play).
The decibel-climbing results have been captured in albums, such as the appropriately titled Fortissimo and Thunder and Lightning. How do these deafening instructions sound? We've selected our favorites for the top five loudest classical music compositions.
1. Tchaikovsky's 1812 Overture
Tchaikovsky's 1812 Overture has a place on both of the bombastic CD anthologies, and who can argue with a work that uses artillery in its percussion section. Tchaikovsky used a wide range of dynamics in his works from a pianissississississimo in the "Pathetique" symphony to the quadruple fortes at the end of the 1812, perhaps one reason why it's a favorite selection for outdoor concerts.
2. Ligeti's The Devil's Staircase
György Ligeti audaciously doubled the number of fortes Tchaikovsky wrote into the 1812, when he used eight in his Étude No. 13, The Devil's Staircase. This aural exclamation point seems to be the classical equivalent of Spinal Tap's amps marked up to 11—an absurdity that most likely delighted Ligeti. That doesn't make playing the piece any easier for nimble fingered pianists, such as Jeremy Denk, who blogged about learning it last fall. Luckily, he didn't come to a grizzly end trying to bang out Ligeti's notes.
3. Mahler's Symphony No. 8
When you have a work nicknamed "Symphony of a Thousand," you're likely to encounter an earsplitting moment or two. That's the case in Gustav Mahler's Symphony No. 8, which actually premiered with 1,030 musicians, including the composer who conducted. "Try to imagine the whole universe beginning to ring and resound," Mahler wrote of the piece.
4. Holst's The Planets "Mars, The Bringer of War"
Gustav Holst is another composer who pushes his music beyond the normal dynamic limits. In the "Mars" movement from The Planets, the music fluctuates from pianissimo to ffff as "The Bringer of War" vacillates from being peaceful to waging battle. To illustrate Mars' fury, Holst gives the god of war (and the entire horn section) the occasion to let out their amplified rage.
5. Rouse's Requiem
American Pulitzer Prize-winning composer Christopher Rouse doesn't shy away from loud dynamics. In a 2007 review of the composer's Requiem, the L.A. Times critic Mark Swed wrote, "The result can be a joyous racket, a terrible racket or, as it is in the Requiem, a combination of both." New York Magazine's Justin Davidson, wrote Rouse "means what he screams," which is proudly blurbed on Rouse's web site. It's a fitting comment for a composer, who acknowledges Led Zeppelin as an influence and has adopted the motto, "Anything worth doing is worth doing to excess."  
What is your favorite loud piece? Do you relish a speaker-blowing fortissimo? Leave a comment below: