It seems strange to introduce myself as your blogger in Rome, seeing as how I'm currently in CDG airport in Paris. But I'm on my way back to Rome now, where I've been living for the past two months as a Rome Prize Fellow at the American Academy in Rome.
So many of my colleagues have come before me there, notably David Lang (it's great to hear your news, David!), Elliott Carter, Samuel Barber, and so many of my peers whose work I first encountered when I was Artistic Director of the MATA Festival--Erin Gee, Yotam Haber, Keeril Makan, the list goes on.
I'll be living at the Academy, with my fellow Music Fellow Don Byron and 27 other fellows in various scholarly and artistic fields, until the beginning of August, and I am delighted to have this opportunity to check in with you all frequently, via Q2. In the last two months, I've taken intensive Italian lessons, visited ancient Roman sites off-limits to the public, spent a long weekend in Venice (the dying city) and enjoyed the 11 amazing meals a week prepared for us by the Rome Sustainable Food Project--our resident chefs from Chez Panisse in Berkeley, CA.
I also hit the ground running with my work, composing the first section of my Rome Prize project piece, a flexible-length, modular piece for the Brooklyn Rider string quartet and myself as vocalist, inspired by French theorist Roland Barthes's encyclopedic meditation on romantic love, A Lover's Discourse. This piece is co-commissioned by Market Square Concerts in Harrisburg, PA and Music on Main in Vancouver, and it will enjoy performances in all three cities--Harrisburg, Rome and Vancouver--in the coming year.
My first month here was spent composing the first section so that we could give the audience at the New Yorker Festival a sneak peak at the piece for Alex Ross's panel discussion, Radical Opera. I was one of four panelists there--my cohorts were director Peter Sellars, singer-songwriter Rufus Wainwright and fellow composer Nico Muhly. It was a lively discussion, both onstage and off, and I'm enjoying staying in touch with them all. For me, the most tangible thing that evolved during that encounter was a great feeling of camaraderie among those of us who are making new work that is concerned with the bringing-together of voice, music and dramatic situation. Work on the piece continues, back across the Atlantic, and I look forward to keeping you updated.
Meanwhile, the explanation for my brief transplantation to France: yesterday, I sang with the Philip Glass Ensemble in a full performance of Music in 12 Parts in Rouen. It was perhaps the tenth time I've performed the full, 5-hour piece, over the course of the last 17+ years that I have been the vocalist with the Ensemble. It's always a ritual, preparing for this piece. I take several days to rest, wind down and prepare, and it takes several to recover, too. It is one of the great pleasures of my performing life, singing this piece. One of the most intimate experiences I've ever had onstage, actually. Here's a photo from our sound check yesterday.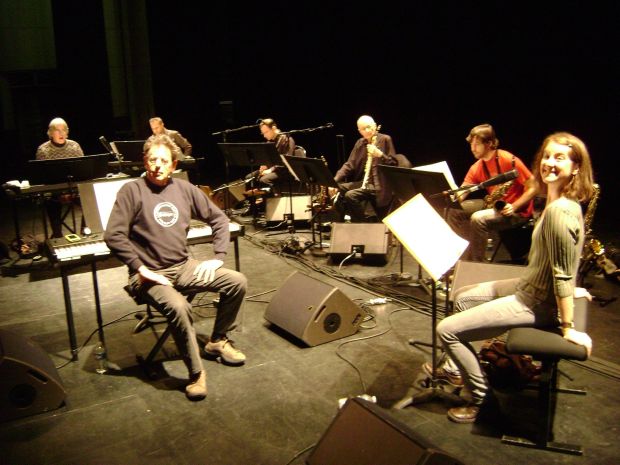 Now I'm boarding--if my flight's on time I'll make it back for yet another memorable lunch!