This 11-Year-Old British Boy is Set to Make his Conducting Debut (Video)
Thursday, March 16, 2017 - 02:08 PM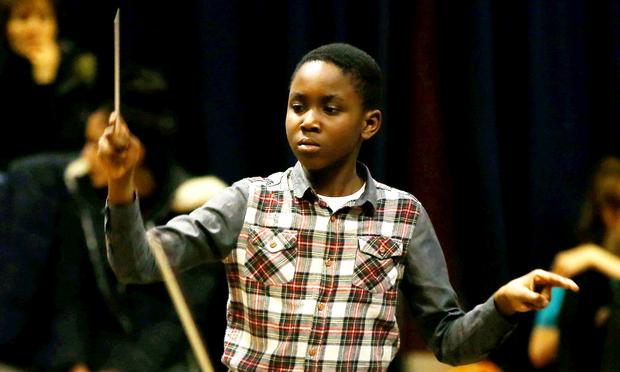 (Nottingham Post / SWNS.com)
While his fellow 11-year-olds are playing video games or daring one another to eat stomach-churning food combinations, Nottingham elementary school student Matthew Smith is dreaming of conducting his own orchestra.
On second thought, "dreaming" is a bit too passive a word and takes away from the steps that he's taking towards reaching his goal. He already plays five musical instruments — violin, viola, piano, drums and guitar — but was inspired to take up conducting after seeing a video of an Uzbekistani boy leading a performance of Johann Strauss II's Die Fledermaus. Smith fell in love with the music, and four years later he can conduct it from memory. Next month, he's putting that skill to the test; Smith is scheduled to head a concert performance of the work, with the 75-piece Nottingham Symphony Orchestra under his baton. And if conducting doesn't work out, no worries — Smith's backup is to become an engineer. You've got to admire those priorities.
Derek Williams, Smith's teacher and the Orchestra conductor, says the boy "is doing some good things and has a ways to go yet…but the orchestra is very supportive of what he's trying to do." At age 11, Smith's debut will spark conversations surrounding the question of the world's youngest conductor. The discussion was previously on the tip of tongues after a 14-year old José Ángel Salazar conducted the Venezuelan Youth Orchestra in 2012.
Johann Strauss might be Smith's first love, but we wonder if he's read a different Strauss' golden tips for young conductors. 
Check out this exclusive feature from the UK's Sky News, for comments from Williams and Smith himself.
British tabloid Daily Mail also received footage from one of the Orchestra's rehearsals, with the young maestro conducting. Take a look:
More in:
James Bennett II is a staff writer for WQXR.
The WQXR e-newsletter. Show highlights, links to music news, on-demand concerts, events from The Greene Space and more.