Julia Fischer Plays Mozart Violin Concertos
Imagine a world-class soloist who, after performing Saint-Saens's Violin Concerto No. 3, puts down the violin and returns after intermission to play Grieg's Piano Concerto. That's exactly what Julia Fischer did two years ago with the Junge Deutsche Philharmonie in Frankfurt, Germany.
Fischer, while known primarily as an accomplished violinist with a busy international career, has also played the piano since childhood, and in this program, the then-24-year-old saw no reason not to show off both skills (Decca recently released a DVD of the concert). Her achievement puts her in select company, with Mozart being the prime example of a virtuoso pianist who could also play a mean fiddle (in his case, the keyboard became his main calling card on stage).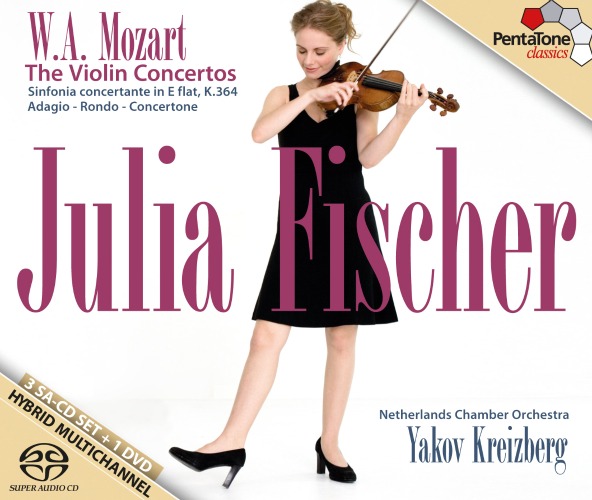 It's no surprise then that Fischer has a particular affinity for Mozart's music, as our Album of the Week highlights. This 3-CD set gathers her previously released performance of Mozart's concertos, along with her recording of the Sinfonia concertante for Violin, Viola and Orchestra in E flat, K.364, and a bonus DVD featuring video from Fischer's recording sessions.
While fairly popular, Mozart's Violin Concertos are hardly among the composer's most profound masterpieces. Nevertheless, the music shows a player's understanding of the instrument and its technique as well as a youthful elegance and energy. These qualities are brought to life through Fischer's light and lean sound, her poised phrasing, and her quick but subtly deployed vibrato. The vivacious outer movements of the Concertos Nos. 3 and 4 particularly show a sensitivity to nuance and detail and Fischer's own cadenzas in certain movements only add to the music's sparkle and wit. Conductor Yakov Kreizberg draws superb playing from the Dutch ensemble.
Watch these two videos and tell us: how does Fischer the pianist measure up to Fischer the violinist?
Grieg Piano Concerto:
Mozart's Violin Concerto in D Major KV 218
Mozart Violin Concertos
Julia Fischer, violin
Yakov Kreizberg, conductor
Netherlands Chamber Orchestra
Pentatone