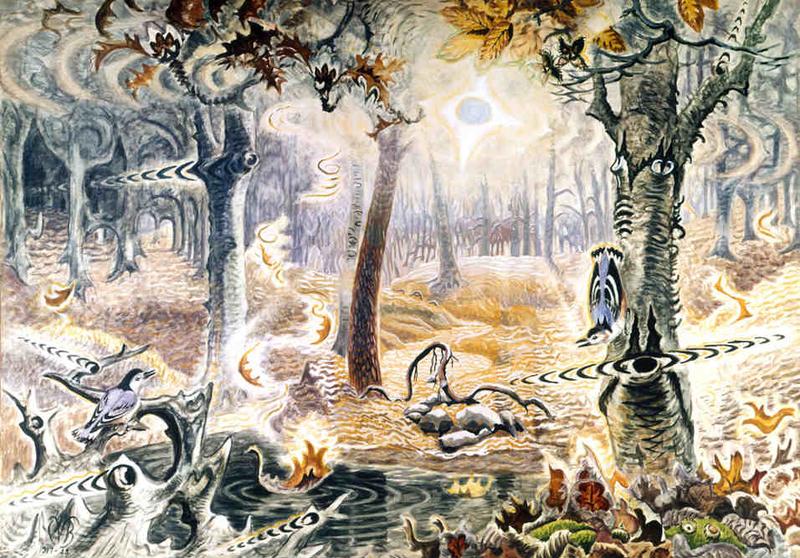 Although I work in the non-visual medium of radio, by training I'm a visual artist. I graduated from art school, and worked for ten years as a graphic designer and illustrator before moving to radio via my lifelong love of music. I think that radio actually is a visual medium, it's just that the associated images are conjured in the imagination of the listener, rather than on paper or on canvas.
Music and visual art have a long history of inspiring one another, and the classical music field contains many examples of this, such as Respighi's Botticelli Triptych and Morton Gould's Burchfield Gallery.
And speaking of the painter Charles Burchfield, I was astonished and thrilled by The Whitney Museum's current exhibit of his work. I'd been only vaguely aware of Burchfield before, but now I'm fascinated by his paintings in which sound seems to play as important a role as color, texture, or the shapes of nature. There are visual gestures in his painting that apparently represent the sounds of bells, electricity, and insects. Burchfield's work is described as "mystical realism" in The New Yorker, and certainly celebrates the magic of perception.
Another exhibit at The Whitney that combines music and visuals is the remarkable work of artist and musician Christian Marclay. Christian is actually an old friend of mine, and it's great to see him receive this kind of well-deserved recognition. His sculptures, films, collages, and other visual projects are always about music in one ingenious way or another. Some are almost like visual scores that prompt the viewer to hear music in their imagination.
These exhibits get my highest recommendation, and I hope you have the chance to experience them in person.
On Movies on the Radio this week (Saturday, 9 p.m.), I'm presenting music from films about painters. There's a surprising number of such scores, and it's fun to hear composers evoke the spirit of the art. The show includes Miklos Rozsa's music for Lust for Life (Van Gogh and Gaugin), Jeff Beals' for Pollock (Jackson Pollock), and Elliot Goldenthal's for Frida (Frida Kahlo).
What's your favorite example of visually-inspired music or musically-inspired visual? Have you seen either of the exhibits at The Whitney? If so, what did you think?