Brad Mehldau, that is. The music of the jazz pianist/Carnegie Hall-commissioned composer entered my ipod world through his interpretation of Radiohead's Exit Music. I was immediately struck by how lyrical and intricate his sound was and have been a fan ever since. When I heard Mehldau was presenting a solo piano recital on January 26 at Zankel hall of his own works, interspersed with repertoire by Bach, Brahms, Faure and pop and jazz transcriptions, I wondered, what was he going to do with "those" guys?
But Mehldau is hardly the first jazz pianist who has crossed over to the classical side. Scott Joplin's first piano teacher was a German-Jewish music professor who taught Joplin classical music and opera. Some even speculate that Joplin's ragtime tunes were influenced by polka rhythm which he learned to play with his German teacher. Fast forward almost half a century later, Herbie Hancock performed a Mozart piano concerto with the Chicago Symphony at the age of eleven. Keith Jarrett comes to mind as another notable classically-influenced jazz pianist. The young Jarrett gave his first formal piano recital at the age of seven, playing works by Mozart, Bach and Beethoven. He has since then recorded several albums of strictly classical repertoire and composed in the classical style.
With my own classical piano background, I was both curious and a little anxious to see how and why my favorite jazz pianist was going to approach Bach and Brahms. Would his classical playing be convincing? I held my breath. At the beginning of the concert, Mehldau asked the audience to listen with three words in mind: interpreter, improviser and composer. He paired each of the five Brahms short pieces (from Op. 76 and 79) and two of Bach's Prelude and Fugue (from the Well-Tempered Clavier, Book I) with his own compositions. After each pair, he briefly explained to us some of the specific elements that inspired his own improvisation: harmonic components, rhythmic motifs, and voicing of the melodies.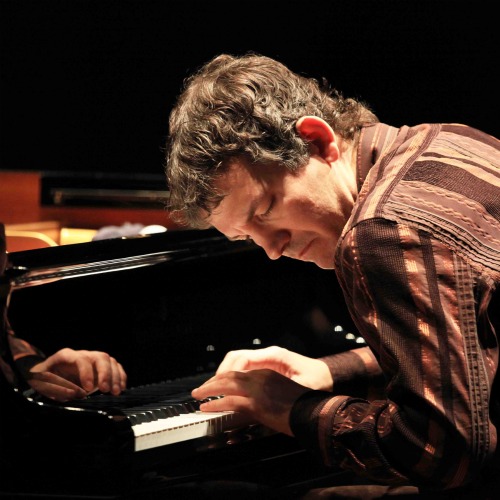 Meldau played Brahms with a sensitive touch, fluid motions, and a beautiful tone; his Bach was contemplative and had very clear voicing. His own compositions that immediately followed shared the same keys, tempos and moods, sometimes even borrowed specific melodic fragments from Bach and Brahms. Furthermore, Mehldau's own music possesses a thick, chordal texture that is signature of the Brahmsian style. I could clearly hear the contrapuntal voices in his improvisation inspired by Bach.
Improvisation used to be a big part of the Western classical tradition. Somewhere along the way it got lost. But isn't this what Bach, Mozart and Chopin used to do? They'd take a melody they liked, improvise on it and one of those improvisations happened to be written down. Improvising on a melody is, in many ways, interpreting the melody. Today, jazz improvisers and classical performers are world apart. That night I saw those two worlds overlap. Mehldau performed the Bach and Brahms exactly as they are on printed pages, and then he showed us how he understood it through his own improvisation.
Mehldau finished the evening with "My Favorite Things" and Jeff Buckley's "Dream Brother." But my favorite things of the evening were the graceful ways he played the C-sharp minor fugue by Bach and then seamlessly slid into his own cerebral improvisation; or his rather indulgent Brahms followed by a very poignant song of his own. Through his interpretation and improvisation I now hear Bach and Brahms in a completely new way I have never thought of before. It reminded me the first time someone showed me how well wine and dark chocolate taste together—the wine is finely aged and smooth, the chocolate is rich, indulgent and not too sweet. The flavor of the former influences and lingers in the latter. Hearing a "non-classical" piece gave me an extra layer of appreciation of music I already knew.
Weigh in: Is there room for improvisation in the world of classical music?