Musicians Without Borders
American artists, writers, and musicians have been crossing the Atlantic for centuries now to find inspiration and international camaraderie. Since the moment I stepped off the plane, I was aware that I am in a city whose architectural and artistic treasures would be a lasting and life-changing source of inspiration for me.
In the first couple of months, learning about my fellow Fellows and their work sparked meaningful cross-disciplinary friendships and even potentially some new collaborations (more on that to come…). But in the past weeks I have also been inspired by the cross-national exchanges that more long-term expatriate life can provide.
Last week, as part of an institutional collaborative effort involving the American Academy, the Académie de France à Rome, the Luigi Nono Foundation and Archive, and the main arts venue here (the Lincoln Center of Rome) the Auditorium, I gave a performance at the historic Villa Medici (the home of the French Academy) of Luigi Nono's La Fabbrica Illuminata, for soprano and quadraphonic tape, an explicitly outspoken Communist work written in 1964, utilizing voices and noises from the Italsider steel plant in Genoa-Cornigliano, and dedicated to its abused workers. The piece required extended emotional intensity, along with a wide range of vocal timbres and techniques. It was a particular honor to perform it in the presence of Luigi Nono's widow, who is, as you might guess from the name, also Arnold's daughter. Here we are together, after the performance: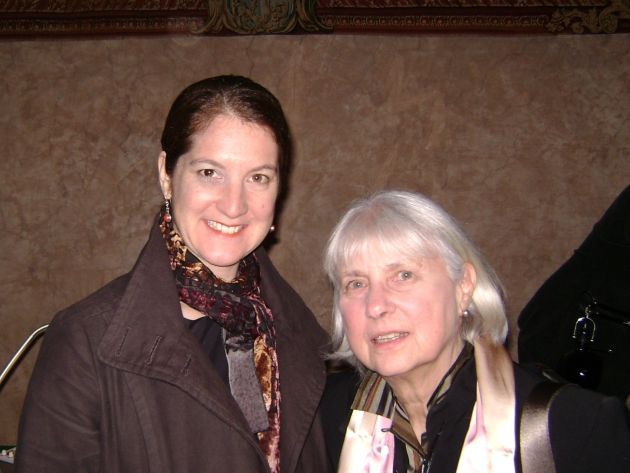 The concert was part of two other larger entities, a four-day Festival of Contemporary Music hosted by the Académie de France and a weekend of activities at the American Academy celebrating Luigi Nono and Elliott Carter, described in more detail on the AAR blog here. It was a great pleasure to be present at the European premiere of two new Carter pieces, performed splendidly by the percussionists of the Rome-based Parco della Musica Contemporanea Ensemble.
There are around 70 international academies here in Rome. The American Academy is the largest, and the Académie de France may be the oldest, but many of them are burgeoning cultural centers, bringing vital communities of ex-pat artists and scholars from their home countries. Last month I enjoyed a first-rate taste of German contemporary music-making -- so different from what young composers are doing in the U.S.! -- at a special concert of the celebrated Ensemble Modern designed around new works by their composer fellows, my counterparts at the Accademia Tedesca Roma (German Academy in Rome), Márton Illés and Charlotte Seither (check out their websites, let us know what you think!). These pieces were tapestries of individual instrumental color, incorporating whole compendia of noise-based extended techniques, blended into surging dramatic shapes. Controlled, serious-minded and yet full of youthful energy.
Meanwhile my work progresses on the piece for Brooklyn Rider and myself, which now has a title: Graffiti dell'amante (translation is, loosely, Sketches: The Lover). So far this piece has five little sections (in alphabetical order: Absence, Desire, Devotion, Ravishment, Remembering). The order of these sections will be determined by each respective audience, resulting in a love story unique to each audience. Here's a small taste of Ravishment, which features a delicious line from a poem written by Percy Bysshe Shelley to his secret lover: "And yet I wear out life in watching thee." This little snippet is from an informal preview we gave of the piece at NuBlu in the East Village, where Brooklyn Rider is currently "in residence," warming up new experimental repertoire for their tours for a home audience that always expects something beyond the extraordinary!