I have always relished the feeling of being "backstage." There's a crazy lovely thing that happens when you get to feel a sort of ownership for a huge historical building or site, be it a concert hall, a cathedral or a museum. When I was a little kid, I spent the summers at Tanglewood in the Berkshires, where my parents taught. This was a Tanglewood more or less unchanged from the days of Koussevitzky, where Bernstein and Copland were to be found eating in the cafeteria, and where Seiji Ozawa could be found zooming around in his sports car.
I came to know every single inch of the campus from accumulated years of running around the lawn during concerts, trying to make reeds or wreaths with various pieces of crabgrass. I use a memory from age eight of my being able to give an older couple (well, older than eight) concise directions to the chamber music hall as a benchmark of my current concept of pride.
Backstage, ergo, does not have to be literally backstage at all, it means fully inhabiting a space and kind of using it for your own purpose, whatever that may be. A couple years ago I got to perform a large work by Meredith Monk at the Guggenheim. That. Was. Awesome. Sprawling around on those ramps while getting staging notes is so glamorous, given how reverential people generally feel whilst using them. I'd love know what spaces you've come to know in such intimate, often unseen ways!
The Online World of Two Boys
Right now I am in London, bumming around with Nico Muhly and getting caught up in the preparations that go into the last month before mounting the world premiere of his first opera, Two Boys. This thing is crazy and terrifying and wonderful! The plot of Two Boys is complicated and loosely based on real events, but heavily involves the internet, as well as deception, love and murder. The Internet in this case is the stand-in for a masked ball, or whatever 18th-century device would generally get the plot and its attendant misunderstandings going.
Basically, kid A falls in love with kid B, and in order to get his attention, develops a series of fictional characters online to interact with kid B, including a fictional sister, with whom kid B falls in love. Dying of jealousy, kid A determines the only thing to do is to manipulate kid B into stabbing him to death. Other things happen too! But this, loosely, drives the show. The libretto is by Craig Lucas, who is amazing, so I can't wait to see how this all fleshes out.
So the Internet! They are using video all over the place in this production, and the main set pieces are also all projectable surfaces, so there are some truly stunning video elements, provided by Fifty Nine Productions, the kids who did Satyagraha and War Horse and a million other amazing things. I saw a tiny piece of "the Internet" on a laptop and I am very, very excited.
A Trip to the Westminster Abbey Organ Loft
Meanwhile, the Assistant Organist of Westminster Abbey is organizing some sort of crazy organ recital for himself and Nico four hands-style, and they have invited me to come play some arrangements of basically everything Nico has written which includes viola and formerly-synthesized organ (there is, actually, quite a lot). Westminster Abbey is one of the most stunning places I've seen. Also, Purcell and Dickens and Kipling are like up inside it. So imagine my giddiness when I rolled up, Starbucks-in-hand, greeted the Beadle, and tripped up to the organ loft, where I got to play my viola. In Westminster Abbey. OMliteralG. Backstage in this case is at a higher altitude and contains a lot of folders of organ music.
This recital is nested between the two performances of Two Boys I'm attending later this month. Meanwhile, I fully plan to keep sticking my nose into opera preparations and reporting back to this blog. I am unspeakably excited for this event.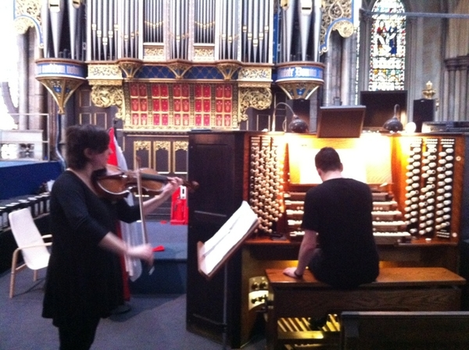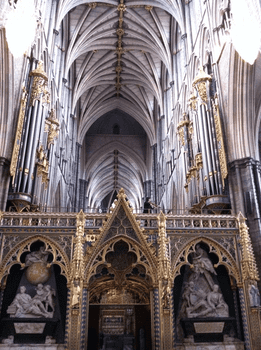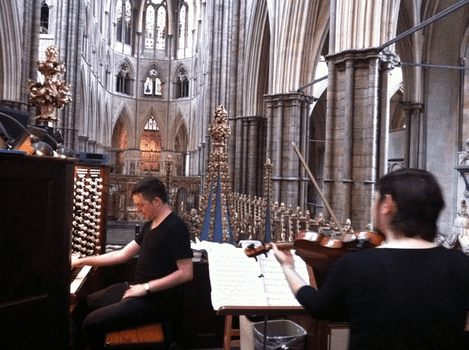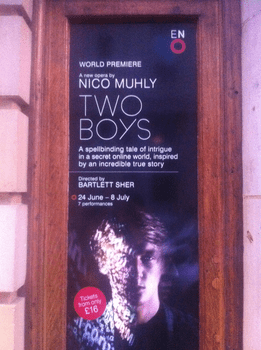 of