Hear | Exclusive excerpts from a 2003 recording of Madame White Snake, commissioned in part by the Crary Foundation.
Read | Zhou Long's introduction to Madame White Snake, "Composing an Opera on a Legend."
See | Stunning images from production designs and Opera Boston rehearsals.
---
In mythologies from across the globe, the push-and-pull between humans and the gods presents one of the great dramatic storylines and offers rich ground for philosophical contemplation and reflection. Often, such narratives involve mortals aspiring to immortality. In the classic Chinese tale of Madame White Snake (or Bai Suzhen), however, the formula is inverted: The title character's dilemma is how to free herself of the bondage of being a spirit in order to experience a fully human and richly complex love.
Separated from a Chinese cultural context, several elements in Madame White Snake might sound very familiar to Western audiences. (There's a great flood and treacherous serpents, for a start.) Moreover, in a manner that recalls all manner of other Western operatic deception, various characters conceal and shed their true identities, though in this case those transformations occur both literally and figuratively. Meanwhile, a chorus comments on the ongoing action in a way that recalls the devices of classical Greek theater. But as in all great myths, the story of Madame White Snake ultimately transcends cultural particulars, asking: Can we transcend our station in life? What does it mean to be human? And can love really conquer all?
After its world premiere in Boston at the end of February, the work will be mounted this fall at the Beijing Music Festival, a month-long event that now transfixes China's classical-music-enraptured capital city each autumn. In past editions, BMF has given the Chinese premieres of works by such prominent American composers as Philip Glass and John Corigliano as well as presenting works by such Chinese composers as Chen Qigang, Tan Dun, and Guo Wenjing, who, like Zhou Long and his wife, fellow composer Chen Yi, are all members of the now-famous Class of '78, the first composers to return to formal education after the end of the Cultural Revolution. For Zhou Long's Madame White Snake to appear at BMF -- and with plans for the opera to be presented in other cities across China afterward-- is an important milestone in the nurturing of new music in Asia.
Few composers are as well positioned to arc between "Chinese" and "Western" aesthetics with quite the same subtlety and nuance as Zhou Long. Born in Beijing in 1953, Zhou Long had a father who was a visual artist and a calligrapher; his mother was a voice professor. When the Cultural Revolution began, the family was stripped of all they had. Zhou Long, then 16, was sent to a farm in the remote northeast of the country, near Mongolia. Even given those struggles, Zhou Long did not lose his artistic center: He began to play the accordion and immersed himself in regional folk music. Nearly five years after being forced to leave Beijing, he hurt his back and was reassigned as a composer, arranger, conductor, and accordionist for a small-town dance troupe near his home city before the Cultural Revolution ended and the arts began to reassert themselves in Chinese society.
Like several of their Class of '78 compatriots, Zhou and Chen Yi moved to the U.S. not long after their Bejing Conservatory graduation to continue their musical studies with the highly influential composer Chou Wen-chung as well as Mario Davidovsky and George Edwards; by 1994, Zhou had also founded the Music from China ensemble to promote traditional Chinese music in their adopted land. Looking both forward and back, and with a sense of ever expanding his musical palette: With that background and with his sensitive, refined approach, Zhou Long simultaneously embraces and transcends our notions of traditional Chinese classical and contemporary Western classical music. Madame White Snake is a beguiling articulation of Zhou's vision.
---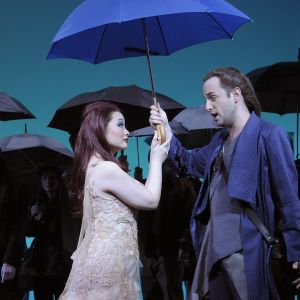 Check out some exclusive excerpts from the Four Seasons portion of Madame White Snake as originally recorded in 2003 and commissioned in part by the Crary Foundation in celebration of the 10th Anniversary of the Peninsula Girls Chorus with Catherine Doyle Wesolet, director.
---
"Composing an Opera on a Legend" by Zhou Long
The common questions asked of a composer who is working on a new opera are often regarding the musical and dramatic styles. The answers can be tricky. In general, my composition style is lyrical and complex. Actually, it's a question of whether there is a memorable aria in a new opera, or, is it musically abstract? It's complicated to decide what kind of musical and dramatic styles to be used in a new opera based on a legend. However, on the other hand, comparing with historical drama, the legend would give more freedom and space to use your imagination. One thing is for sure: There must be a synergy between the compositional style and the vocal characters.
Madame White Snake is my first opera. It is also the first English libretto based on the legend (Madame White Snake is a faithful and emotional retelling of a legendary Chinese folklore classic) and it marks the debut of librettist Cerise Lim Jacobs. The project also marks many historic firsts: Opera Boston's first major commission and the first collaboration between the Beijing Music Festival and an American opera company. The production will also mark the first time Opera Boston has taken a production to another country, the first time using a male soprano featured as narrator throughout the opera, and first time using a children's choir as interludes between acts (four seasons). There are many firsts happening musically as well.
In the end of 2006, I received an email from a friend in Boston asking if my wife (the composer Chen Yi) and I would like to work on an opera. We were both very busy, but I thought maybe I could work on it if it were a small project (when I committed to the project with Opera Boston, Madame White Snake quickly expanded from a single-act to a full-length opera.) Chen Yi and I met with the librettist and project originator Cerise Lim Jacobs in New York City. We discovered that we were born in the same Chinese year of the Snake; a fact that I believe we knotted together in the project.
Although composing for an English libretto presented challenges to me as a Chinese-born, I found freedom and flexibility in the English language, which, unlike Chinese, does not use intonation or variation in pitch to distinguish words. The scoring is inspired by some elements from traditional Chinese opera, musically and stylistically, with the integration of traditional instruments which brings in a fresh sound and illustrates a musically exotic style. However, the musical writing is Western in general, in terms of the language sung and the orchestration.
In this opera, we illustrate a culture or milieu in some way foreign to the potential Western audience. The meaning of "exotic," especially as used for Western music, often depends not just on the musical notes but also on the character's mold and performance media, particularly the musical and cultural preparation of a given audience. The musical exoticism may not be contained in specific devices, such as direct quotations on Peking Opera or surfaced folk custom vaudeville as some new operas often are trying to do. Instead, it should be contained through an interaction between exotic environments and individual characters in the opera. However, this opera, for the Chinese audience, could be "exotic" for them as they may already be familiar with the Madame White Snake legend. In this circumstance, I made sure I composed entirely, or even consistently, of elements that would be identified as both Western and Eastern cultures, to sate both audiences' expectations.
At first, I had wanted to cast the role of Little Green, a transformed green snake who is Madame White Snake's servant, with a mezzo-soprano. My wife Chen Yi reminded me that in the old legend, this character was originally a male before he was defeated by the White Snake and became her female servant voluntarily. We decided to write the part for a male soprano, an unusual-sounding voice. It is the first time I write for a male soprano. Xiao Qing, the Little Green's part played by Michael Maniaci, could go as high as a real soprano, but in the end I had to manage many revisions in the prologue and keep the voice relaxed and natural in the ending. I tried to make something fresh, colorful, without going too extreme. The result is a genuine mixture: Chinese influences combined with Western operatic writing and orchestration, recitation combined with singing, tonal or atonal, and an international cast of Chinese and American singers.
Madame White Snake will given its premiere by Opera Boston on February 26, February 28, and March 2 at Boston's Cutler Majestic Theatre, followed by the Beijing Music Festival in October 2010. Madame White Snake is co-commissioned by Opera Boston and the Beijing Music Festival Arts Foundation in conjunction with Oxford University Press.
For more information or to purchase tickets, visit OperaBoston.org.
---
Enjoy a slideshow of richly colored photographs from Opera Boston rehearsals and original production designs.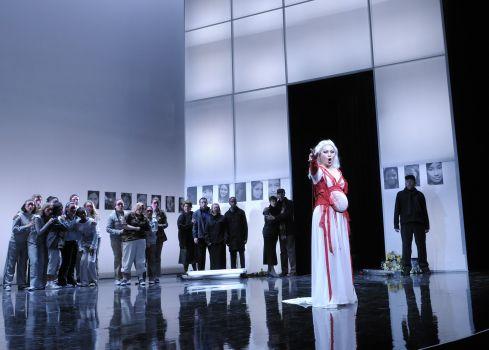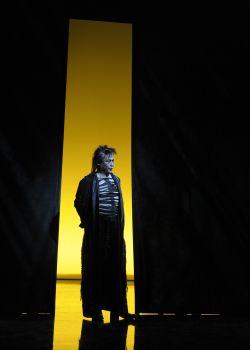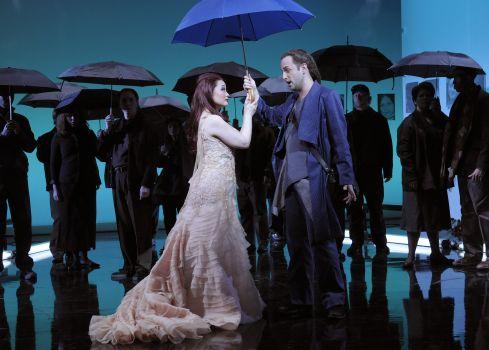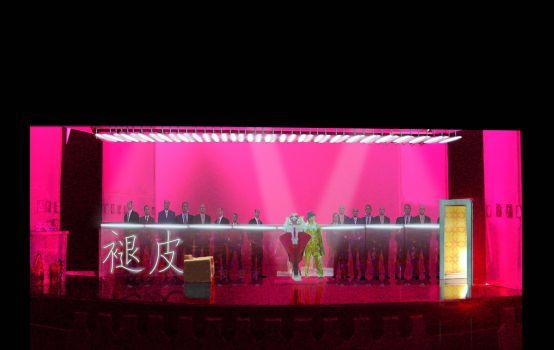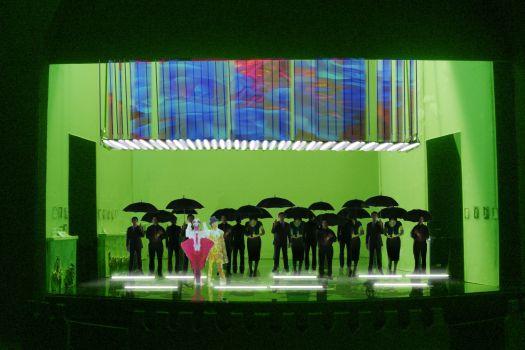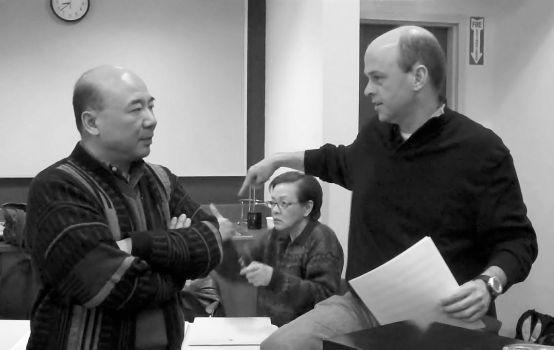 of