An eventful two weeks here, including the first public performance of Don Byron's and my work last Saturday, as part of the 46th annual Nuova Consonanza Festival marathon concert. Events took place all over the gorgeous Villa Aurelia, and things kicked off with a building-wide, meandering group improvisation on themes by Italian film composer Ennio Morricone.
I sang my own A Collective Cleansing, with digital audio, bringing the ancient words of Aeschylus into the mix. Don played solo works of his own, short pieces that demonstrated his keen sense of the possibilities within intervallic combinations, creating evocative experiences through magical, prismatic and joyfully restless melodic reorganization.
My work also stumbles joyfully and restlessly forward here, benefiting enormously from the capacity of this city to offer serendipitous discoveries, mixing eras and traditions and styles in a free-for-all of expressive fervor, around every corner. Sometimes it seems that the only mode of expression missing from the mix is the ironic or the insincere.
Rome is not a postmodern town. Its works bear testimony to a constant impulsion to address the largest emotions with a kind of surrender that we clever evolved contemporary arts people would probably feel obliged to find 'purple' or shameless. Not all of the art I see is good--but good or bad or in between, it certainly all seems to have this purpleness. I am interested in this quality.
What if I were to let this Roman impulsion permeate the composing part of my brain while I have all of these different purple voices singing out to me, here in this shameless city? Maybe I can lull the over-discoursed, cleverer part of my brain to sleep, as an experiment, to let Rome in more fully. 
Certainly, having chosen romantic love as the starting-point for my new piece (for string quartet and my own voice), it would seem that I am starting out with a felicitous combination of fascinations. Roland Barthes grappled mightily with the "de trop" nature of romantic loving. But of course, whether looking at monuments from Roman antiquity or centuries of Christian art, I've found that direct representations of romantic love here in Rome are, in fact, not where the real story is.
In my wanderings through Medieval basilicas with 1,000-year-old mosaics, Baroque churches with tumbling putti and impossibly active holy figures in swirling pink and blue robes, and solemn frescoes in the dungeon-like foundations of churches built on other churches, I have encountered a lot of angels lately.
When I encounter these various scenes that I witness daily--saints in agony, facing death by unimaginably torturous methods; hosts of people getting sucked up, ecstatic and weightless, into the heavens or getting spilled out into the maws of eternal death; a simple, quiet housewife discovering that she will become the Most Important Mother in the universe (you know, the kind of stuff one doesn't encounter in life generally)--my own emotional responses are sharp: horrified, or deeply moved, or stunned, or yearningly sad. But the angels who cluster about these events and witness them seem to have no emotional response at all. In the Baroque especially, they are extremely physically active--but emotionally inert.
Whether they are looking at someone's head getting cut off or someone rising from the dead, they tend to have expressions on their faces that say, "Here's this thing happening." I am reminded just now of Charles Ives's description of the role of the strings in The Unanswered Question: "The Silences of the Druids--who Know, See and Hear Nothing."
However, I discovered one powerful exception. A bunch of us went on a visit to the Protestant cemetery to look at the graves of John Keats (with its heartbreaking inscription composed by Keats on his deathbed), Shelley, Gramsci, and Goethe's son. We encountered there a 19th-century tombstone statue carved by sculptor W.W. Story, for his wife. This statue was his last work, completed shortly before he joined her in the ever-after. I've seen breathtaking Berninis, Michelangelos, Rodins and sculptures from ancient Greece and Rome in the last weeks, but this grieving angel tombstone by Story really hit me hard.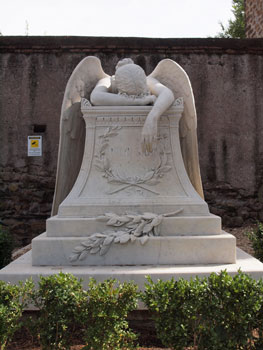 And as time has passed I realize that it has something to do with the fact that this angel--a being whom we expect, in the order of things, to be emotionally inert--is grieving. This break from the universal order seems radical, even though the statue itself is quite conservative in other aspects. This is a man who knew about love, I thought. For him, the order of the entire universe was, and had to be, altered by the death of his wife.
You may imagine my surprise and delight when I discovered, a few days later, while spelunking in the AAR library, several books of poetry by none other than this selfsame W.W. Story. A sculptor-poet! An anglophile ex-pat in 19th-century Rome! I am happily immersed in his poems now--some of them very strong, others less so, but all of them extravagantly enrobed in purple. I can't imagine my new piece without him. Here's just a taste:
Hark! to my Indian beauty –
   My cockatoo, creamy white,
With roses under his feathers –
   That flashes across the light.
Look! listen! as backward and forward
   To his hoop of gold he clings,
How he trembles, with crest uplifted,
   And shrieks as he madly swings!
Oh, cockatoo, shriek for Antony!
   Cry, "Come, my love, come home!"
Shriek, "Antony! Antony! Antony!"
   Till he hears you even in Rome.;

(W.W. Story, excerpt from "Cleopatra," from Graffiti d'Italia, 1866)
Meanwhile, speaking of extravagance, these explorations are all taking place against a backdrop of some of the most extravagant eating experiences I've ever had, crowned by Thanksgiving at the Academy. Guest of honor was Alice Waters herself, master chef and designer of the food program here. Our own Executive Chef Mona Talbott and Sous Chef Chris Boswell led the team of specialty chefs and interns in what I can only aptly call a culinary symphony. Here are pictures of our amazing meal. Happy Thanksgiving to all of you back there at home, from our little USA on the Janiculum hill!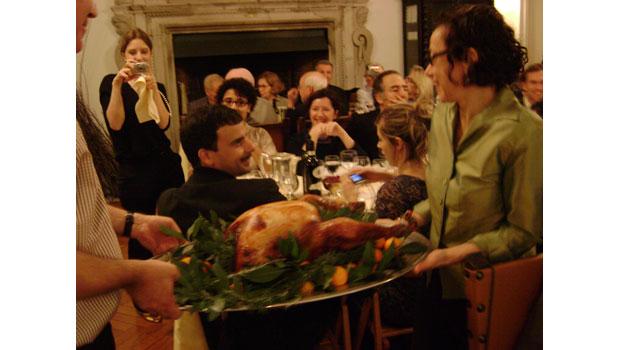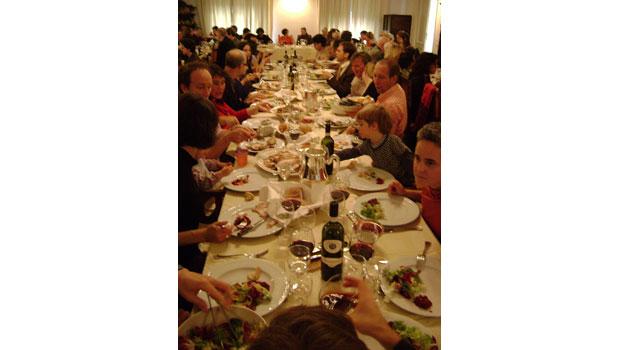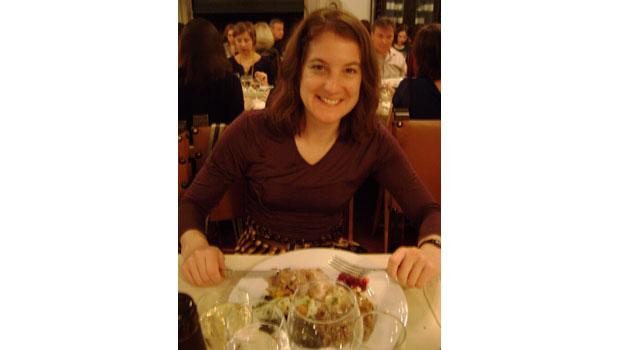 of