The Naumburg Bandshell: A New York Icon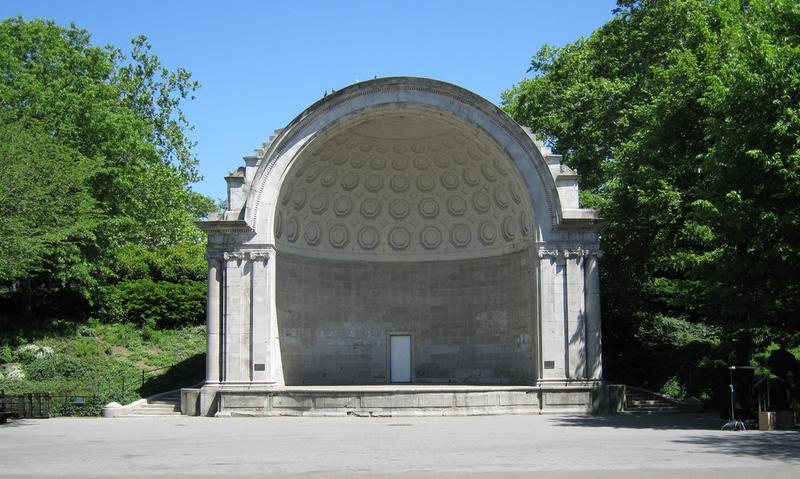 Have you ever been to a free concert at The Naumburg Bandshell in Central Park? If you haven't, you should plan to go before the summer is over. It's one of most unique experiences New York has to offer.
As it so happens - classical music lovers -- There are four free concerts at the bandshell this summer. The first takes place on Monday at 7:30 pm as the young and very talented musicians of The Knights take the stage to play Beethoven's Fifth Symphony. On Tuesday, July 26 it's the Matt Herskowitz Trio and on Tuesday, August 9, the Jupiter Symphony Chamber Players. The Knights will return on Monday, August 22 to close out the series with Schubert and Liszt.
The Naumburg Bandshell is one of New York City's great cultural icons.  It has entertained generations of New Yorkers with an incredible variety of performances. Duke Ellington, Irving Berlin and The Grateful Dead have all performed on the stage. Martin Luther King once stood there and John Lennon was eulogized from that very spot.

The bandshell was donated by philanthropist--and classical music lover extraordinaire!--Elkan Naumburg. In 1905, Mr. Naumburg had begun a series of free, classical concerts in Central Park known as the Naumburg Orchestral Concerts. When it was completed in 1923, the bandshell became the series' new home. Thanks to the generosity, dedication and hard work of Elkan Naumburg's descendants, all of whom have also been unbelievably committed to classical music, the Naumburg Orchestral Concerts series is celebrating its 106th anniversary this year. And, yes, the performances take place in the bandshell. Though the bandshell continues to feature other kinds of performances, the Naumburg Orchestral Concerts are the centerpiece of the season.  

As has been the case with many of New York's iconic structures--Carnegie Hall and Grand Central Station to name two--there was a time when the bandshell was facing the wrecking ball. Fortunately, the tide turned and the bandshell was saved. But, concern continues about its future.

I recently spoke with one of Elkan Naumburg's great-grandsons, Christopher London. Christopher is the President of the volunteer board of trustees which manages the Naumburg Orchestral Concerts.   

He shared some of the details of his family history and talked about his hopes for the preservation of the bandshell. Listen to our conversation.