A Little Liszt, Some Rach and a Chorus of MTA Buses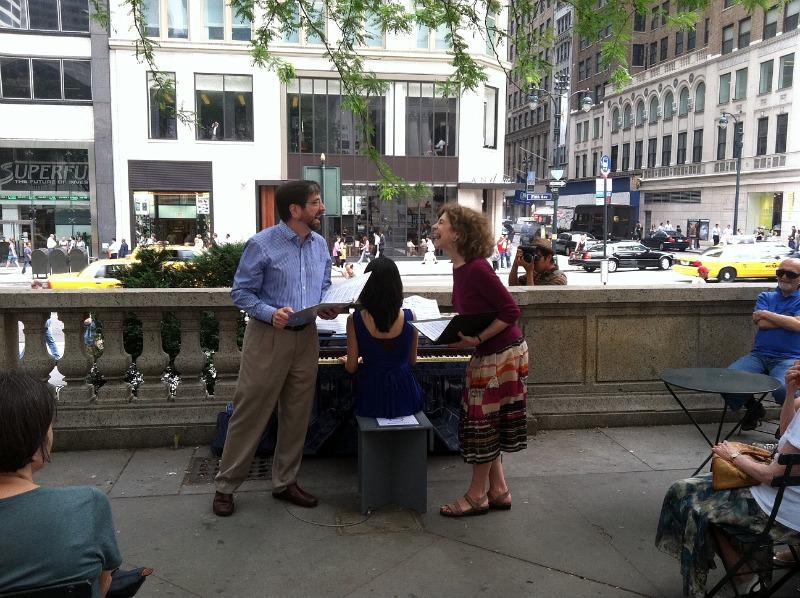 For the second year in a row, WQXR jumped into the June 21st "Make Music New York" festival with both feet. Actually, with many more feet than that -- Jeff Spurgeon and I both sang, accompanied by Jing Li, who's a member of the WQXR music team, and we brought along an audio/video crew of three to capture it for you to enjoy on our Web site.
Well over a hundred fans of WQXR showed up at noon next to the New York Public Library's northern lion, Fortitude, to enjoy an hour of music with bus obligato (the "Sing for Hope" piano installed there competes with the M-1, 2, 3, 4, and 5 lines). WQXR listeners performed Beethoven, Broadway, jazz, and Rachmaninoff.
The "Battle of the Dmitris" included WQXR's own Dmitriy Krasny (he brought the Rachmaninoff), and a former Russian opera coach who gave an impassioned explanation of a Chopin etude. A 13-year-old kid named Koji Shiromoto knocked everyone's socks off with his performance of Liszt's Dance of the Goblins -- he was so good, we had him play it twice.
See you next year!