Set your watches, it's time for the Kronos Quartet. At the top of every hour on Wednesday, March 10, Q2 celebrates the Kronos Quartet with a deep dive into their extraordinarily rich and diverse recorded output, as we gear up for their upcoming Carnegie Hall series, Perspectives: Kronos Quartet.
In Perspectives: Kronos Quartet, the quartet brings together artists and collaborators from around the globe. Beginning March 11 and culminating March 14, the quartet presents music from the Artic Circle, Finnish electronica, Swedish hurdy-gurdy, Azerbijani folk oboe and spike fiddle, Portuguese Pangeia instruments, electronica duo Matmos, Inuit throat-singer Tanya Tagaq... remarkably the list goes on and on.
Kronos Quartet is arguably the most influential string quartet of the 20th Century. Founded over thirty years ago, the quartet has earned an unprecedented reputation by commissioning new works (more than 650 to date), championing unknown composers alongside icons, and seeking out music from around the world to bring into the concert hall. Kronos has truly become something larger than itself by creating the model and the ecosystem to support a plethora of chamber ensembles who have followed in their footsteps.
Listen to Q2 next Wednesday, March 10, and at the top of every hour enjoy selections from Kronos, including from their new CD, Rainbow. You can hear Q2 any time through our pop-out audio player or through iTunes.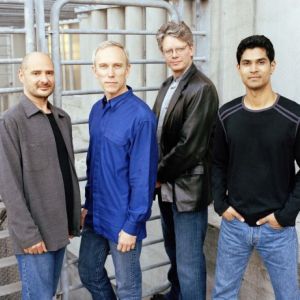 On Tuesday, March 10, the Kronos Quartet stopped by sister station WNYC's Soundcheck with long-time collaborator and composer Terry Riley. Hear the live discussion and performance as part of Time for Kronos on Q2.


Enjoy a past performance from an artist sharing the stage with Kronos at Carnegie Hall: Artic native and Inuit singer, Tanya Tagaq, from WNYC's globalFEST 2009: Live Webcast from Webster Hall. The piece is Hunger.