JacobTV on the Radio: What Is It?
A 5-Day Festival of Discoveries and Insights
Wednesday, March 10, 2010
From Wednesday, March 17 to Sunday, March 21, Q2 brings you the omnivorous creative world of Dutch avant-pop composer Jacob Ter Veldhuis, aka JacobTV. Hear JacobTV introduce his works, including many exclusive, never-before-heard recordings. Listen through iTunes or our online player. 

More

Living Music. Living Composers.

More
From Wednesday, March 17 to Sunday, March 21, Q2 presents JacobTV on the Radio: a 5-day immersion into the life and music of JacobTV.
The festival features a kaleidoscope of rare and never-before-heard recordings, including: the recent premiere of Piano Concerto No.2, "Sky Falling," limited-time download of his break-through Grab it!, piece introductions from JacobTV as DJ, shocking and beautiful video art including a first draft preview of his video opera, The News and on-demand streaming audio of the March 11 New Sounds Live: Ethel Plays JacobTV.
Q2 is eager to continue its festival profiles of 20th and 21st century titans of new music with this festival celebrating the music of Dutch avant-pop composer, JacobTV. Building upon the success of Maximum Reich, JacobTV on the Radio aims to harness the potential of internet radio to provide a sonic, textual and visual portrait of one of today's most innovative and forward-thinking artists.
---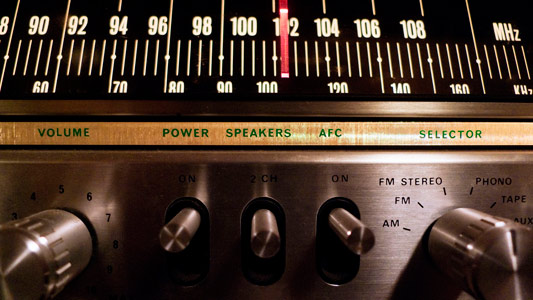 Festival Spotlights
Each day of JacobTV on the Radio offers a deep dive into the multi-layered sound of JacobTV, but Q2 also features daily spotlights on different creative strands. These will be curated for five days at 12, a.m. and p.m., during the first hour of a special, extended Nadia Sirota on Q2.

Wednesday, March 17: Vox Boombox: Pop Icons in Sound
Thursday, March 18: String Theory: From Versailles to Bob Dylan
Friday, March 19:  Paradiso (An Oratorio)
Saturday, March 20: Concertos reImagined
Sunday, March 21: Avant-Pop Radio: Politics and Advertising
---
JacobTV on the Radio Staff:
Producer: Alex Ambrose
Hosts: JacobTV and Nadia Sirota
Web Producer: Elizabeth Zagroba
Audio and Editorial Production: Eileen Delahunty, Mike Shobe, Clarice Jensen, Yuki Numata, Nick Gallas
Thanks to the WNYC Archives, Kevin Gallagher, Naxos Records, Innova Records, Michael Nieuwenhuizen, Cees-de Bever and the Dutch Consulate, JacobTV's publishers, MCN and PEER classical, and a special thanks to JacobTV's record label, Basta, for the wealth of recordings. For more information on JacobTV on CD+DVD, visit www.bastamusic.com.
Executive Producer: Limor Tomer
More in:
The WQXR e-newsletter. Show highlights, links to music news, on-demand concerts, events from The Greene Space and more.