In Helsinki's Sleek New Concert Hall, Clarity Reigns
In a response to a question about what was still not perfect about the brand-new Helsinki Music Center, the architect responded humorously, "we have a problem with the men's toilet on the 4th floor." Luckily for the impressive duo of architect Marko Kivistö and acoustician Yasuhisa Toyota, this seems to be the only significant flaw in impressive and bold new arts center located in central Helsinki.
After a decade-long construction process and a cost of $271 million, the Helsinki Music Center opened Wednesday evening to great enthusiasm from a capacity crowd that included the Finnish Prime Minister Jyrki Katainen and other politicians and VIP's (disclaimer: this correspondent's travel costs were funded by the Finland Ministry of Culture). The hall is home to the Helsinki Philharmonic, the Finnish Radio Symphony Orchestra, the Sibelius Academy and the Finnish Broadcasting Company, YLE. This list of large, potentially competing partners could have derailed the project, but as Kivistö explained, "In Finland, you have to be friendly. Be flexible and your ideas will get through."
Located in the cultural heart of Helsinki, the new music center is both a modern, glass- and wood-laden addition to the urban landscape, as well as an engineering marvel with more than half of the building located underground. In addition to the main symphony hall seating 1,704 people, there are five smaller halls, each created for specific purposes with an acoustic character to match. My favorite of these smaller spaces is the organ room, housing two Baroque organs in a room that can't be bigger than 400 square feet; think cozy organ recitals in the winter!
An Opening-Night Test Drive, with 36 Cellos

Of course, no new hall is perfect. History possibly adds that patina later. In any new classical music concert venue, materials need to settle, artists need to learn how to literally "play the hall," just as a violinist takes months and years to get comfortable with a new fiddle. The Helsinki Music Center certainly has some audible quirks, and it isn't a brand-new Carnegie Hall or Musikverein, but overall it is an ambitious, forward-facing concert venue that raises the bar on design, purpose and relevance.
The opening concert tonight featured all three symphonic partners, showcasing Finland's compositional hero, Jean Sibelius, and Stravinsky's Rite of Spring. There was an interesting additional work – a collection of seven tapestries of music woven together by the distinctive departments that make up the Sibelius Academy. Folk instruments, Karelian singing, electronic soundscape, modern Finnish jazz, extended piano techniques, a modern chorus all tied up in a bow by 36 cellos playing what sounded like a Finnish folk song. A colleague remarked it was a bit like an end-of-year high school showcase, which is a fair comparison. However, direct me right away to a high school that can produce a performance of that quality and power.
Dr. Toyota -- who has also designed acoustics for Walt Disney Concert Hall in Los Angeles among many others -- explained that there are two goals in acoustic design: richness and clarity. He hoped that his efforts yield a balance of the two. Based on tonight's evidence, the needle is firmly in the clarity red-zone, to the detriment of warm and richness. The big hall is clear as a bell, especially favoring the extreme ends of the sonic scale. What is lost are the mid-tones -- the cellos and violas -- who had to fight to be heard, especially in Sibelius' Tapiola. The orchestral sound in Rite of Spring was electrifying, as you could really hear the edges of phrases and the entrances of low brass and percussion. Imagine a super sharp Japanese knife, as that is what Toyota has produced.
Fine-Tuning
Going back to my earlier comment about learning to "play a hall," this is where I see improvements to this sharp edge likely to come from. Firstly, Toyota can make adjustments to soften furnishings in the hall, and secondly, the orchestras will learn how to adjust their playing to match its natural built-in qualities. These Finnish orchestras are top rate, and have been encumbered for years by the dreadful acoustics at Finlandia Hall. Now, they have a new canvass on which to paint their new sound. It will undoubtedly come. Give it some time, but it will come.
From an audience perspective, the hall is sumptuous to enjoy, which dark hazelnut woods on all surfaces, sleek black seats that look like a geometry puzzle, and a contrasting white stage that reminds me of vanilla icing on a chocolate cup cake. The stage pops with the daring white-washed pine, giving visual relief to the dreary tail coats ingrained in today's orchestral traditions.
The people of Helsinki were looking proud tonight and so they should. Lots of money, politics and deep breaths were needed over a nearly 15-year period. But, as the adage goes, "good things come to those that wait," and tonight, Helsinki, the wait is over. You should feel very content that you have created, in the Helsinki Music Center, a national and international spectacle of excellence and cooperation.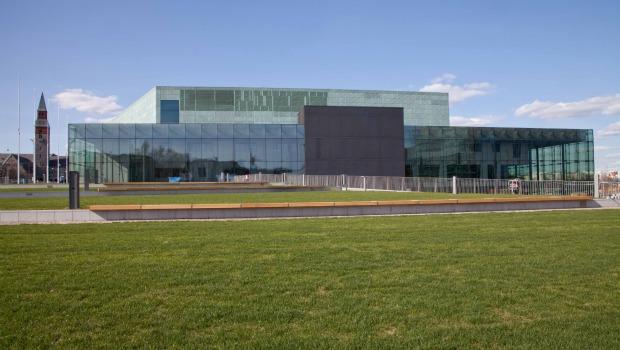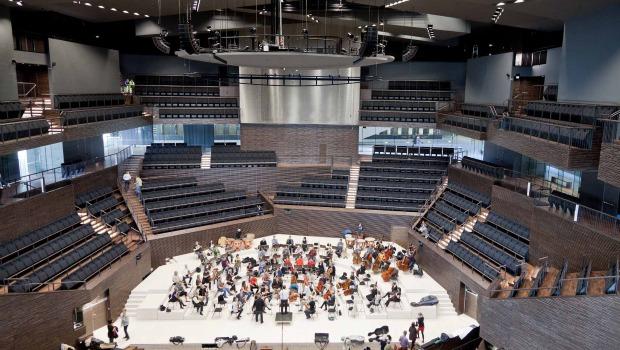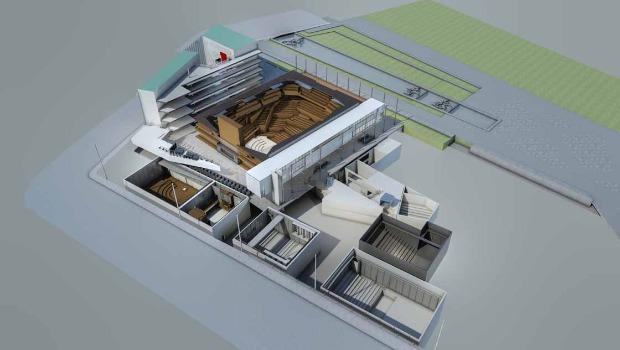 of