Facelift for an Arts Temple: City Center Reopens after $56M Restoration
Throughout its 88-year history, City Center, a neo-Moorish former Shriners Temple, has positioned itself as a free-spirited alternative to New York's gilded halls of culture. It's a place where patrons called out "Hello Lenny" when Leonard Bernstein came to conduct, and where Maria Tallchief, the prima ballerina at New York City Ballet, once got baked chickens instead of flowers from a fan.
Mayor Fiorello H. La Guardia set the tone from the center's opening night with the New York Philharmonic. On Dec. 11, 1943, he took the baton away from Artur Rodzinski and conducted the National Anthem himself.
Yet some fundamental flaws matched its eccentric streak. The auditorium's sightlines were never designed for performance (more on that in a moment) yet dance and theater companies have been the main tenants for decades. The lobby was notoriously overcrowded, restrooms were minimal, backstage facilities were inadequate and many of the seats were cramped. Furthermore, being a mid-block building, it was easy to overlook from the street.
On Tuesday after a multi-year renovation project at a cost of $56 million, City Center will reopen with a dedication gala. In a nod to the opening night in 1943, Mayor Michael Bloomberg will serve as a guest conductor of the Encores! Orchestra.
A combination of city funds and private donations was spent on the Center's overhaul, said Arlene Shuler, City Center's president and chief executive. The center engaged Ennead Architects (formerly Polshek Partnership Architects) to head up a project aimed to not only restore the building's vibrant architectural details but also create a new feeling of openness and warmth.
"There's a lot of open space now which there wasn't before," said Shuler. "There are a lot of doors going both to the street and to the orchestra lobby are now multi-paned glass doors. So you could actually look into the theater from the street walking by so that it not only has a greater street presence but people on the street could connect with the theater."
Duncan Hazard, a partner at Ennead Architects, whose past work includes renovations of Carnegie Hall and the Brooklyn Museum of Art, believes the theater's limitations stemmed from its original purpose. It was built in 1923 as a meeting hall for the Shriners, a neo-Masonic fraternal society that embraced the trappings of Arabic culture.
"People have for years complained about the sightlines of the theater," said Hazard, during a tour. "All of the sightlines were really geared towards seeing a couple of Shriners more or less mid-stage." The floors were given a new incline and several rear rows of seats were eliminated. Seats were also widened – from as little as 17 inches wide to as much as 22 inches now – and offset so patrons have clear views of the stage.
Rather than the 2,750 seats before the renovation began last year, there will now be about 2,255. Restroom capacity has increased by 50 percent.
New signage and a new glass marquee (with heat lamps) replace the worn canopies that extended over the sidewalk. Enter through the glass-encased lobby, with its ornate terra cotta tiles, and one encounters a noticeably modern element: three large plasma screens that will feature specially commissioned video installations.
But what many visitors may notice most is the new color scheme in the hall. The walls, painted an anonymous white soon after the city took the building over in 1943, again have the original shades of orange and gold, green and blue, thanks to some paint archaeology. Only the proscenium walls that flank the stage have been toned down in order to accommodate the glare of modern theater lighting.
For performers, there are a number of upgrades, including refurbished dressing rooms, a new sprung stage floor and the addition of a toilet on stage level – no longer will dancers have to hike up a flight of stairs after a demanding pas de deux.
Entrances and Exits

City Center's reopening comes at a time when it faces new competition from its uptown neighbor, the David H. Koch Theater at Lincoln Center, which suddenly had more performance dates to offer after losing one of its primary tenants, New York City Opera.
In July, the Paul Taylor Dance Company announced that it would leave City Center, where it had performed since 1977, and take its annual season to the Koch. Meanwhile, the Alvin Ailey American Dance Theater has announced that it will become City Center's principal dance company, continuing its five-week winter season for the next 10 years. City Center will contribute funding to the creation of one new dance work in each of the 10 years.
The Center will also be launching a new producing partnership with Jazz at Lincoln Center that will kick off Nov. 18-22 with Cotton Club Parade, a celebration of Ellington's years at the famed Harlem nightclub.
Shuler said the presence of Carnegie Hall across 56th Street means that symphonic music is not a major priority (the two halls announced a partnership in 2005, which dissolved soon after). However, Shuler did leave open the door to a return of New York City Opera, which got its start there in 1944 and left two decades later for Lincoln Center.
"We'd be delighted if New York City Opera wanted to come back to its historical home," said Shuler. "So maybe. We've certainly had discussions with George Steel and he has seen the renovated theater and he thinks it's as beautiful as we all do." She declined to speculate on when such a return might take place or whether any specific productions might be suitable for the venue.
Yet for the most part, the programming at City Center will continue with its ongoing menu of dance and musicals, beginning with Stephen Sondheim's "Merrily We Roll Along" (Feb. 8 – 19).
"Our philosophy with all of these projects is: we want people when they come back here to feel like it's still City Center," said Hazard, the head architect. "We don't want people to walk in and say, 'oh my God, it's nice but what happened to City Center?' The institutional memory of people in a city and their love and affection for these places where they've had these incredible theatrical experiences -- you don't want to get rid of that."
View the slideshow and leave a comment below: What are your memories of performances at City Center?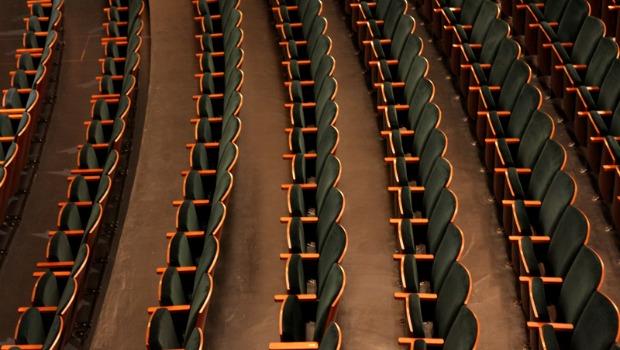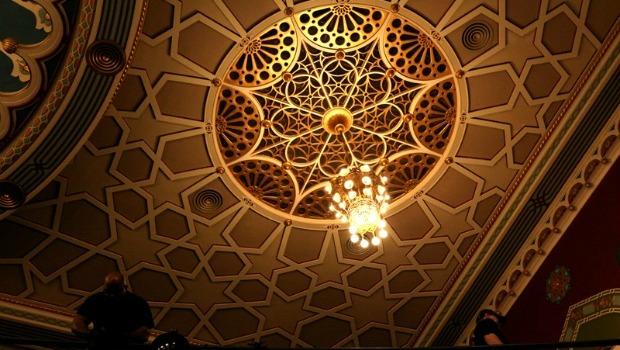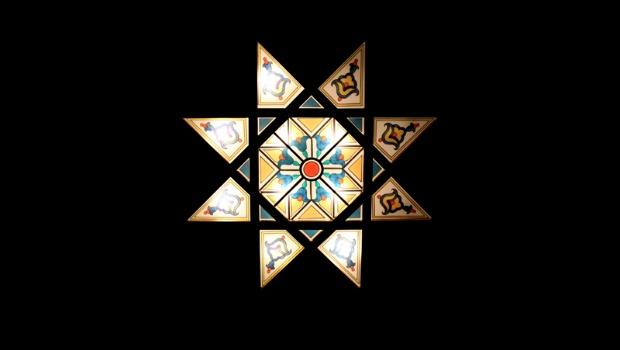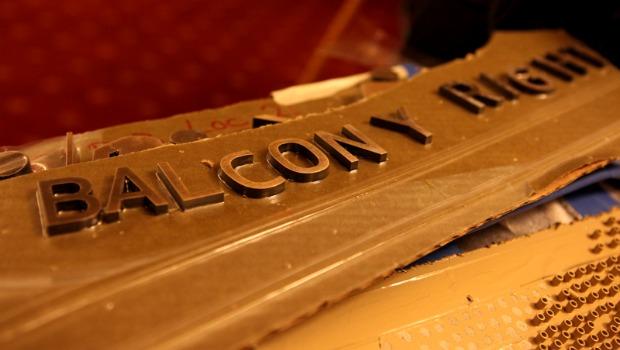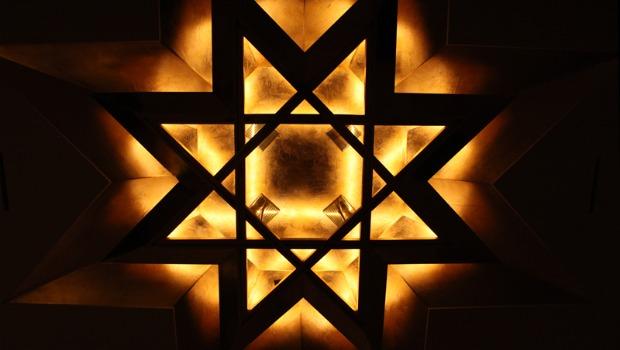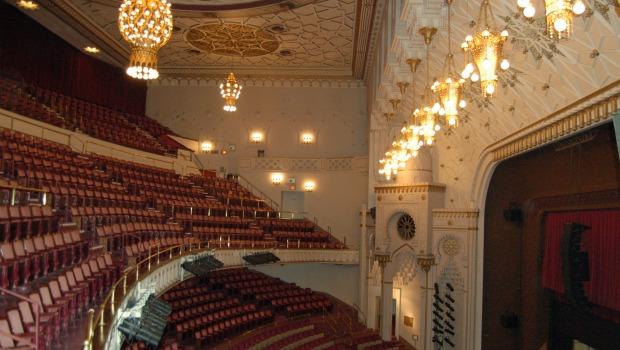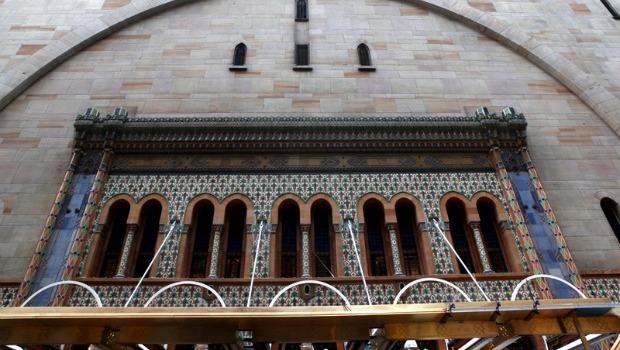 of