85 CDs of Beethoven, from Symphonies to Mandolin Works
As more classical music fans shift to downloading, this may seem like an inopportune time for bulky box sets that hang around like unwanted pieces of furniture. Yet every so often a set with rich archival value can satisfy our hunger for completeness.
In May, Brilliant Classics, a Dutch label with a specialty in licensing historic performances, released an 85-CD set featuring the entire Beethoven catalog. Priced at $110, that comes to just $1.30 a disc – about the cost of an average single-track download on iTunes or comparable service. While the absurdly affordable price means that the set should appeal to newcomers, the performances by big names and unknowns will appeal to the collector as well.
In terms of core repertoire, conductor Herbert Blomstedt leads the Dresden Staatskapelle in a complete symphony cycle from the late 1970s and early '80s that stands up against any of the more recent versions. Alfred Brendel is heard in the sonata cycle that put him on the map for Beethoven interpretation in the 1960s while Polish virtuoso Henryk Szeryng is featured performing a serene account of the Violin Concerto. The Guarneri Quartet's 1987-92 quartet cycle features that ensemble in its late prime while the German tenor Peter Schreier is on hand for most of the art songs. Christoph von Dohnanyi leads the Vienna Philharmonic and a cast of German singers in a 1993 Fidelio.
One is struck here by how much chamber music by Beethoven rarely sees the light of day including numerous marches, minuets, canons and several works for mandolin and piano. There are also gems like the violin sonatas heard in classic mono accounts by violinist Arthur Grumiaux and pianist Clara Haskil. While there are no DVDs here – a staple of many box sets these days – you do get a CD-ROM containing all of the texts, annotations and translations. Not bad for the bargain price.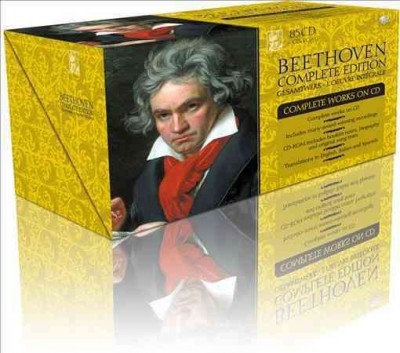 Beethoven: Complete Edition
Various Artists
Brilliant Classics
Available at Arkivmusic.com