Café Concert: Daniel Hope's 'East Meets West' Ensemble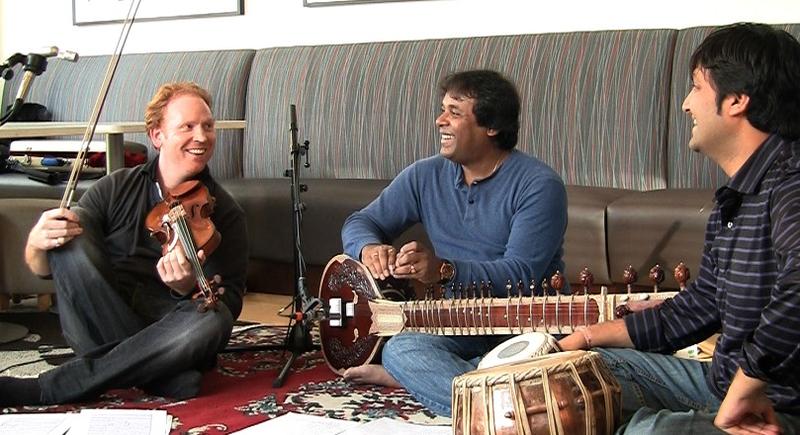 Video: Daniel Hope and Musicians Perform in the WQXR Cafe
East and West met, in a manner of speaking, in the WQXR Café recently. The occasion was a performance by Daniel Hope, the English violinist, Gaurav Mazumdar, a virtuoso on the Indian sitar, and Vishal Nagar, a tabla player. Their collaboration was built on the idea that two distinctive cultures can share unlikely yet often reciprocal inspirations.
Hope is a concert violinist who regularly appears with major orchestras and on recital stages but starting 12 years ago, he became infatuated with a project of his teacher, the American violinist Yehudi Menuhin. In the late '60s, Menuhin joined forces with the sitarist Ravi Shankar, touring major concert halls and recording the seminal album "West Meets East." That project introduced many Western audiences to North Indian classical music for the first time.  
When Hope, then in his early 20s, told the elder musicians that he wished to reconstruct those legendary sessions, they not only gave it their blessing but Shankar recommended Mazumdar, his student of some 25 years. Hope said that Mazumdar "arrived not only with great patience but great virtuosity and tremendous musical spirit and was willing to take the time to teach me."
Of course, much has changed since the era when Indian ragas were enjoyed by hippies seeking transcendence through Eastern spirituality and hypnotic sound worlds. Hope's project – which included a 2004 recording called "East Meets West" – is rooted in a more scholarly concept. He explained how there is reason to believe that an ancestor of the violin was the ravanastron, a bowed fiddle made of cut coconut shell, goat hide and horsehair dating back thousands of years to Sri Lanka.
"My whole idea of this was to look at the journey the violin has made," Hope explained. It traveled "in a sense from India via the Orient via the Roma, into Europe, where the Italians then 'miraculously' discovered the violin and sent it back." The instrument's re-integration into modern Indian music came from British colonizers, who sent out marching bands in the 19th century. "So the violin has, in a sense, gone full circle."   
Hope says that he continues to discover the subtleties of Indian ragas, navigating their mix of notated structure and free improvisation. More practically, he's adjusted to the idea of playing while sitting on the floor. "It's quite a considerable adjustment," he said. "You have to learn to get comfortable sitting down and you don't have as much space to move your arms, so the sound production is very different. It's important to try and match the sound of the sitar.
"Now I enjoy it," he concluded. "Though I don't think I'll want to play the Brahms Concerto sitting down on the floor."
Video: Kim Nowacki; Sound: Edward Haber; Text: Brian Wise