Planet Opera: Catania, In the Footsteps of Vincenzo Bellini
CATANIA, ITALY —
The current promotional phrase for this ancient city on the eastern coast of Sicily is fuori dalla Norma. This means, literally, "outside the norm," but it is also a play on words that says "beyond Norma."
Catania was the birthplace of Vincenzo Bellini (Nov. 3, 1801-Sept. 23, 1835), perhaps the greatest melodist of any opera composer. His most famous opera was Norma, and it is so commonly associated with Bellini and Catania (even though it premiered at Milan's La Scala on Dec. 26, 1831) that fuori dalla Norma requires no explanation to anyone who speaks Italian.

Although most major cities in Italy receive tourists or business travelers, Catania (population 300,000, and the second largest city in Sicily after Palermo) sees very few visitors. Anyone who lands at Catania airport tends to head straight to the gorgeous resort town of Taormina or to explore Mount Etna, the volcano that smolders within view of downtown Catania.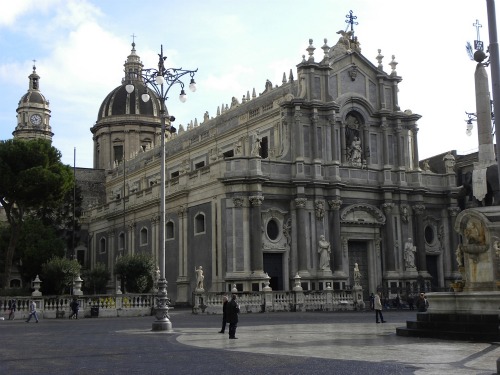 This absence of visitors is part of what appeals to me about Catania, a city that goes about its business without attempting to change itself to appeal to the outsider. People here are friendly, talkative, and love to engage the visitor in conversation about their hometown and, yes, their beloved Vincenzo.
The house at Piazza San Francesco 3 where Bellini was born will open "prima o poi," sooner or later. It is currently under restoration and, when I went there, was shrouded in white powder that wafted from construction next door. Climb the steps behind it and you will find the Museo Civico Belliniano (tel +39-095/7150535; open most days from 9 am to 1 pm and later on some days). There are a few rooms with artifacts relating to the composer, but the place is notable primarily to get a sense that his life began just next door.

Nearby, and worth a visit for opera lovers, is the house of the writer Giovanni Verga (1840-1921), one of the founders of the verismo movement. His story, Cavalleria Rusticana, was the foundation for Mascagni's one-act opera. [Casa-Museo Giovanni Verga, Via Sant'Anna 8; tel +39-095/715-0598; open Tue, Thu, Sat 9 am to 4 pm; Wed, Fri 9 am to 6 pm.]

Bellini's grandfather was born in Abruzzo and studied music in 18th-century Naples at a time when that city was the most important music center on the Italian peninsula and perhaps all of Europe. Naples was the largest city in the broad swath of southern Italy under Spanish rule known as the Kingdom of the Two Sicilies, of which Palermo and Catania were also major towns. Bellini's grandfather moved to Catania to compose and perform religious music, especially on the organ, as well as house concerts for wealthy patrons.


Young Vincenzo followed his grandfather everywhere and absorbed what he heard. Among his earliest compositions, in fact, was organ music. The family moved out of the building on Piazza San Francesco when Vincenzo was a toddler because they could no longer afford the rent. As he showed precocious talent, the wealthy families of Catania paid for his education and the upkeep of his family. When he was 17 he was sent to Naples to further his education and he would be gone from Catania for the rest of his short life, apart from two brief visits to see his family.

Bellini met Rossini and Donizetti in Naples, but showed more of an interest in middle European composers, especially Haydn and Beethoven. He also demonstrated a particular gift for creating melodies that the human voice, especially soprano, could spin out gorgeously. He wrote ten operas. One of them, I Capuleti ed i Montecchi, is the story of Romeo and Juliet and contains a typically Bellinian melody in Juliet's aria "Oh quante volte" sung here by Hei-Kyung Hong. Bellini dedicated this opera to Catania.
Bellini wrote most of his operas for Naples and Milan, but his last work was I Puritani, which Rossini commissioned in Paris. He completed this glorious opera, which has even more great music than Norma. Bellini, for years, suffered from an amoeba that infected and tormented his digestive system. He spent his final days all alone at his Paris residence, abandoned by friends and helpers because his symptoms (including pallor, diarrhea, sweats) were thought to be cholera.

The composer was buried at Pere Lachaise cemetery in Paris. He was there for many years, until descendants of his wealthy patrons paid to have his remains brought back to Catania in 1876. A tomb was built in a prominent spot in the cathedral of Sant'Agata, the city's major church. Inscribed on the marble were notes from the sublime melody from La Sonnambula,  "Ah, non credea mirarti" sung here by Joan Sutherland and Luciano Pavarotti.

The greatest monument to Catania's most famous son is its glorious opera house, the Teatro Massimo Bellini. There are older opera houses in Italy but few are more splendid. Originally planned in 1812, it was not fully built until a local architect, Carlo Sada (1849-1924) was engaged to do the work. The theater has about 1,200 seats, but a hundred of these are seldom used as they have no views. The acoustics are marvelous and alive. If someone unwraps a candy in the third tier, it is audible in the orchestra pit.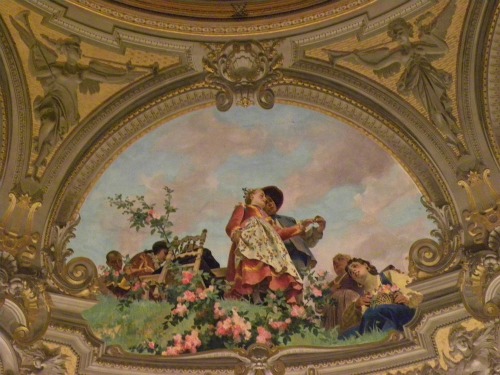 Much of the interior was painted by Giuseppe Sciuti (1834-1911) from nearby Zafferana, just below Mount Etna. The ceiling of the auditorium, that depicts scenes from four Bellini operas, is extraordinary. My favorite of these is the gently pastoral depiction of Amina in La Sonnambula. It is fitting that such a beautiful place was built to accommodate Bellini's sublime music.

The Teatro Massimo Bellini (Piazza Vincenzo Bellini, box office tel +39-095/715-0921; Web site) offers a rich season of operas, ballets and symphonic concerts each year. It is not a given that a Bellini opera will be on the program, but he is well-represented. The theater is not air-conditioned so, in the summer, performances are given out of doors, often at the Teatro Greco on Via Vittorio Emanuele near the house where Bellini was born. The opera company goes on frequent tours and will make its third visit to Japan in 2013.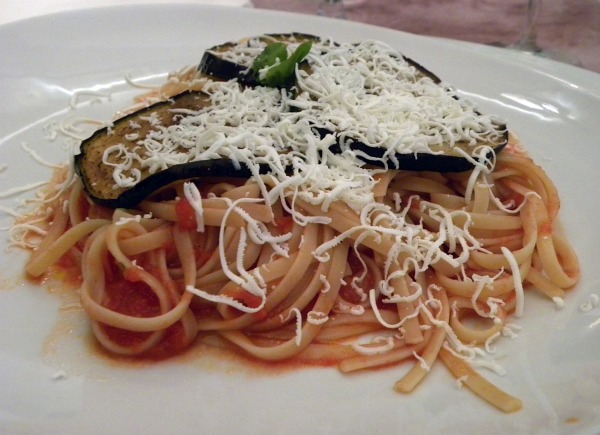 The soprano who sang the premiere of Norma was Giuditta Pasta. No name could be more apt for the other major monument to Bellini, pasta alla Norma. This is the most famous dish in a city full of delicious food. A combination of spaghetti, tomatoes, eggplant and ricotta salata cheese, it succeeds based on the quality of the ingredients and the respect with which they are treated. I had a wonderful version at the Ristorante Metrò (Via Crociferi 76; tel +39-095/322098; Web site), where there is a lot of great cooking to be enjoyed. Another fine version of pasta alla Norma can be had at Sicilia in Bocca (Piazza Pietro Lupo; tel +39-095/746-1361), just a short walk from the opera house. 

Shut your eyes and listen to the magnificent overture from Norma, performed by Tullio Serafin and the orchestra of Teatro alla Scala, and you will understand why the citizens of Catania revere him. Fuori dalla Norma, indeed!
Photos: 1) Cattedrale di Sant'Agata Catania (Fred Plotkin) 2) Bellini (Wikimedia Commons) 3) Ceiling detail, La Sonnambula, Teatro Bellini Catania (Plotkin) 4) Pasta alla Norma (Plotkin)