Karita Mattila Bares Soul on the Recital Stage
In his 2006 memoirs, Joseph Volpe, the hard-nosed boss of the Metropolitan Opera, called Karita Mattila "one of the two most alluring stage animals among sopranos" (the other was Teresa Stratas). Considering the assortment of singers who have passed through that hallowed stage door, it is high praise, but hardly news to anyone who has heard the Finnish soprano in opera houses and on recordings confronting the likes of Richard Strauss, Janácek and Wagner.
On Saturday night at Carnegie Hall (and broadcast on WQXR), Mattila will be found in a more introverted mode, although with this strikingly tall and blonde "singing actress," that's always a relative term. Putting aside her usual assortment of anguished operatic heroines, she will give a recital featuring songs by Poulenc, Debussy, Aulis Salinen and Joseph Marx with pianist Martin Katz. The subject matter spans moods of love and regret.
"It gives you such freedom on stage with a pianist just to dig into the worlds and atmospheres of those songs," said Mattila in an interview with WQXR's Jeff Spurgeon. "The challenge is always to find the intimacy and the contact with the audience no matter how big the hall is."
Many New York operagoers came to know Mattila in a particularly up-close-and-personal way in 2004 when she starred in Richard Strauss' Salome at the Metropolitan Opera. Mattila performed the Dance of the Seven Veils as a striptease, concluding removed all her of veils – and leaving not one behind. The performance set off a media firestorm (mostly in a good way) and earned her plaudits for her fearlessness. She was suddenly very recognizable among even casual classical music fans.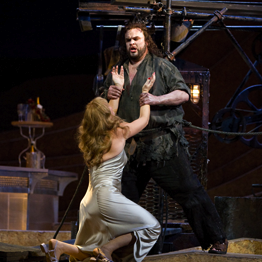 Since that time, Mattila has incrementally built on the reputation as a singer who holds nothing back, particularly in her appearances in the title role of Tosca at the Met (the widely drubbed Luc Bondy production) and Janacek's Katya Kabanova at the Lyric Opera of Chicago. Of the latter, Chicago Tribute critic John von Rhein wrote in 2009 that "Mattila made us aware this Katya is emotionally unstable from the outset."
The product of a strict upbringing in rural western Finland, Mattila first came to public attention in 1983 when she was 23 and won the inaugural Cardiff Singer of the World Competition. The young graduate of the Sibelius Academy in Helsinki then signed a recording contract with Philips, singing mostly Mozart. But along the way things cooled off and Mattila's career plateaued. Soon after surgery on her vocal cords in 1992, she re-emerged and began to build a name with a newly found technical prowess and a more incisive theatrical bent.
Over the years, Mattila's pure-toned soprano has taken on deeper, more complex colorings as she has taken on more Wagner, Strauss and Janácek. A recital heavy on French music (along with some Viennese and Finnish numbers) offers a chance to catch the dramatic diva in a more stylized setting. Still, it shouldn't be lacking in drama: Mattila is known for her red-carpet-worthy dresses, of which she often changes multiple times over the course of a program (radio listeners will have to rely on the play-by-play from hosts Jeff Spurgeon and Fred Child).
Last year, Mattila turned 50 yet she continues to tackle some demanding roles, including the title character in Katya Kabanova at the Met in April and May of 2012. Unlike many other stars, she has held her performances down to between 45 and 60 performances a year, believing that this represents for her the right balance to keep her voice in good shape. Of her preservation strategy she said, simply, "I try to keep my demons in control."
Photo: Karita Mattila and Juha Uusitalo in a scene from 'Salome' at the Metropolitan Opera (Marty Sohl/Metropolitan Opera)