Hahn-Bin, the eyeliner-wearing Juilliard-trained violinist, debuted his original production Till Dawn Sunday last Tuesday night at Joe's Pub. Accompanied on stage by his longtime pianist, John Blacklow, with occasional (non-musical) cameos by the actor Peter Samelson, Hahn-Bin performed 16 works by nearly 20 composers including Piazzolla, Liszt, Gershwin and Ravel. 
A conventional violin recital, this was not.
The program note for Till Dawn Sunday includes a mock obituary from The New York Times. According to the obituary, Hahn-Bin committed suicide after the murder of his ex-lover; the title reads "Hahn-Bin, The World's Saddest Clown, Dies at 24." The production (which repeats on Dec. 13), is loosely based on one Saturday night in Hahn-Bin's life, while he was preparing for his debut at Carnegie's Zankel Hall, and living on the Lower East Side. While sometimes difficult to follow, it is told through sequenced musical performances and a few lines of monologue.
Hahn-Bin's makeup for the performance was reminiscent of Klaus Nomi, Leigh Bowery or even a 21st-century version of Pierrot himself. His hair coif, a high, curvy black Mohawk, mingled occasionally with a few flying horsehairs of his bow, loosened early in his vigorous performance.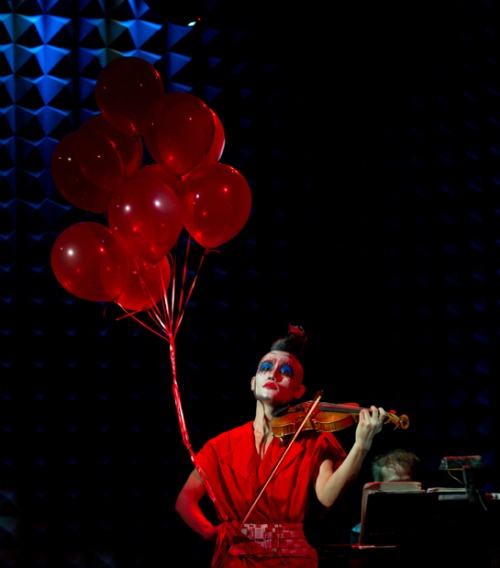 Loose bow hairs are a regular occurrence for Hahn-Bin, who uses his entire body to convey whatever music he is playing. Facial expressions, elaborate gesturing and choreography are inherent to his performances. More familiar to opera singers than classical instrumentalists, the merging of theatricality and musicianship is precisely where Hahn-Bin lives and thrives. But Hahn-Bin's individuality – his slightly camp, ultra-expressive performance style, which values the visual image of the performer as much as the music itself – is not necessarily welcome in classical music.
"There is such a thing as the classical music industry, and I think it's useful to point out that I am not a part of that industry," Hahn-Bin said in a phone interview Thursday. "It's not that I don't want to be a part of it, it's just that I never have been." As a Juilliard graduate who gave his Zankel Hall debut at age 22, Hahn-Bin is simultaneously a product of classical music -- with its farm system of conservatories and competitions -- and one of its biggest outliers.
Raised in Seoul, South Korea, Hahn-Bin's career got off to an early start even by prodigy standards, with a competition victory at age five and a debut with the Seoul Philharmonic at age 10. In 1999, he moved to Los Angeles to study at the Colburn School and appeared at the 2000 Grammy Awards in a tribute to Isaac Stern. Around this time, Hahn-Bin was selected by Itzhak Perlman to join the Perlman Summer Music Program, a musical intensive led by the violinist and wife Toby Perlman, in Shelter Island, NY. "I feel so grateful to the Perlmans," said Hahn-Bin. "[Mr. Perlman] knew that for me, the avant-garde was my language. He knew that when I personally didn't know."
Hahn-Bin recounted a "skit night" at the program during which students could perform anything they wanted. He chose a piece by the Icelandic pop star Bjork. "I created my own costumes and had a fan machine and I had gotten wigs – it was really an environment I don't think a lot of other camps or schools would encourage or accept." Hahn-Bin was also practicing upwards of seven hours a day, and not speaking much (in English or Korean). "I realized that, for me, music and my performances were my only way to communicate," he said.  
Continuing his studies with Perlman for almost a decade, Hahn-Bin graduated from Juilliard in 2009. The same year, he won the Young Concert Artists International Auditions, the 50-year-old star-making vehicle. At his aforementioned Zankel Hall debut, critics noted the violinist's virtuosity and eclectic programming choices, but his visual appearance began to overshadow his playing. When he performed at the Louis Vuitton store during Fashion's Night Out in 2010, he was profiled in the New York Times Sunday Styles section. (He has also made headlines for having left his $500,000 violin in a taxi; the two were reunited after the instrument was tracked via GPS.)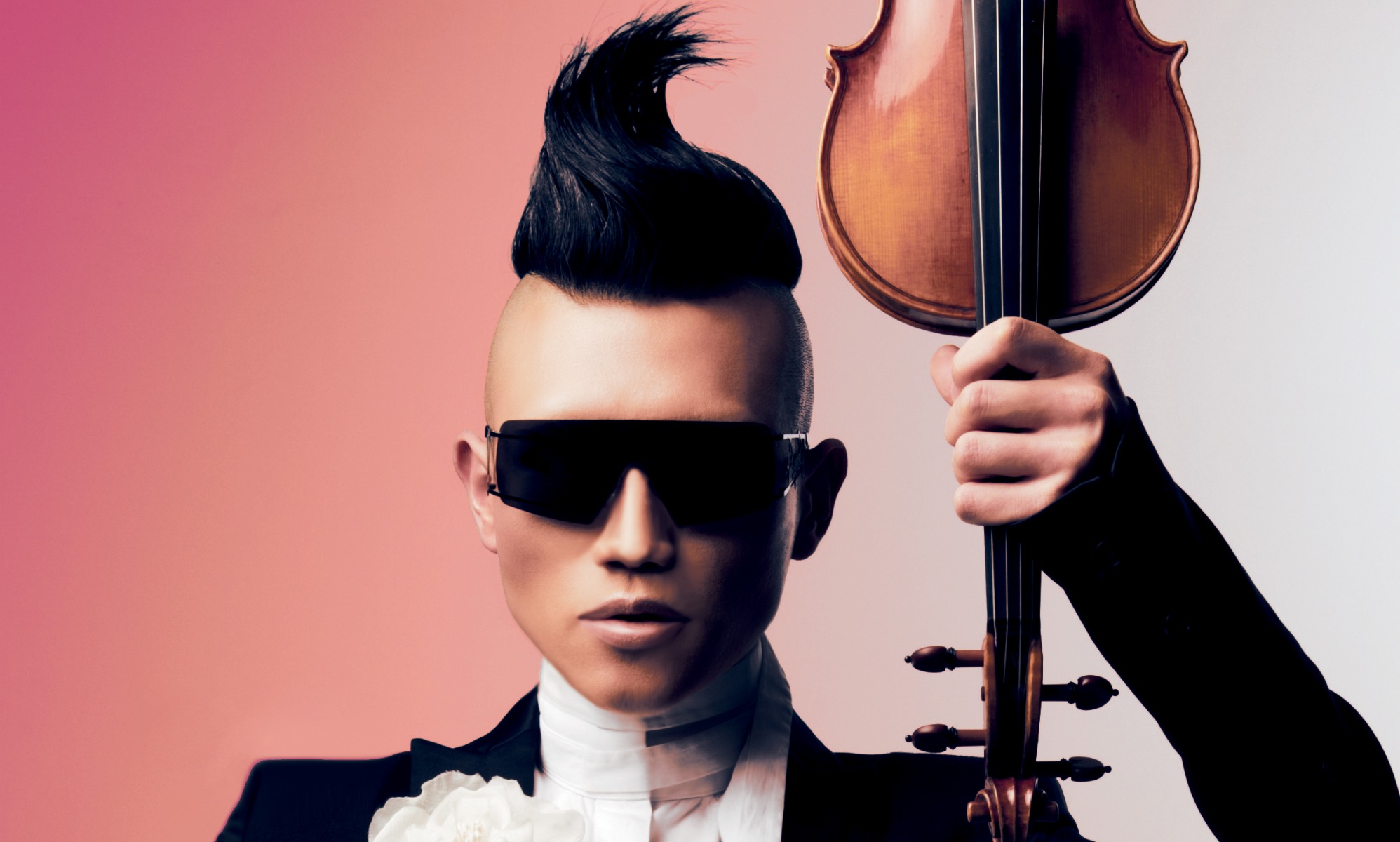 "I'm not really a part of the fashion world," said Hahn-Bin in a characteristically contrarian manner. "I never really considered myself to be a fan of fashion. For me fashion was a requirement…an incredibly important tool in being able to find an identity." Hahn-Bin chooses outfits that create a "visual identity" for whatever piece he is playing, a fact that has made fans out of the model Shala Monroque, the gallery owner Barbara Gladstone and the former Vogue editor André Leon Talley.
Earlier this year, Hahn-Bin was invited to play at the Museum of Modern Art as part of the exhibit Andy Warhol: Motion Pictures. The notion of classical music as visual art, outside the concert hall, dovetailed with his ideas about performing with visual imagery. 
"There is a difference when people step into a concert hall as opposed to MoMA…people did not separate when I was performing Bach or Paderewski from what they were seeing on the walls. That was really the beginning of Till Dawn Sunday, because every day I was performing [at MoMA] I was able to have this incredibly free experience and sort of commune with my audience."
And just who is Hahn-Bin's audience? "Everyone" he says.
And what of his genre, if it's not strictly classical? "Musically, I call it avant-pop-classical," said Hahn-Bin. "Those three words mean a lot to me." (In his book, The Rest is Noise, music critic Alex Ross describes Bjork as an "avant-pop" artist).
Tracing Hahn-Bin's path, from Korea to the Lower East Side, gives only a sketch of a still-young artist. Traditionalists may feel validated dismissing him with a roll of the eyes, his appearance too distracting for him to be a legitimate presence in classical music. But Hahn-Bin is clearly out to define himself on his own terms, on a scale where self-expression is paramount.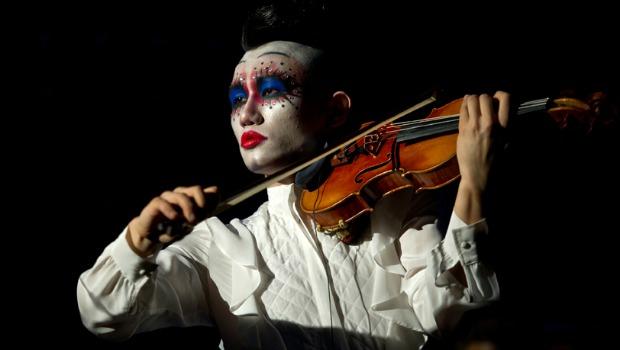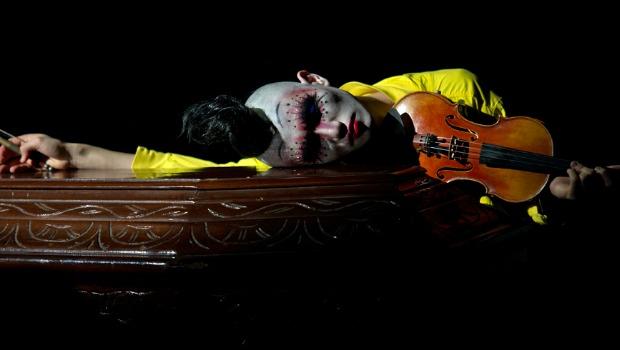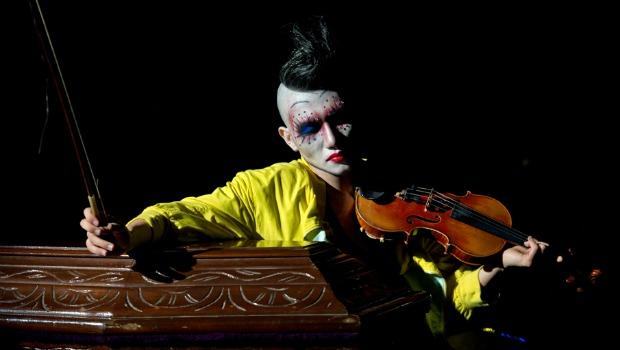 of