The Strange Musical World of Kim Jong Il
Kim Jong Il, who died Saturday at the age of 69, took an active role in North Korean culture, and had a truly curious relationship to classical music.
In official propaganda, Kim was portrayed (flatteringly of course) as a musical connoisseur with big ideas about the role of classical music in society. His official biography states: "In 1964 he graduated from the Kim Sung Il University where legend has it he wrote 1,500 books, all of which are stored in the state's library. It is also said that he wrote six operas, all of which are better then any in the history of music."
In 1974 Kim wrote The Art of Opera, in which he set out his principals that Korean opera be full of "stanzaic songs, which can be understood easily and loved by the people." He continues: "In conventional operas, the personalities of the characters were abstract, their acting clumsy, and the flow of the drama tedious." The book describes how Kim and his dad, the late Great Leader Kim Il Sung, took the husk of a tired art form and gave it a much-needed shot of North Korean communism.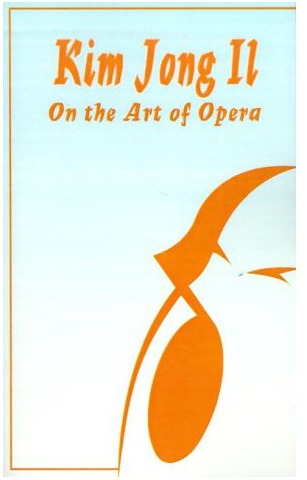 Similarly, in a speech to musicians in 1968, Kim said that music must serve the revolution and not be based on "uproarious Western music." Kim said he had initially thought that the song "Kim Il Sung is our Sun" sounded good in D major. But his father steered him in the right direction, advising E major as better for expressing emotions richly.
Charles Armstrong, the director of the Center for Korean Studies at Columbia University, said that Kim's rise in the power structure was unusual in that his education was rich in theater, film and music. Before inheriting power from his father in 1994, Kim took charge of the country's film industry. "He always seemed to have a strong interest in the arts," he said. "He argued that culture was key to maintaining the regime and keeping people's loyalty."
Western musicians who have performed in the Hermit Kingdom say that the State Symphony Orchestra is a wonder of sorts, playing Tchaikovsky symphonies from memory and occasionally taking on rousing scores like Shostakovich's "Leningrad" Symphony. Yet Western classical music is permitted in limited doses. Mostly, the average citizen gets paeans to the leadership like "The Leader Has Come to Our Post," (a cantata) and "General on a Galloping White Horse."
WNYC host John Schaefer visited North Korea as part of the press entourage that accompanied the New York Philharmonic on its 2008 trip to North Korea, in which it gave a concert before officials (and on state-run television) in the East Pyongyang Grand Theater. He remembers program after program on TV of orchestras playing "big, saccharine arrangements of the most maudlin North Korean folk songs." He added: "It would be as if the pop music you got on American TV consisted of 'Swanee River' and 'Jingle Bells.'"
Whether or not the average North Korean actually sees these or other performances is another question entirely. Interviews with defectors in China and South Korea indicate that food and money shortages have kept most residents trapped in a hardscrabble existence with a standard of living that is one of the lowest on Earth. Still, Kim was known for his eclectic tastes, which ranged from golf to film. He reportedly amassed more than 20,000 video tapes and DVDs of movie classics like "Friday the 13th," "Rambo" and "Godzilla."
One of the final accounts of Kim's musical side came in 2009 when the KCNA news agency reported that he assisted at the rehearsal of Tchaikovsky's Eugene Onegin at Pyongyang's conservatory, giving guidance to the director and performers. The Dear Leader praised the teachers' and students' efforts to perform an opera of high artistic value, and stressed that the Korean people should get a better understanding of world culture.
"It's probably hyperbolic," said Armstrong. "But if he wanted to conduct the orchestra he certainly could have."