In an unsigned review of the Met's performance of December 24, 1888, a New York Times critic wrote:
"The eve of Christmas is generally believed by amusement managers to be the worst night in the year for their business. The saddening influence of the night was discernible in the size of the audience at the Metropolitan Opera House last evening, yet it may reasonably be doubted whether any work thus far produced would have drawn a larger assemblage than Wagner's Siegfried."
Don't you love the term "amusement manager"? And that such a manager would think that Siegfried would be suitable holiday fare? In fact, Christmastime at the opera, at least at the Met, has been unexpectedly rich and vivid in terms of repertory and important events.
I always find it interesting which works opera companies offer at this time of the year. While there are endless Messiahs in concert halls and countless nuts are cracked at the ballet, at the opera one can find all kinds of things. This year the Met is doing Faust on December 23, with a Saturday matinee of La Fille du Régiment for the radio broadcast, followed by an evening performance of Hansel and Gretel. Something for everyone, and even the Devil gets his due. There is no performance on Christmas day, as it is a Sunday.
On Christmas day 1893, Emma Calvé sang Carmen and the Times remarked:
"The second performance of Carmen made Christmas night at the opera a merry one for the management. It is evidently not unfashionable to go to such entertainments on Christmas for the auditorium of the Metropolitan Opera House was filled to its capacity with one of the most brilliant audiences of the season."
On Christmas 1908, the Met gave a double-bill of L'Elisir d'Amore and Cavalleria Rusticana, which is quite a long night of music. The underlying theme seems to be wine, with Bordeaux being the elixir of love while in the latter opera (set on August 15) Turiddu breaks a sweat singing, "Mamma, quel vino è generoso."
December 24, 1920 was an important, and sad, night in Met history. Enrico Caruso sang his last performance, as Eléazar in Halévy's La Juive. He took ill that night and would die soon thereafter.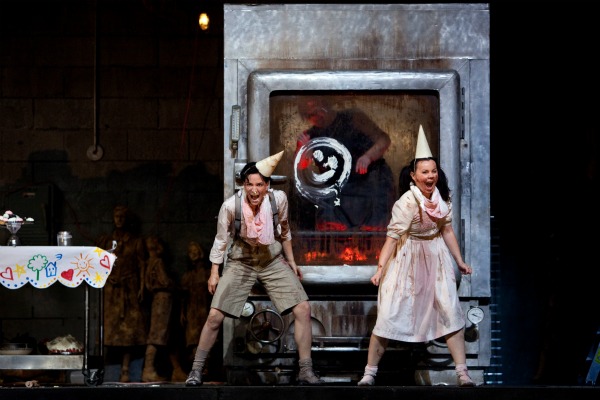 For the December 25, 1910 performance of Engelbert Humperdinck's Hansel and Gretel, the composer was on hand to take a bow, but this occasion was dwarfed by the presence of Puccini, who got a huge ovation the next night after La Fanciulla del West. Hansel and Gretel is a perennial favorite because the music is gorgeous, children know the story and the Witch should (but does not always) provide comic relief rather than source material for gingerbread nightmares.
Christmas day of 1931, eighty years ago, was an historic day in the annals of opera and broadcasting. Hansel and Gretel was the first opera to be transmitted live on the radio from the Met. Even opera lovers who know this fact might be surprised to know that it was followed in the house (though not on radio) by Pagliacci. Quite a double bill for the holiday -- children being put in ovens and turned to gingerbread, followed by a jealous clown committing two murders. Bring the whole family!
December 26 is an important day in Italy for opera. In the 19th century, the day after Christmas was often the choice for a major opera premiere. In Milan, Anna Bolena debuted on December 26, 1830 and Norma came exactly one year later. A performance I wish I had attended was the centennial of Norma, done at the old Met on December 26, 1931 (the day after the first radio broadcast), with Tullio Serafin conducting Rosa Ponselle in the title role and a cast that included Gladys Swarthout, Giacomo Lauri-Volpi and Ezio Pinza. Now that is Golden Age! 
In recent decades there have been some very unexpected operas at Christmastime at the Met. Alban Berg's operas were presented on Dec. 26, 1980 (Lulu) and Dec. 26, 1989 (Wozzeck). I worked a very long matinee broadcast of Tristan und Isolde on December 24, 1983 but, with James Levine leading a cast that included Hildegard Behrens and Tatiana Troyanos, I did not mind too much.
It is interesting to note that the Met (unlike many opera companies) did not hesitate to present opera on Christmas day, and ambitious ones at that. Holidays are paid double-time to union employees, making those evenings costly for an opera company. I worked several Thanksgivings (including a Tosca with Carol Neblett and José Carreras in which I suggested she pull that fatal knife out of a turkey) and December 25ths. I was always amazed how many people attended performances when I would have thought they would have been around a table at home with a football game flickering on the television set.
Christmastime Operas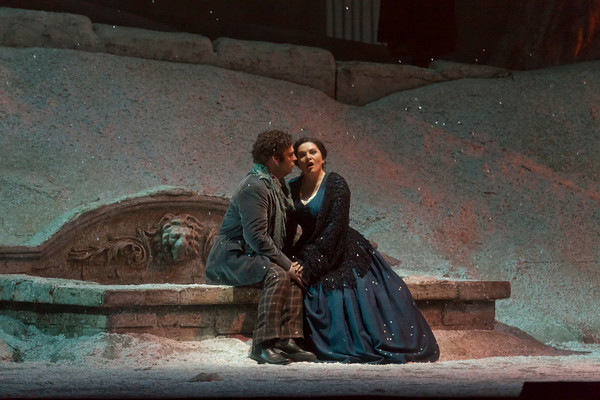 Certain works seem like a natural fit for holiday time. The suggestion of wintry chill always seems to work at Christmas, as long as there is some romance or charm attached to it. La Bohème's first two acts occur on Christmas Eve. The snowy third act also seems congenial to audiences at holiday times. La Fanciulla del West, with its lovelorn characters and a blizzard in the High Sierras, also works well. 
In recent years, the Met has presented a holiday season run of an opera thought to have broader appeal and tickets are sold at "family prices." (When did "family" become an adjective, describing prices or values? Give me the Family Circle at the Met, which has great acoustics and affordable prices!) This year's "family opera" is Hansel and Gretel, while other seasons have had a shortened, one-act English-language version of The Magic Flute. The crowd-pleasing Il Barbiere di Siviglia is a good pick for the holidays, though it does not seem to have established itself as a tradition. The Met did it on Christmas in 1973 with Frederica von Stade, Luigi Alva and Dominic Cossa.
As an alternative to the holiday operas mentioned above, perhaps Valery Gergiev can unearth an opera called Christmas Eve, with words and music by Nikolai Rimsky-Korsakov. Based on a short story by Gogol, it premiered at the Mariinsky Theater in St. Petersburg on December 10, 1895. In the cast was a bass named Fyodor Stravinsky, father of the composer. It was performed in English in 1988 by the English National Opera. This would be a novelty for people such as readers of this blog who know the standard repertory all too well.
A Musical Wish List for the Holidays
Another work I am ready to see more of is Giancarlo Menotti's Amahl and the Night Visitors (1951). This musical fable has always been unjustifiably tainted by the fact that it was the first opera written expressly for television, but I think it can also play well on small stages. Menotti was inspired for this opera by Bosch's large painting, The Adoration of the Magi, that he saw at the Metropolitan Museum of Art. Here is a clip from a television version done in the 1970s with Robert Sapolsky as Amahl and Teresa Stratas as his mother:
There are other works, not necessarily intended for the opera house, that I would like to see back in performance rotation at this time of the year. They include the Christmas Oratorio by Camille Saint-Saëns and the wonderful L'enfance du Christ by Hector Berlioz.
It is also time for Benjamin Britten's A Boy Was Born and, especially, Hodie (1954), a Christmas cantata by Ralph Vaughan Williams (1872-1958), a composer whose works I believe should always be revisited.
Those are my musical wishes. Here below are three more wishes I have for the opera world in the year to come:
May all singers and conductors enjoy good health
May every director chosen to do an opera production know how to read music and speak the language of the work at hand
May all readers of this blog, and every operagoer, purchase tickets to two operas they have never seen before
What are your operatic wishes for the holidays?

Photos: 1) Kate Lindsey as Hansel, Robert Brubaker (in the oven) as The Witch, and Alekandra Kurzak as Gretel in 'Hansel and Gretel' (Marty Sohl/Metropolitan Opera); 2) Dimitri Pittas as Rodolfo and Hibla Gerzmava as Mimì in La Bohème (Richard Termine/Metropolitan Opera)