J.S. Bach - Recycling and Reusing, but Always Reinventing
The aesthetic of borrowing and sampling is as old as Western music itself. Long before hip-hop artists were taking existing ideas and sounds and splicing them into their songs, composers of the Baroque were recycling themes from themselves and others. Bach is the most  obvious example, as a new recording demonstrates. The Italian period ensemble Accademia Bizantina presents 19 instrumental movements from Bach's cantatas, many of which contained themes that were recycled from elsewhere, and nearly all of which are full of beauty and charm.
Listen to the regal Sinfonia from Cantata 29, which contains essentially the same music as the Prelude of the Partita No. 3 in E major for violin, only here the organ takes the melody, while the brass add sly punctuations. Or consider the Sinfonia from Cantata 156, familiar to many as the Arioso from the Keyboard Concerto No. 5 in F minor. The opening movement of the Brandenburg Concerto No. 1 is recycled as the Sinfonia from Cantata 52, while the Brandenburg No. 3 is reinvented as part of the Cantata 174.
This makes for an enjoyable game of theme spotting but you don't have to recognize any of these to enjoy the collection. Other standout tracks include the Cantata 196, which introduces a wedding, and Cantata 21, with its gorgeously dovetailing oboe and string melodies.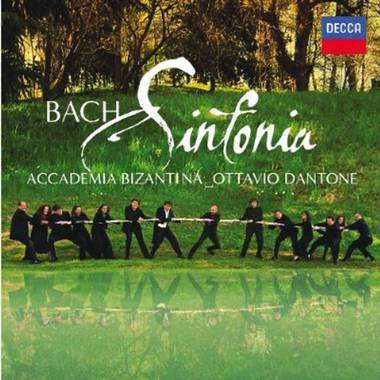 The album's cover shows the members of the Accademia engaged in a playful tug of war; we're not sure what this is all about but it does suggest that these folks, led by harpsichordist and organist Ottavio Dantone, don't take themselves too seriously. Their performances are crisp and spontaneous in character, with imaginative ornamentation, resonant strings and bold timpani and brass playing (the occasional frayed horn line is but a minor distraction). A lively recording to ward off the winter blah's.
J.S. Bach: Sinfonias and Concertos
Accademia Bizantina
Ottavio Dantone
Decca
Listen to the Accademia's version of Cantata 18: