Planet Opera: La Scala Captures Italian Zeitgeist in New Don Giovanni
Since hearing the December 13 performance of Don Giovanni at Teatro alla Scala, the music of that opera has never been far from my ears and mind. Although I have attended five other operas since then, nothing has made such an impression on me as this one.
Of course, Mozart's opera is a supreme masterpiece. But, frankly, it did not have the same impact on me when I heard it twice at the Met in October, even with the same Don Giovanni (Peter Mattei) and Donna Elvira (Barbara Frittoli). The Milan cast also included Giuseppe Filianoti (Don Ottavio); Stefan Kocan (Masetto); Anna Netrebko (in a strong company debut as Donna Anna); Anna Prohaska (Zerlina); the great Bryn Terfel (Leporello) and Kwangchul Youn (Commendatore). One could tinker with this casting a bit but, overall, this was a very strong group.
I think the Met had a better conductor in Fabio Luisi than La Scala had with Daniel Barenboim, though both are quite fine. And, to me, the Met orchestra is much better at Mozart than their counterparts in Milan.
So why has this Don Giovanni remained so present in my imagination three weeks after seeing it? The production by Robert Carsen (with scenery by Michael Levine; costumes by Brigitte Reiffenstuel; lighting by Carsen and Peter van Praet) was brilliant. Carsen, who is Canadian, is one of the best opera directors at work today. He is able to find inspiration in the words and music of an opera to deepen his approach rather than merely coming up with an implausible "concept" into which everything must be shoehorned.
Carsen had many fresh and original ideas that the opening night audience, on December 7, found challenging, as did the audience at the third performance of the run, which I attended. In fact, that was the worst opera audience I have sat in for a long time. The singers clearly labored to make a connection with the public, to no avail. The woman next to me frequently muttered "non applaudire" (don't applaud) any time even a smattering of applause happened. This opera has a great deal of comedy in it, and the audience was listening to the text in its own language, but I often was the only person laughing. This obstinate resistance to what was on the stage made the whole experience more compelling.
In my first dispatch about Teatro alla Scala, I emphasized the special sensations that come when going to a performance at this theater. The annual opening night is on December 7 because that is the feast day of Milan's patron Sant'Ambrogio (Saint Ambrose). Ambrose was a famous orator with a beautiful voice who spoke in such honeyed tones that his name helped create a new adjective, ambrosial. Everyone in Milan, many people in Italy, and a considerable number of culture-minded people in Europe note in their calendars the return of December 7 and watch a live transmission from La Scala.
Italy, a country well-known for being in what seems like a constant state of crisis, was in extra crisi this year. Corruption and mismanagement in the government of Silvio Berlusconi had just brought it down, not because he conducted a personal life akin to Nero while Rome burned, but because the European Union basically told Italy that Berlusconi had to go.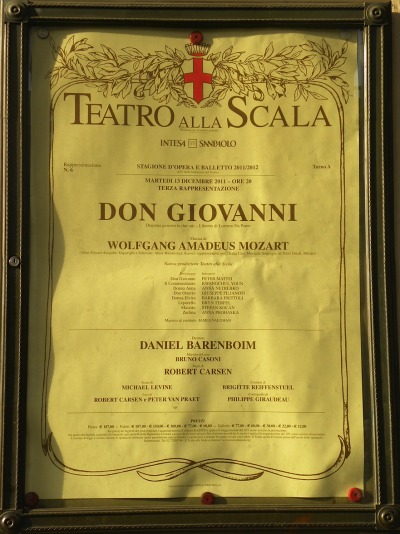 If you watch the video of the first act (the link is at the bottom of this article) you can see, in the royal box, Italy's eminent president Giorgio Napolitano -- who dissolved the Berlusconi government and mandated a new one -- and the new prime minister Mario Monti, on whose shoulders the nation's many burdens and hopes have been placed. The Milanese like to tell you that they are the best at business and administration and become irritable when they are reminded that two of the most corrupt recent prime ministers were from Milan: Berlusconi and Bettino Craxi (who fled to Tunisia to escape imprisonment). Monti is also from Milan, but I have more faith in his probity and devotion to doing a good job.
This discussion of politics may seem off the point, but it was an essential undercurrent in Carsen's Don Giovanni. During the opera's unforgettable overture, the curtain onstage was a distorted mirror and the wealthy, powerful audience members saw themselves. Carsen surely knew that the subtitle of this opera is "Il dissoluto punito," or, "the punishment of the dissolute man." When Carsen planned this production, Berlusconi and his government were still running amok. Whether or not the former prime minister actually had chosen to attend the opening (he only went to four openings in seventeen years in office), there was no question that the dissoluto was not only Berlusconi but the whole ethos that was part of his administration.
Without underlining similarities between the events in the opera and recent occurrences in Italy -- which is what a crude "concept" production would do -- Carsen allowed the story to unfold, with its stories of women abused and spurned, with a title character who feels he can live outside the law, and with other male characters who endure injustice. Frequently we saw the Don, assisted by Leporello, change costumes onstage, a subtle reminder that the emperor had no clothes.
During the performance, the set design changed subtly, and beautifully, to become almost an echo chamber of ideas, as you will see in the second act as Donna Elvira has a meltdown while singing "Mi tradi." Yes, that is a repeating image of La Scala. It is also fascinating to see the Don and Elvira's maid remove themselves from the action to watch the other characters. Giovanni, self-indulgent and uncaring, becomes one of us.
Below: Barbara Frittoli as Donna Elvira in Don Giovanni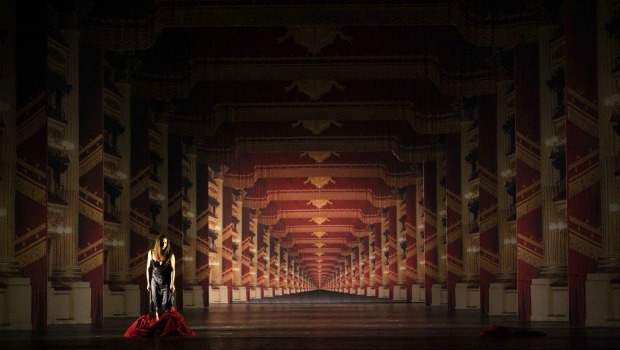 People who attend La Scala, whether from Milan or elsewhere, bring with them a strong sense of tradition, perhaps so much so that audiences and some reviewers tend to be critical by reflex. American audiences tend to be more appreciative, naïvely so according to some Europeans. A Milanese audience, whether attending in New York or at home, would look to find fault with the proceedings, in part because of the mentality I referred to in my first post of things never being as good as they used to be. In fact, many things at La Scala now are quite good and equal to the top international  standards.
You can hear, at the start of Act Two, at about 1'30" on the video below, someone from a high balcony shout "Sei lento" ("You're slow!") at Daniel Barenboim. There is a murmur in the audience and the event led to what Italians like to call polemica. Barenboim later said to a reporter from La Repubblica, about the scattered boos for the production and the voice that called out against him: 
"These protests happen in Italy but also in Germany. I'm liberal and think that everyone has the right to express their own opinions. But don't come into the theater and scream. If you eat a bad meal at a restaurant, you don't go into the kitchen and scream at the chef because the food was bad: maybe just give a smaller tip and don't go back to that restaurant."
Carsen created a controversial coda to the opera, after Don Giovanni has supposedly been consumed by the flames of hell. Watch for the surprise ending. This choice, while not necessarily shocking, suggested that the dissolute man might not be punished after all. He is so corrupt and evil that the forces against him are not strong enough. 

This approach can be perceived as deeply cynical. In fact, it perfectly captured the Italian zeitgeist. La Scala, the theater whose stage was the launching pad for a political movement that led to Italy's becoming a nation, is still at the center of things. Although it is accused of being out of touch, and not representative of anything except itself, Teatro alla Scala remains essential because it loudly asserts that opera is not a mere entertainment but, as Don Giovanni says about women, "Son necessarie più del pan che mangio, più dell'aria che spiro!" -- "More necessary than the bread I eat, more than the air I breathe!"
Watch the entire broadcast of the December 7, 2011 opening night of Don Giovanni at Teatro alla Scala and share your thoughts below:
Act One:
Act Two: