18 Women Composers You Should Know
Tuesday, March 07, 2017 - 05:21 PM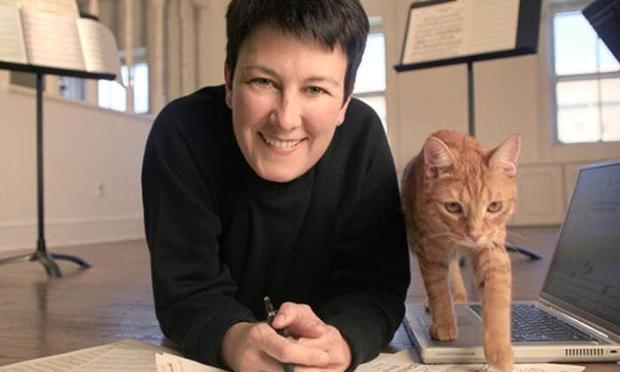 (Philadelphia Youth Orchestra/Flickr)
March is home to both Women's History Month and International Women's Day. If you're looking for some great sounds to celebrate the contributions women have made to society throughout human history, start with the music of these 18 composers.
Amy Beach
One of the most prolific American composers of all time, woman or not. Born in New Hampshire and recognized as a prodigy, she got her career start in Boston before later moving to Europe. She was especially celebrated for her secular and sacred choral work, including a setting of the Mass which helped propel her to fame. 
Elisabeth Jacquet de la Guerre
Like most of Europe, 17th century France was not exactly known for advancing the careers of aspiring women composers. Despite this environment, Elisabeth Jacquet de la Guerre's talent was so pronounced that her male contemporaries didn't shy away from acknowledging it. Born in Paris in 1665, the young Jacquet de la Guerre was quickly identified as a harpsichord prodigy and even made King Louis XIV a fan of her work. Her musical education was overseen by the King's mistress, Madame de Montespan. Among Jacquet de la Guerre's published works were a set of compositions for harpsichord — notable because of the period's lack of published music for the instrument — and the opera Céphale et Procris. While the latter's lukewarm reception may be credited for her decision not to write another opera, she came back with some innovative harpsichord music and two books of cantatas.
Henriette Renié
This woman holds the distinction for essentially writing the (literal) book on what it means to be a premier harpist. She fell in love with the instrument at a young age, and began to take lessons under the tutelage of renowned harpist Alphonse Hasselmans. Renié would go on to be a respected master of the instrument, but her musical ambitions didn't stop at performance. A large part of her life was dedicated to teaching; she began giving harp lessons from the age of nine. Naturally, many of her pupils were much older than her; however, this early start gave her even more time to cement her reputation. During World War II, she committed to writing down her harp method. Méthode Complète de Harpe was published the year after the war, and has remained an influential text for the instrument.
Ethel Smyth
Like many furiously creative artists, composer Ethel Smyth intertwined her music with politics. She was a member of the woman's suffrage movement, and was active within the Women's Social and Political Union. In fact, Smyth's song, "The March of the Women," went on to become the organization's official anthem. In 1912, she was arrested after several members of the party smashed politicians' windows  — including that of the Prime Minister — who opposed universal suffrage, and served two months of prison time. Smyth remained just as productive in her musical endeavors, writing six operas, dozens of art songs, and both orchestral and chamber works.
Ellen Taaffe Zwilich
The Miami-born composer has held a firm grip on the attention of her audiences since the last quarter of the 20th century. In 1975, Pierre Boulez conducted the premiere of her Symposium for Orchestra, and less than a decade later she became the first woman to win a Pulitzer Prize in Music. Her music has captivated a variety of listeners, thanks to the accessibility of her adventurous, forward-thinking creative spirit.
Dora Pejačević
Born into an old, noble family, the talented pianist would grow up to become one of the most influential figures in Croatian music. During her short life (she died in childbirth at the age of 38) she composed 57 completed works, including a hefty ouvre for solo piano, sixteen chamber works, and dozens of lieder. But she made her mark with the human voice; Pejačević is credited with bringing orchestral song to Croatian late-Romantic music.
Alma Mahler
This composer was a woman bursting with her own career goals, but her ambitions were often stifled by her husband, a man named Gustav. Though their courtship was straight out of the puppy love handbook, Alma's husband demanded that she cast aside her love of music to focus instead on being a mother and wife. This didn't go over so well with Alma, who grew increasingly distant. When her husband spoke with psychoanalyst Sigmund Freud, he realized that (surprise!) his condescending attitude was to blame. He encouraged Alma to embrace her creative output — not that she needed that encouragement, because she had written enough music to publish it as a collection once her husband got off her back.
Marianne Martines 
She was well known for her voice, but it was her natural flair for breathing life into the Viennese music scene that kept her in the spotlight. Martines was thrown into a musical education beginning in her childhood, and she had two of the best teachers any aspiring pianist or composer could want: Nicola Porpora and Joseph Haydn. When she grew up, Martines' salons attracted top talents from all over town, including her keyboard tutor Haydn and the composer Wolfgang Amadeus Mozart. At one such gathering, Irish tenor Michael Kelly was dazzled by her piano skills when he witnessed Martines playing a Mozart four-hand sonata with the composer himself. Excellent company, indeed.
Clara Schumann
When the young Clara Wieck was still a girl, her father Friedrich recognized her musical talent and took it upon himself to make sure his daughter would become a leading concert pianist. This got a bit complicated once another young pianist named Robert Schumann moved into the Weick household and later began courting the young musician. Although Friedrich was initially opposed to the idea of Clara and Robert all buddied up, he eventually relented and the two went on to become the 19th century's musical power couple. Clara's skill as a concert performer earned her rightly due fame, but she also composed original works as well. She also happens to be, at least partially, responsible for the now-common practice of pianists performing their concert pieces from memory.
Fanny Mendelssohn
A pianist born into an influential German-Jewish family, Mendelssohn demonstrated a stunning musical aptitude that compelled her parents to provide her with a musical education. She first studied with a student of Bach, and later with the French pianist Marie Bigot. By the time she was thirteen, she could already play the entirety of the Well-Tempered Clavier from memory; she would also develop into an able composer. However, because of the many obstacles that made it near-impossible to be a woman whose life revolved around music, several of her original compositions were published under the name of her brother, Felix. Despite this, she remained a fixture of the Berliner musical scene.
Augusta Holmès
Born in France to Irish parents, the young Holmès grew up in a household that embraced art and creativity, so long as it wasn't expressed musically. The staunchest opposition to a musical life came from her mother, but when she died Holmès' father allowed his daughter to explore her musical impulses. Despite her talent, she was denied acceptance into the male-dominated Paris Conservatoire, so she continued her education in private. She went on to compose several orchestral works; including Irlande, a tribute to her ancestral home, and the opera La Montagne Noire. But one of her most interesting works might be Ode Triomphale. Written for the Paris World's Fair of 1900, the gargantuan work requires the might of 900 singers and a 300-piece orchestra.
Hildegard von Bingen
The legendary abbess had a knack for serving up some righteous sacred work. Technically "composer" is only one label to affix to the holy woman — her writings crossed into philosophy, theology, science and medicine. And since she decided that she would really be the one to do it all, Hildegard also created a new alphabet. But today, we most remember her for the music. It was profoundly spiritual, and some of it was said to have been inspired by divine visions.
Alice Mary Smith
This English composer died at the age of 43, but managed to be quite prolific during her time on earth. Among her works are five cantatas, four concert overtures, four piano quartets, two symphonies, three string quartets and a clarinet trio. She was recognized for her work by being elected Female Professional Associate of the Royal Philharmonic Society and — in her last year —an honorary member of the Royal Academy of Music.
Katharine Parker
The Australian National University's biographical entry on Katharine Parker specifies that "her musical activities were affected by her personal misfortunes." Although she displayed promise as a pianist, first in Tasmania and later England, she lost much of that attention to her husband, tenor Hubert Eisdell. She eventually gave up composing, and her contributions as an ambulance driver during World War II further distanced her from music. After the war, illness made a return to the piano difficult. Nevertheless, several of her original songs were published, including her best-known work, Down Langford Way.
Rachel Portman
In her world, the movies are home. A graduate of Worcester College at Oxford, Portman got her career start by scoring BBC television dramas. She has gone on to provide the music for over 100 movies, including Mona Lisa Smile (2003), The Manchurian Candidate (2004) and Grey Gardens (2009).
Louise Farrenc
Her father and brother Jacques-Edme Dumont and Auguste Dumont, respectively, were known for sculpting. But Farrenc made music her craft. Her piano works attracted the attention of music critic and composer Robert Schumann, and as her experience grew she began writing for larger ensembles. She wrote several orchestral pieces — including two symphonies — but many of her efforts were concentrated on chamber works. Farrenc was consistently denied equal pay for her work, and only received it after an enthusiastic reception to the premiere of her nonet.
Maddalena Sirmen
A composer of the classical era and a student of Giuseppe Tartini. She achieved wide renown and popularity as a violinist, and during a concert tour of Italy she met her future husband. They eventually performed together as a duo, but Sirmen's skill eclipsed her husband's performance. She was an able harpsichordist as well, and eventually tried her hand at a vocal career. Her singing stint was a disaster, and it is considered to be a large factor for the end of her career.
Jennifer Higdon
In 2009, the American composer won a Grammy; the following year, she earned a Pulitzer Prize in Music. She is currently on the faculty of the Curtis Institute, where she teaches composition. Marin Alsop and Leonard Slatkin are among those who have conducted Higdon's music, and over the course of her career she has also received awards from ASCAP, the NEA and more.
More in:
James Bennett II is a staff writer for WQXR.
The WQXR e-newsletter. Show highlights, links to music news, on-demand concerts, events from The Greene Space and more.