Wild Night at Philharmonic After Phone Interruption
Wednesday, January 11, 2012 - 12:31 PM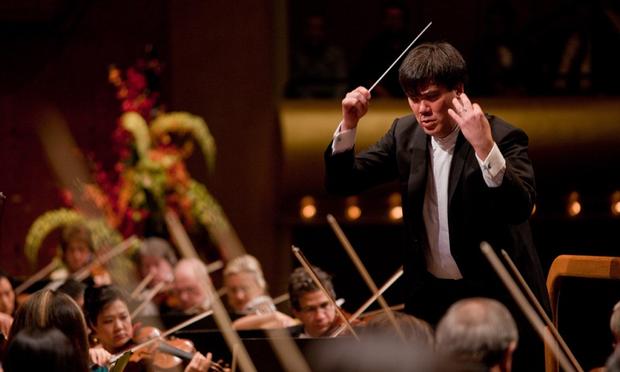 (Chris Lee)
Last night, in one of the quietest parts of the final movement of a gorgeous New York Philharmonic performance of Mahler's Ninth, a cell phone started ringing ... and ringing, and ringing, and ringing. Alan Gilbert, who was on the podium in Avery Fisher Hall, glared in the direction of the phone, but it kept right on going. Then, the music got louder, and we all assumed that whoever owned the phone had done something about it. But minutes later, when the music got softer again the phone was still going (an iPhone marimba ringtone, which sounds like this):
So Gilbert stopped the performance. He then turned around and indicated that the phone should be turned off. It continued. The conductor then said to the phone's owner, who was sitting in the front, "You have a phone... Fine, we'll wait." And we did, with audience members standing up, pointing in the direction of the offender, and shouting things like "Throw him out!" When the phone was finally silenced, Gilbert turned to the audience to apologize.
"Usually, when there's a disturbance like this, it is best to ignore it," he said. "But this was so egregious…" And he was right. It was egregious. The audience clearly agreed, giving him wildly supportive applause.
 
After resuming the fourth movement of Mahler's Ninth from an appropriate place, and bringing the symphony to its exquisite conclusion, Alan Gilbert left his hand in the air. The indication was clear: "Here. Enjoy the silence." And we did. Not a soul clapped until he began to lower his hand, at which point Maestro Gilbert and the Philharmonic enjoyed a heartfelt ovation -- for the music and the response.
 
Anyone who thinks this was an act of ego should give it another think. I was there. I don't know why the owner of the phone, or someone near the owner, did not get it to stop, but there was absolutely no way the music could have reasonably continued with that accompaniment. Bravo, Alan Gilbert. You were right.
What do you think of Alan Gilbert's response? Take our poll and leave a comment below:
More in:
Naomi Lewin is the weekend host on WQXR, and host of the weekly podcast Conducting Business. 
The WQXR e-newsletter. Show highlights, links to music news, on-demand concerts, events from The Greene Space and more.