Classical Music Played on Stricken Italian Cruise Ship
The Costa Concordia luxury cruise liner, which ran aground off Italy's Tuscan coast on Friday, was described by its owners as a floating "temple of fun" dedicated to entertainment and well-being. Even as it slammed into rocks and began to tip over, a magic show was taking place and a dancer from England was said to be trapped in a box and shouting to the magician, "Get me out, get me out."
According to its Web site, Costa Concordia offered nightly Broadway-style shows, singers, acrobats and musicians playing everything from the latest popular dance hits to -- believe it or not -- classical music. It's unclear if any classical performances were taking place at the time of the accident but several online videos show what appears to be a violin recital in the ship's Atene Theater, its three-story, 800-seat venue.
More than a footnote to a maritime disaster, the presence of chamber music on the Costa Concordia – however incidental – points to a segment of the classical music industry seldom considered. As modern cruise ships have doubled in size over the past decade, they've provided employment for many classically-trained musicians. A look at the major cruise liner schedules shows that the offerings go beyond the cliché of sequined performers belting out show tunes.
Sometimes a cruise line will hire a soloist and orchestra as a means of adding luster to its offerings. In May, the violinist Elizabeth Pitcairn will perform with the National Symphony Orchestra on the eastbound transatlantic trip of the Queen Mary 2. Operated by the Carnival Corporation, the largest cruise operator, the QM2 also features artists from institutions like the Juilliard School and the Vienna Philharmonic (the latter orchestra appears to have a particular nautical streak, being also slated to perform on an Eastern Mediterranean voyage with conductor Herbert Blomstedt in July).
In other cases, an ensemble or soloist will headline a themed cruise, as with the Chamber Music Society of Lincoln Center, whose members will travel the Mediterranean for nine days in August; or the English Chamber Orchestra, which sets out on the Aegean Sea in October with such headliners as violinist Maxim Vengerov and soprano Kiri Te Kanawa.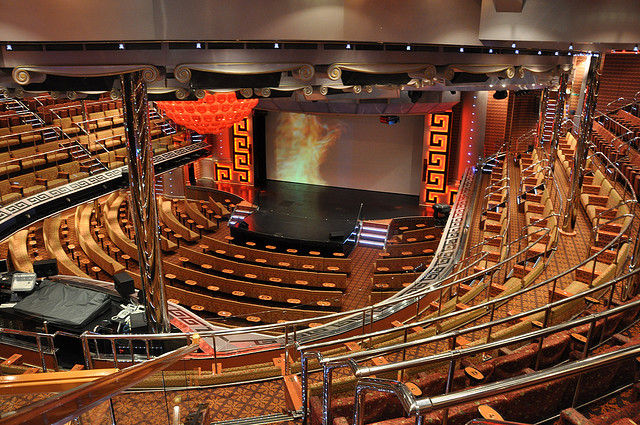 No classical superstars were billed for the Costa Concordia, which, by all accounts, was on a more budget-friendly trip, albeit one that boasted an array of bars, restaurants, a gym, large spa and several lavish suites. Yet even with cruises aimed at connoisseurs, not everyone finds the music satisfying. Richard Morrison, the chief music critic of The Times of London, wrote about the "ho-hum" performances on a 2008 Baltic cruise.
"I had the distinct impression that some musicians were treating the voyage as a skive in the sun, and performing accordingly," he wrote. "There was certainly an air of complacency in some concerts. The standard hardly rose to the level of a student recital at a London music college." He added that the musicians themselves had admitted in their recital that they had met only the day before.
Still, the global cruise industry has seen considerable growth over the last 40 years, with ships' amenities becoming ever more lavish. It stands to reason that a classical music industry in search of new audiences would try and find them on the high seas.
Weigh in: Have you been on a cruise that featured classical music? Would you be less likely to attend one in the wake of the Costa Concordia disaster?

Photo: Costa Concordia (Rita Barreto/Setur)