Top Five Musical Appearances of Dragons
Chinese lore claims that the Year of the Dragon will be an auspicious one, full of particularly favorable happenings. That's not always the case in the musical landscape, where a dragon's entrance marks trouble (except for the audience, which benefits from the ensuing action). We've gathered our favorite musical appearances of the mythological beast.
1. Wagner's Siegfried
Though he's actually a giant rather than a fire-breathing serpent, Fafner only appears in his scales in Siegfried, the third opera of Wagner's Ring cycle. Since the last time he appeared on stage in Das Rheingold, the power-hungry character has transformed himself, with the help of the magical tarnhelm. Unfortunately, the titular hero proves to be a superior fighter to Fafner, even in his reptilian form. Siegfried slays Fafner, collects his magical ring and the ability to understand woodland creatures through tasting Fafner's blood.
2. Mozart's The Magic Flute
As Mozart's The Magic Flute opens, Prince Tamino is being chased a fearsome fire-breathing serpent. Perhaps this prince isn't the bravest, since he faints and three harmonious ladies kill the dragon instead.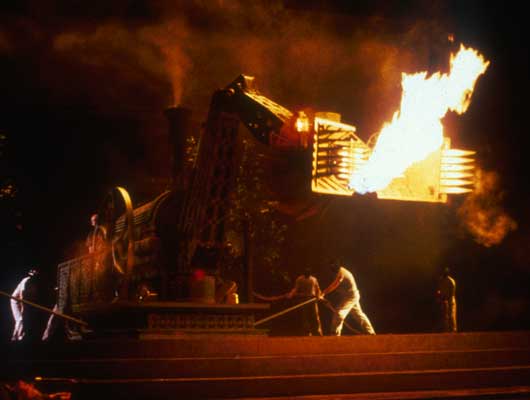 3. Tan Dun's score for Crouching Tiger Hidden Dragon
Composer Tan Dun's Oscar-winning score to Ang Lee's kung fu ballet Crouching Tiger Hidden Dragon, is a metaphorical expression of the Asian dragon, which is mentioned in the heroine's name. Tan Dun later adapted the music into a 45-minute concerto for cello. Lee later set a visual montage from the movie.
4. Goldenthal and Taymor's Grendel
Composer Elliot Goldenthal Julie Taymor and J.D. McClatchy set out to tell the monster's side of the Beowolf story in the opera Grendel, based on John Gardner's 1971 novel. The opera premiered in 2006 at the L.A. Opera with Eric Owens in the title role and Denyce Graves as the sage Dragon, from whom Grendel seeks advice on, of course, being a more fearsome monster.
5. Ching's Slaying the Dragon
Michael Ching's beast in his 2003 opera Slaying the Dragon is more fearsome than any mystical creature. It tells the story of Jerry Krieg, the Grand Dragon of the Ku Klux Klan (it's based upon the life of 1990's KKK leader Larry Trap). The work, which has been workshopped, will premiere at Philadelphia's Center City Opera Theater in June.
Above, right: Siegfried meets the Dragon in Seattle Opera's 1995 production of Siegfried. (Gary Smith)