Once Destined For a City Dump, Cello Sells for More than $6 Million
A Stradivarius cello with a remarkable pedigree sold last week for more than $6 million to an anonymous arts patron in Montreal, according to Christopher Reuning, the rare-instrument dealer in Boston who handled the sale. It belonged to the New Jersey-born cellist Bernard Greenhouse, who co-founded the Beaux Arts Trio and who died in 2011. Made in 1707, the instrument is one of only 60 Stradivarius cellos that have survived.
The "Paganini, Countess of Stanlein" gets its name from another former owner -- the violinist Nicolò Paganini -- and it has had a notably colorful history. It was discovered in 1822, being carted through the streets of Milan, Italy in a wheelbarrow, on its way to a municipal dump, according to legend. It has also been copied often, physically dissected and, in the late '90s, underwent a painstaking two-year restoration.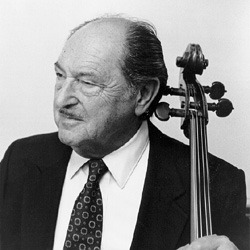 Greenhouse owned and played the Stanlein cello for 54 years. "There's a lusciousness about the sound," the cellist once said, according to the brochure for the instrument sale. "Under the ear it's a bit coarse, but this turns to velvet out in the hall, in the listener's ear. To the player, there's an ease of performance no modern instrument can equal; the changes in the color of sound cannot be equaled."
"The cello is especially notable for its phenomenal sound," said Reuning in an e-mail. "There are just 20 remaining 'forma B' Stradivari cellos. These instruments, from his golden period, mark one of Stradivari's greatest achievements and are generally thought to be the finest sounding cellos in existence. As they are quite rare, they seldom come on the market."
The New York Times reports the cello will now be loaned to Stéphane Tétreault, an 18-year-old player who studies both cello and conducting at the at the University of Montreal.
The exact sale price of the cello has not been disclosed but Reuning told the Times that it was well north of the minimum bid price of just over $6 million. The amount is certainly high for a cello but it's unclear if it is a record. Other Strads have sold for between $4 million and $5 million, including the Bass of Spain Stradivari cello of 1713, the Hausmann Stradivari cello of 1724 and the DeMunck Stradivari cello of 1730.
Correction: Mstislav Rostropovich's heirs are the owners of his "Duport" Stradivarius cello, according to Reuning. The ownership status of the cello was misstated in a previous version of this story.