'The Last of the Toscaninis'
It is one thing to be a famous, historical figure and quite another to be that person's relative. Inevitably, their own destinies are affected, in ways good and bad, by their association with their famous relations. Is it possible to look at a painting by Lucien Freud (1922-2011) without thinking of his grandfather Sigmund? If the famous person is revered as a genius -- say a Mozart or a Toscanini -- then their other family members might either bask in their glow or be consigned to dark oblivion. Or blaze a path all their own.
This post and the next one will be about relatives of famous people, a Mozart and a Toscanini. On the last day of 2011, Walfredo Toscanini died at the age of 82. He was the only son of Walter, the Maestro's only son who survived to adulthood, and was often called "The Last of the Toscaninis." This is not accurate, but he was the last male of the Toscanini line to bear that surname and who had contact with the great Arturo. His mother, Cia Fornaroli, was a star ballerina and danced in the world premiere of Turandot, led by Arturo Toscanini, at La Scala and the Italian premiere of Stravinsky's Petrouchka, conducted by the composer.
I lead a series at the Casa Italiana Zerilli-Marimò of NYU called "Adventures in Italian Opera," which includes an annual session devoted to a great opera practitioner. On December 5, there was an evening dedicated to Arturo Toscanini that featured Harvey Sachs, the conductor's biographer, and was to include Walfredo. By then, however, he was too sick with leukemia to participate, but was recalled with great fondness.
At a January 11 memorial celebration at Manhattan's Frank E. Campbell Funeral Chapel (where Arturo's service was held in 1957), Sachs spoke of Walfredo as having had two careers: architect and grandson of Arturo Toscanini. As a Toscanini, Walfredo's early life was well-documented. Sometimes the children of famous people go on to comparable fame (think Henry and Jane Fonda or George H.W. and George W. Bush), but others prefer a more private life. They are often highly accomplished, but just not in the public eye.
Progressive Politics
Walfredo was married to his wife Elaine for 53 years, the same number as Arturo was married to Carla. They had three daughters -- Liana, Maia and Cia-- and two grandsons. He inherited from his grandfather and father a strong sense of social justice and was a lifelong liberal. Sachs told the story that Walfredo arrived in America at the age of nine, having left Fascist Italy at a time when an Italian Republican was someone who believed in a free, democratic nation rather than a dictatorship. In his new school in America, a classmate asked him if he was a Republican or a Democrat and Walfredo, not knowing the difference in an American context, replied that he was a Repubblicano. 
In the 1970s, Walfredo served on the City Council of New Rochelle, NY. From 1975 to 1977 he was deputy mayor. Chris Selin, a fellow Democrat who served with him, said that Walfredo claimed, "I never considered myself a politician who postures on popular positions of the day, but as a legislator." He was in the vanguard on environmental issues and, in 1977, secured a then-rare grant to convert the city library to solar heating and expand the building to become a cultural center. He and his staff designed Five Islands Park, which was converted from being a dump. He was active in housing preservation and the creation of housing for senior citizens. He also served on the New Rochelle Council on the Arts.
Music was not the only art form loved in the Toscanini family. The visual arts were a great passion of Arturo's. Walfredo once said that his grandfather had a huge collection of paintings, perhaps two hundred, that entirely covered the walls of his Milan apartment and made it look like an art gallery. Walfredo said that when it was clear to Arturo that no one had inherited his musical talents, he was pleased that at least Walfredo loved painting and drawing. Estelle Margolis, who enrolled in the Yale School of Architecture with Walfredo in 1951, recalled that he and his classmates all had to draw as they created their ideas, just as the great Italian Renaissance artists practiced disegno, which implies design and creation through drawing. Nowadays, architecture students are expected to design on computers rather than draw by hand. Walfredo's drawings are now at the Sterling Library at Yale.
In his career as the grandson of one of the most famous conductors of all time, Walfredo was known among friends and colleagues to speak of Arturo the man as much as Arturo the legend. The conductor had a habit of sitting on and breaking innumerable pairs of eyeglasses. He compelled his family not to reveal that the April 4, 1954 concert at Carnegie Hall would be his last because he did not want ceremonies and encomia, but to simply "slide away."
Preserving a Family Legacy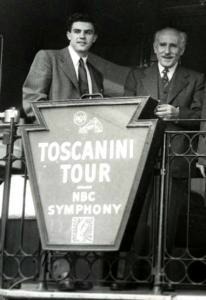 And yet the life and work of Arturo Toscanini were serious as art and as business and needed the right steward. Sachs said that one of Walfredo's great achievements was the way he both preserved and promoted his grandfather's legacy. He saw to it that films and recordings were cared for, that the papers were properly edited and archived, and that musicians, scholars and the general public would know of Arturo Toscanini in all of his complexity.
"Some musicologists," Walfredo told a colleague in Italy, "have written that my grandfather was an instinctive conductor, but lacking in culture. Nothing could be more mistaken. He had a vast knowledge of artistic creation all over the world and he passionately kept abreast of it. In the cities where he conducted he visited museums, frequented literary salons, was a dedicated reader of books, and was a friend of painters, poets and philosophers, as the thousands of letters he left can attest."
In 1987, Walfredo donated papers, correspondence, scores, films, photographs, recordings and other documentation of Arturo to the New York Public Library Performing Arts branch at Lincoln Center. This came at a time when the family could have realized a good deal of money had the material been sold or offered to other institutions, but he was insistent that it be kept together in one place where it would be properly treated. He remained a resource to the library almost to his death. In 2007, to coincide with the fiftieth anniversary of Arturo's death, a major exhibition was mounted that included a lot of the material Walfredo provided.
Walfredo also saw to it that all of the recorded performances were properly maintained. A complete set of Toscanini performances will be released by Sony later this year, an accomplishment that is as much a credit to Walfredo as it is to Arturo.
Walfredo's impact on many people was made abundantly clear at the memorial. All described him as sweet and modest, elegant and ironic, generous and even-keeled. No one failed to mention that he was also very handsome but he used his character and values rather than his looks to do what he felt had to be done. Estelle Margolis, the architect, read a quotation from him: "Family has meant the most to me, with all its ups and downs. I have learned that if I don't stick by my principles, I can't live with myself."
As family members and friends lovingly spoke of Walfredo, my mind was overtaken with some particular music. I cannot say that the version I heard was conducted by a Toscanini, but I would like to believe it so: