Remembering Rudolf Firkušny, Pianist of Refinement and Warmth
It is neither fair nor sufficient to describe a musician's artistry in a single word. And yet, when I hear recordings by pianist Rudolf Firkušny, was born on February 11, 1912, the word that comes to mind every time is "warmth." Not a gushy, sloppy, sentimental warmth, but something deep and rich. Is it just a quality of his playing, or a reflection of the man?
"My father grew up in great poverty and great privilege," said his daughter, Véronique Firkušny. Born in Moravia, the youngest of three children, Firkušny was just three years old when his father died, leaving a young widow with mouths to feed and few means to do so in a region struck by the first World War. "His mother was scrambling, and he found his way to the piano as a way of entertaining himself," his daughter added. "He always said that the piano was his greatest toy."
The piano was also the source of the privileged part of his youth. He came to the attention of Leoš Janáček when he was just five or six years old, and was musically nurtured by the old man. He later studied composition with Joseph Suk, and also came under the wing of Tomáš Masaryk, the first president of Czechoslovakia. He began performing professionally in the 1920s.
In the late 1930s, after the Nazis had annexed Czechoslovakia, Firkušny met with a German official who proffered an invitation to concertize in Germany and even perform for Hitler. Firkušny replied, "I will be happy to play in any tiny hole anywhere in Czechoslovakia, but I will not set foot in Germany while the occupation lasts." Told that the invitation, if refused, would become an order, Firkušny knew he had to leave. It took him eight months to get from Prague to Paris, through Spain and Portugal, before he arrived in New York, where he was embraced by the Czech community here.
He went back to his homeland for the Prague Spring Festival of 1946, and performed the world premiere of Martinů's Piano Concerto No. 2. But cautioned not to repatriate, he returned to New York just before the Iron Curtain went up. He didn't step foot on Czech soil again until the Velvet Revolution and the end of Communist rule.
At the 1990 Prague Spring Festival, Firkušny again played the Martinů Piano Concerto No. 2. His manager, Larry Tucker, now an official with the Milwaukee Symphony, was there. "It was like a rock star coming home," he said. "We tried to get backstage afterward, and it was just impossible."
"My father was profoundly moved," his daughter Véronique says of that homecoming, "especially by the fact that he was embraced not only by people of his own generation, but by people of the subsequent generations whom he really thought wouldn't even know who he was."
Firkušny taught at Juilliard, a few students each term. Pianist Sara Davis Buechner was one of them. "He was one of the most impressive pianists I had ever heard. Onstage he looked like a movie star, so handsome and poised. Of the many times I heard him in concert – about 50 times or so – the sound of the piano was so lovely when he played, a very beautiful, warm tone. There was great authority to his playing, and I came away from those concerts thinking I'd never hear those pieces played better in my entire lifetime. Years after I'd studied with him, I was reflecting, and thinking I never heard this man play a single wrong note in concert. But you took that for granted. It was the music that came out."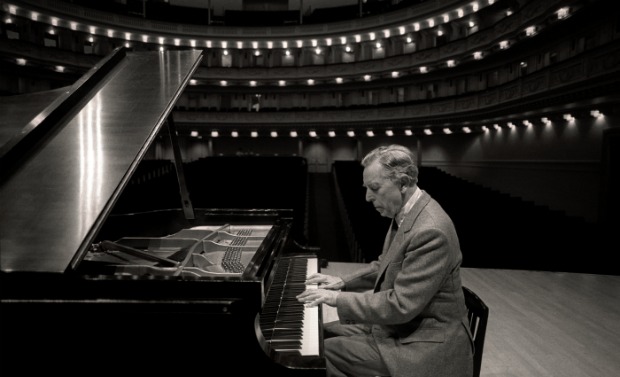 There are lots of Firkušny performances on YouTube, but there's an odd one in the bunch, and it's surely the Firkušny performance seen by the largest audience. Former manager Larry Tucker tells the story: "In the early '90s we were trying to keep him somewhat contemporary. Rudolf's press agent got a call from Nike, the shoe maker. They wanted to do a commercial with him and David Robinson, the San Antonio Spurs center, who was an amateur pianist. Rudolf, I don't think, had ever even seen a basketball game." But he did the commercial, and residuals for it were coming in even after Firkušny's death in 1994.
Does the warmth you hear in Firkušny's performances reflect the man? His daughter, Véronique, would surely agree. "I had a lifelong dream of singing in the Metropolitan Opera Children's Chorus, and he personally came to accompany my audition," she recalled. "I got in! And he came to every single performance that he was in town for, and often he went standing room."
"He didn't have a stage persona," said Tucker. "He was a real person. He wasn't considered a superstar because he didn't want to be. And he never said a bad word about any other pianist."
This spring, there will be a conference in Břno, Czech Republic, to celebrate the Firkušny centennial. His former students and colleagues will gather to remember his teaching and performing.
Rudolf Firkušny was a champion of the composers of his homeland – Dvořák, of course, and of Janáček and Martinů, whom he knew personally. He became an exile, rather than recognize two governments who occupied his country. He was a devoted family man.
It seems to me that he brought those same qualities to his music-making. He had a saying, "The composer, he is the main man." His playing is lucid, rich, beautiful and full of integrity to the composer. And always, somehow, filled with warmth. I don't think that quality in his playing is a coincidence at all. I think it's who he was.
Photo Credit: Steve J. Sherman