City Opera and Brooklyn Philharmonic Roll Out Campaigns to Sell Seasons
Having vacated their longtime homes after near-calamitous financial crises, New York City Opera and the Brooklyn Philharmonic are faced with another task this season: reaching out to some of New York's most far-flung neighborhoods.
Both organizations have been remade as touring outfits. In the case of City Opera, the company is taking a page from the playbook of Broadway and, in general manager George Steel's words, "moving a lot of single tickets quickly" with an aggressive advertising campaign. The Brooklyn Philharmonic, with a leaner budget, is relying more on grassroots partnerships in communities and niche-style marketing.
Here's how the two organizations are getting the word out about their new nomadic seasons:
New York City Opera
City Opera needed to sell tickets for its season-opening performances of Verdi's La Traviata at the Brooklyn Academy of Music in an extremely short time span, as contentious contract negotiations with its unions ended just two weeks before opening night. The company hired CreativeFeed, an online marketing agency with a resume of products like Bordeaux wines and mobile phones. It developed a campaign around the slogan, "Our Theater Has 8 Million Seats," to emphasize its new touring mission, untethered from Lincoln Center.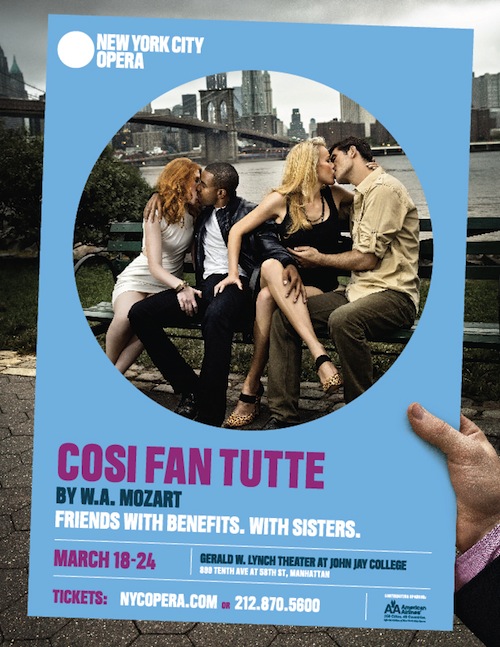 CreativeFeed engaged Tod Seelie, a Williamsburg art photographer who is known for documenting punk-rock shows and illegal loft parties, to fashion a series of stylized shots of "everyday" street scenes. These were grafted onto the opera company's "O" logo to create metaphorical windows onto the city. "We wanted to put the spotlight on New York and that this is the people's opera," said Michael Quinn, a partner at CreativeFeed, in an interview.
The campaign aims for a hip irreverence -- a sensibility seldom found in opera advertisements. In an ad for Cosi Fan Tutte, which opens on March 18 at John Jay College, two attractive couples are seen in a furtive embrace by the Dumbo waterfront above the caption "Friends With Benefits. With Sisters." An ad for Telemann's Orpheus shows Euridice being sucked down a manhole. City Opera also hired SpotCo, a Broadway advertising agency, to position the campaign on television, newspapers, the Internet and bus shelters. (Disclosure: City Opera also advertises on WQXR.org).
In an interview, Steel said the company has slashed costs in every area except programming and marketing; in December it hired a new marketing director, Bill Updegraff, who previously worked at St. Ann's Warehouse in Brooklyn. The four opening performances of La Traviata were sold out, said Steel.
Brooklyn Philharmonic
Meanwhile, the resurrected Brooklyn Philharmonic, which had left its longtime home at BAM, established a series of residencies in the neighborhoods of Brighton Beach, Bedford Stuyvesant and Downtown Brooklyn. Unlike City Opera, the orchestra has not run ads in the New York Times, but focused instead on partnerships with community groups and local artists.
"We didn't want to parachute in and say 'Hey, we're going to do a cool show. Come and see it," said Richard Dare, the orchestra's new chief executive. "Instead, we would love to come in and serve and be a part of this community." Dare said he began cultivating relationships with local business leaders, politicians and clergy as a way of building trust and local support. Because these neighborhoods were foreign territory to the orchestra he said marketing was executed as a "ground campaign" rather than "high-level air strikes."
"It's tied into not only large concerts but also workshops and educational programs that we're building into these communities," Dare added.
To spread the word about a November concert at the 1,600-seat Millennium Theater in Brighton Beach, for instance, the orchestra created Russian-language posters, and reached out to local Russian television, radio and newspapers. A nearby Russian restaurant served free dumplings at intermission. With a program that included Soviet-era cartoon music, Dare also invited a number of illustrators to come and draw during the concert. Less effective was social media. "Hot tip: If you want to get a bunch of older Russians going to your concert, Twitter doesn't work," said Dare.
For its next season, the orchestra is considering expanding to Flatbush and Bensonhurst, said artistic director Alan Pierson.
Building a Sense of Loyalty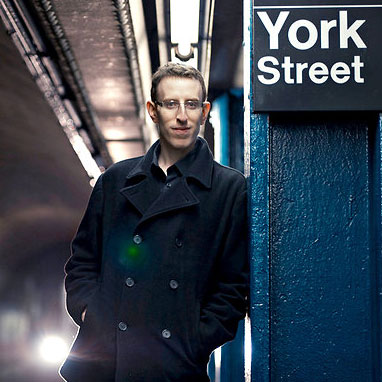 For both City Opera and the Brooklyn Philharmonic, getting the word out is one matter, encouraging people to buy season subscriptions is quite another. The opera company reports that just 12 percent of ticket-buyers for La Traviata were subscribers (many of the tickets sold for $25, subsidized by donors and foundation grants). Similarly, many of the Philharmonic's spring events are free of charge.
Chris Stager, a marketing consultant specializing in orchestras and opera companies, said that three-quarters of today's orchestra patrons still buy tickets using catalogs and direct mail pieces, even as the Internet grows in importance. But while such old-fashioned methods remain extremely effective, they're not necessarily going to work for the Brooklyn Philharmonic or City Opera. "They're going after several niche audiences and the programming looks to be a collection of individual events rather than a series that attracts loyalists," he said.
Indeed, it remains to be seen whether City Opera and the Brooklyn Philharmonic can build a sense of customer loyalty as they travel from venue to venue. But seen another way, subscription sales nationwide have been declining for many years, as more audiences push their ticket-buying decisions to the last minute.
Stager believes City Opera could offer a test case for other arts organizations that desire more flexibility. "No one's quite tried itinerant opera yet," he said. "Whatever success they have could be seismic."
Photo: Alan Pierson, Brooklyn Philharmonic artistic director