A Role of One's Own: Kiri Te Kanawa
One of the most memorable all-around opera performances I have ever seen was on March 6, 1992--twenty years ago Tuesday.
It was Le Nozze di Figaro, in Jean-Pierre Ponnelle's bittersweet production at the Met that subtly made clear that the world of these characters had gone awry. The comedic parts were brilliant, the pathos was tender and heart-wrenching. Watching this production, you could understand how Hugo von Hofmannsthal and Richard Strauss were inspired by Mozart's first opera masterpiece to create Der Rosenkavalier.
The women in the cast that night, Kiri Te Kanawa (Countess), Dawn Upshaw (Susanna) and Frederica von Stade (Cherubino), could just as easily have done the Marschallin, Sophie and Octavian while the men--Ferruccio Furlanetto as Figaro and Thomas Hampson as the Count--would be more than plausible as Baron Ochs and Faninal. James Levine was brilliant at conducting both operas. 
 
WTF (What's the Fach)?
For a long time I have waited to bring up the notion of Fach in my blog posts. In simplest terms, this is the group of roles that are particularly congenial to a singer's talents and temperament. In a more complex way, a Fach is something that is highly subjective. A conductor or casting agent may have one concept of what a singer's Fach should be while the singer herself would have another. Determining a Fach is among the central issues of a singer's career. If she is good in some roles, it is often assumed that she will excel in other roles in what might be thought of as her Fach.
In current times, the singer who has most defied predictability in her Fach is Renée Fleming. She shares certain key roles with Te Kanawa but has also ventured into territory that is far afield. Her many admirers love that she is not hidebound but, rather, is open and experimental in her pursuit of roles that please her.
Te Kanawa, who turns 68 on Tuesday (born March 6, 1944), rose to the front ranks of the international opera scene in the 1970s and is still actively performing today. The core of her Fach are Mozart and Strauss heroines (and a bit of Verdi) that singers such as Elisabeth Schwarzkopf and Lisa della Casa did before and Carol Vaness (in Mozart and Verdi) and Fleming have done since. Te Kanawa's particular mix of gorgeous voice, physical beauty, discipline and wonderful schooling as a singer meant that she seldom put a foot wrong in the opera repertory she sang. 
Reviewers and audience members fell over themselves in search of adjectives and metaphors ("rapturous vocal lines spun out like bolts of silk," would be an example, and her soprano was so often called "creamy"), but there was a minority opinion who found her performances uninspiring and, in effect, coasting on her gifts without dramatic insight. I certainly did not embrace that view. I believe she felt that less is often more, especially when that "less" is so exemplary. She did not have to overact, over-sing or over-emote. One of her secrets was the ability to draw audiences to her.
Hers was elegant singing. She understood that it was more important to protect and preserve her voice rather than try to sing loud enough to be heard over an orchestra led by a conductor who did not use his ears to blend sound from the pit and the stage. She picked roles that suited her physically, vocally and temperamentally and then, crucially, made them her own. This is such an important concept and we don't think about that much nowadays. 
How to 'Own' a Role
The great stars of not too long ago "owned" roles, which means that they were so perfectly suited to these parts and also gave all of themselves to keeping these roles fresh, original and deeper all the time. I could list many, but will give you a dozen: Maria Callas (Tosca); Franco Corelli (Manrico); Mirella Freni (Mimì); James Morris (Wotan); Birgit Nilsson (Brünnhilde, Isolde); Luciano Pavarotti (Nemorino, Tonio); Leontyne Price (Aïda);  Renata Scotto (Cio-Cio-San); Shirley Verrett (Lady Macbeth); Jon Vickers (Peter Grimes, Tristan); and Frederica von Stade (Cherubino).
Then there was another type of star, including some of my very favorites, who were glorious in so many roles that it is hard to identify one that they owned. But they worked at such a high level across a broad spectrum of repertory that they are remembered in different ways. Such artists include Hildegard Behrens, Montserrat Caballé, José Carreras, Plácido Domingo, Giulietta Simionato, Marilyn Horne, Alfredo Kraus, Christa Ludwig, Eva Marton, Leonie Rysanek, Teresa Stratas, Renata Tebaldi and Tatiana Troyanos. I think a strong argument could be made that Horne, Kraus, Stratas and Troyanos "owned" just about every role they undertook. Joan Sutherland "owned" Lucia and Norma during her career but sang stupendously almost everything she portrayed.
There are very few singers now before the public who could stake some claim to owning roles. Among them would be Stephanie Blythe, David Daniels, Furlanetto, Susan Graham, Anja Harteros (I love her Violetta and have thought her wonderful in operas as diverse as Lohengrin, Der Rosenkavalier and Simon Boccanegra), Karita Mattila, René Pape, Patricia Racette and Bryn Terfel. If I have left out your favorite singer, forgive me. It is not the goal of this article to separate singers based on one standard or another, but just to describe a phenomenon in opera that has changed in recent times.
On the issue of role ownership, few recent singers so entirely owned as many roles as Kiri Te Kanawa, which is especially notable because she intentionally limited the number of roles to those that were a good fit. In this regard the only comparable artist was Alfredo Kraus, for me the gold standard in so many things tenor, who probably had no more than 20 roles in his repertory. Domingo just performed, wonderfully, his 136th role as Neptune in The Enchanted Island.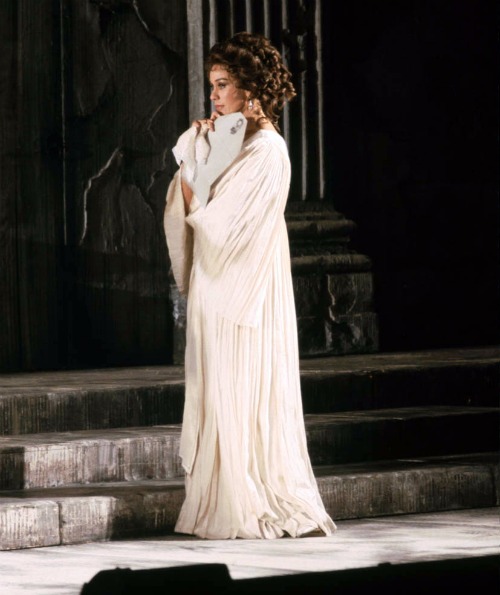 To me, Te Kanawa owned at least six iconic roles, and I think a strong case could be made for more. Four of these were the Countess Almaviva (right), Fiordiligi (Così fan tutte), the Marschallin in Der Rosenkavalier (Opening Scene with Octavian of Tatiana Troyanos) and Arabella. She also brought all kinds of vocal luster, innate glamour and wistful humor to the role of the Countess in Strauss's Capriccio that made it a memorable performance. More recently, Fleming has mined something deep in the character--and brings an immediacy to it--that other artists have missed. 
Te Kanawa was also a superb Amelia in Simon Boccanegra, though I also loved Freni's. There have been many excellent Desdemonas in Verdi's Otello but the only one I would rank with Te Kanawa was Freni. 
A role that I did not list among those owned by Te Kanawa is Donna Elvira from Don Giovanni. This particular portrayal is in a class by itself.  The first time I saw her perform live was her first Met Elvira on January 11, 1975. It remains one of the most extraordinary single performances I have ever attended. The voice was ravishing, the singing perfect, the flashing dark eyes reaching all the way to the back of the Family Circle in a kinetic performance. 
I have never seen a better Elvira than Te Kanawa's (only Vaness and Barbara Frittoli come anywhere near). Don Giovanni may be unique among operas in that everything changes if even one cast member is different. In the best performances of this most difficult and gratifying work, there is musical and dramatic combustion among Giovanni, Leporello, Anna, Elvira, the Commendatore and the orchestra that is overwhelming. Te Kanawa always excelled but I saw her several times in casts that simply did not ignite. We can say that she owned Elvira, but that was only evident when her colleagues were at or near her level. Joseph Losey's cinema version is one of the best opera films I know and, with a cast conducted by Lorin Maazel that also included Ruggero Raimondi (Giovanni), José van Dam (Leporello), Edda Moser (Anna) and Teresa Berganza (Zerlina), it was pretty swell. But it was a movie, filmed in gorgeous Italian settings, and nothing compares to live opera!
Compare her performances of "Mi tradi" in the film and in a live opera setting (Covent Garden in 1987 -- not perfect sound but great singing). 
For exquisite singing and acting by Te Kanawa admire her in the closing scene of Act I in the Met's 1982 Der Rosenkavalier. This is what it means for the Marschallin to have "one eye wet and one eye dry."