'Sound of Noise' Film Portrays Musical Crime Spree
Anyone who has ever gotten a chuckle from the pretensions of avant-garde music or the formalized rituals of orchestral concerts will surely recognize the humor in an absurdist film comedy from Sweden called "Sound of Noise."
The film, which premiered at the 2010 Cannes Film Festival and opened in New York and Los Angeles on Friday, tells the story of a group of "musical terrorists" who embark on a scheme to break into hospitals, banks, and other public places to play compositions using found objects as their instruments. They meet their match in Amadeus Warnebring (Bengt Nilsson) a cop and the sole tone-deaf member of an overachieving musical family, who is determined to bring the anarchists down.
Built around four performance numbers, "Sound of Noise" brings together a musical comedy with a crime procedural, a touch of romance and an extremely dry sense of humor. Directors Ola Simonsson and Johannes Stjärne Nilsson have been active in promoting the film since its release and appeared together at a screening on Sunday night at the Village Cinema. As they explained, their process was far more complicated than one could imagine. 
Random Acts of Percussion
The story is set in motion by a traffic accident. A crashed van is ticking, and authorities on the scene presume it contains a bomb. Warnebring, the police officer, is summoned to the accident and fearlessly approaches the vehicle because he recognizes the source of the ticking as a metronome -- an accursed sound from his unhappy childhood.
The metronome and the 1986 Dodge van belong to a couple of eccentric, comically anti-bourgeois musicians, Sanna and Magnus. They are the stereotypes you might find at a tiny downtown performance art show. Sanna resurrects a long-forgotten musical composition by Magnus called "Music for One City and Six Drummers" and persuades him that now is the time to think big. They hire four other drummers and begin to put together their John Cage-like magnum opus.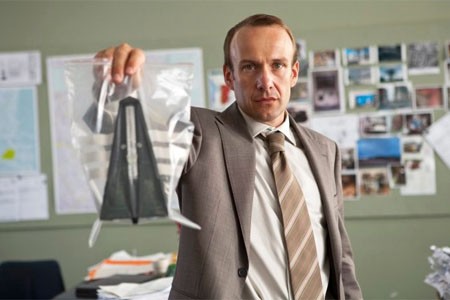 Each of the movements requires the musical-terrorists to take over some familiar aspect of urban life – an operating room, a bank, a concert hall and a power plant – and make music with all that is available. Everyday objects like a paper shredder, jackhammer and heart monitoring machine are transformed, setting up YouTube-ready musical interludes within the film.
The most ambitious sequence takes place at the fountain in front of an opera house where inside an orchestra peforms, not coincidentally, Haydn's "Surprise" Symphony (the movie contains a series of in-jokes about Haydn and other composers). The six anarchists sound out rhythms using bulldozers and jackhammers as their instruments and eventually set off a stampede in the hall's lobby.
"Sound of Noise" gets its name from a 1913 futurist manifesto and aims to raise questions about the assumed definitions of musicianship and musical experience. But the filmmakers refused to commit to any deeper interpretation. "As I see it, the film works both as a 90-minute joyride but also something that you can stay awake at night thinking about," said Simonsson, who has known Nilsson since childhood.
Nilsson elaborated: "A big inspiration for the film was John Cage and chance music. The best music for Cage was to open his windows and hear the sound of traffic – the kind of noise that most of us go out of our way to shut out." The filmmakers said that the entire project took about five years to create, starting with a year of simply gathering and recording individual sounds, drawn from junkyards, hospitals and other settings. A digital library of about 23,000 individual sound files was assembled.
"We found fantastic sounds and had to rewrite music based on the sounds that we got," said Nilsson. From there, the plot evolved. The movie's climactic moment comes when an entire city (an unnamed Swedish town) is turned into a vast musical instrument using its electrical grid. "That was the only piece where we had to use our imagination, as no one knows how that would sound," said Simonsson (all of the drummers' music was composed by Magnus Börjeson, who like the other performers, is a musician in real life).
The filmmakers initially had ideas for about 15 musical scenes, but had to scale back the number of interludes in the film so as not to diminish the impact of what they used. "Neither of us went to film school," said Nilsson. "We treasure the idea of being playful, trusting our instincts and focus on things being fun."
Below: A band of anarchist drummers transform an operating room, and its bewildered patient, into a percussive orchestra: