L'Arpeggiata Takes Baroque Traditions off the Page
There is no shortage of concert halls and churches offering performances of the passion story this time of year, whether it's Bach's St. John Passion or contemporary versions by Osvaldo Golijov and David Lang.
L'Arpeggiata's "Via Crucis" is another – but with a twist.
This 10-member, French period-instrument group will team up with the Corsican vocal ensemble Barbara Furtuna at Zankel Hall on Thursday night for an unusual program that features works by the 17th-century Italian composers like Monteverdi, Biber and Merula as well as traditional music from Italy and Corsica. As such, it keeps feet in both the classical and the folk-music camps, blending the sacred and secular, written-down and improvised. WQXR will broadcast the concert starting at 8 pm.
Over the past decade, L'Arpeggiata has frequently presented genre-spanning programs that seek to demonstrate how Baroque art music drew liberally from the creative freedoms of the folk and popular sphere. The group is not afraid to stretch the performance traditions of so-called early music, incorporating improvisatory detours, sultry Latin riffs and earthy vocals. Pluhar has said that the larger point is not to pander through "crossover" commercialism but to create a "living Baroque."
In a video interview she discusses how the ensemble previously recorded an album called "Los Impossibles," which traced Mexican folk styles back to manuscripts in 17th-century Italy and Spain. "We don't casually mix different styles but I always try to find the connection with the music that we actually perform with the 17th century." (New York audiences can sample L'Arpeggiata's programming in three other concerts this week as part of their Carnegie Hall "Perspectives" series.)
"Via Crucis," or "way of the cross," which is based on the group's 2010 album of the same title, contains movements from Biber's Rosary Sonata leading to ululating chants, florid Baroque laments by Merula giving way to foot-stamping dances. Seventeenth-century Italy is the starting point but the sounds of dulcimer, harp and archlute bring to mind modern folk traditions.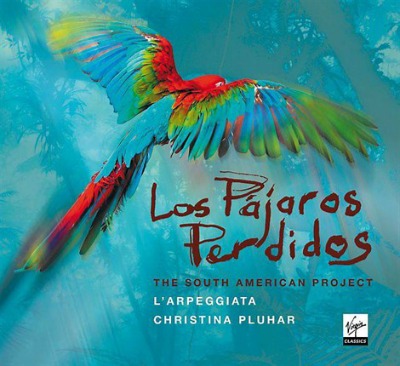 L'Arpeggiata's latest album is "Los Pájaros Perdidos" (The Lost Birds), which turns its focus to Venezuela, Argentina and Paraguay. Here the group attempts to show how South American plucked instruments (the cuatro, bandolin and charango) are direct descendants of those introduced from Spain and Portugal, particularly the lute, Baroque guitar and Renaissance harp. Playing techniques have been cultivated locally and adapted to indigenous songs, just as dances and songs exhibit rhythmic and harmonic structures that would be recognizable to anyone familiar with Baroque forms.
If it sounds a bit didactic in concept, like many of L'Arpeggiata's projects, the outcome is quite the opposite – sensual, colorful and a bit raucous. For an ensemble that sometimes makes room for a dancer or actor on stage, it's safe to say the group keeps it as loose as possible.
Watch L'Arpeggiata and Barbara Fortuna play Maria: