Musicians Protest Use of Canned Music at Paul Taylor Dance Company
Musicians staged a rally in front of Lincoln Center Tuesday night to protest the Paul Taylor Dance Company's use of canned music to accompany its performances.
About 35 musicians from Local 802 of the American Federation of Musicians handed out fliers and in one case, played the violin, as audiences arrived for the dance company's first show in a three-week run at the David H. Koch Theater.
In an interview Tuesday afternoon, Tino Gagliardi, the president of Local 802, said the union had approached the Paul Taylor Dance Company late last year to request that it begin using live musical accompaniment, arguing that recorded music has never previously had a significant place on Lincoln Center's stages. The company says it doesn't have the budget.
"For me, it's a specious argument because when you're dealing with the payroll budget of an orchestra of 30 or 40 musicians, that would cost them maybe a buck or two from every ticket they sell," said Gagliardi.
In a statement, the dance company said it remains open to discussion and that while it strives to have live music, it doesn't currently have the resources to support it. "While it has always been our goal to have live music at Lincoln Center, unfortunately we were unable to find the resources in the current economy," said executive director John Tomlinson in the statement.
Some audience members arriving Tuesday night said that they were surprised to learn about the use of recordings and would prefer live music to accompany dancer's pirouettes. But a few said they didn't feel they should absorb the cost of an orchestra in higher ticket prices.
Margolit, who would give only her first name, said she wouldn't have a problem with recorded music for certain genres. "If it's electronic music it just has to be canned," she said. When asked if she would avoid a dance performance using taped classical music she said, "No, I'd probably go, but it's a little cheesy."
Richard Sittinger, who was arriving for the Metropolitan Opera, argued that recordings rob live performance of its unpredictability. "There's just a part of it that's not happening in front of you," he said. "The reason for going to the theater is that it's an experience that's happening then. Otherwise, I'll go to a movie."
Tuesday marked the Paul Taylor Dance Company's first show at the David H. Koch Theater after it vacated City Center in midtown last year. The union said the company, which was founded in 1954, began cutting back on live music in the 1990s and eventually dissolved their orchestra. Today they dance to tape except for an occasional gala performance or premiere.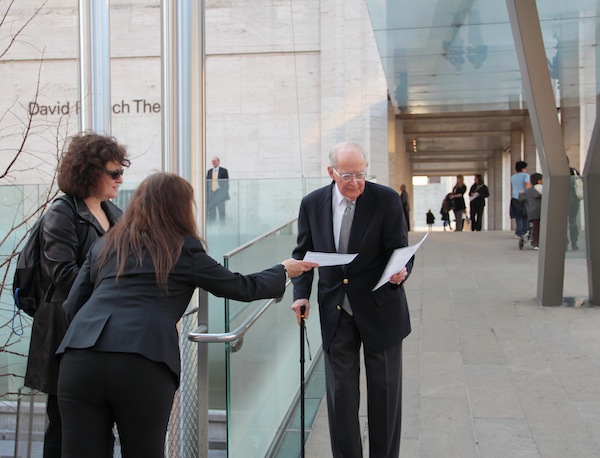 "We feel this is a new ballgame," said Sara Cutler, a harpist in New York City Ballet Orchestra and the union negotiating committee chair. "To bring a major dance company to Lincoln Center and allow them to produce a season with no live music, which is arguably an integral part of seeing dance, we find that unacceptable."
The union wrote a letter to Lincoln Center's management and board calling on the arts complex to require live music for major performances in order to "consistently offer the highest quality performance possible." Spokeswoman Eileen McMahon said Lincoln Center has no authority to decide the content of any renter's programs.
Tuesday night's performance featured dances set to music by Handel, Bach, Ponchielli and Piazzolla.
Weigh in: Does it matter if a dance company uses live or recorded music? Please leave your comments below.
Updated 3/13, 8:30 pm.