Lincoln Center's First In-Concert Wedding Surprises Choral Music Audience
Intermission during a choral music concert at Avery Fisher Hall on Sunday featured more than the usual chitchat, pricey drinks and hurried trips to the restroom.
Patrons in the hall's grand promenade witnessed what is billed as the first in-concert wedding at Lincoln Center. Billy Hurbaugh, a singer in the Distinguished Concerts Singers International (DCINY) chorus, and Randall Day, a priest, exchanged vows in a brief ceremony attended by a small group of friends and family members but seen by dozens of surprised onlookers.
Hurbaugh, a tenor, had just sung in a DCINY performance of Mozart's Requiem on the first half of the program and dashed to the lobby where a brass quintet from the orchestra played the Rondeau by Mouret. Among the guests were the chairman and CEO of 20th Century Fox and an entertainment lawyer who represents "Mad Men," and other shows, said the couple of 20 years.
Reached Monday morning at Kennedy Airport where the couple was boarding a flight back to their home near Santa Barbara, CA, Hurbaugh said he was "on cloud nine" from the weekend. He described the glass-and-marble lobby backdrop as a kind of "cathedral of music."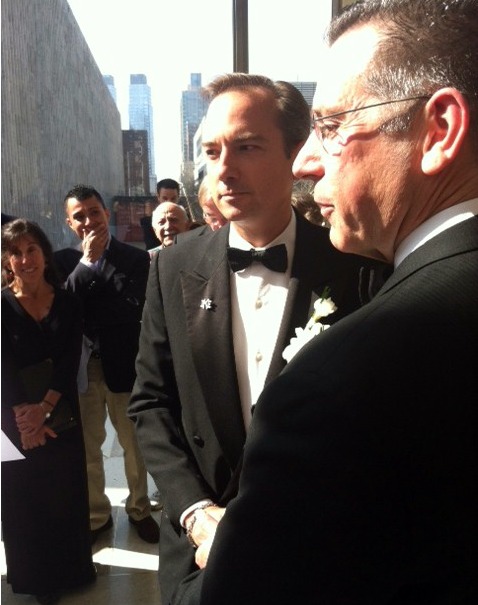 "The judge was there in his robe and everybody fell silent," he said, noting that the judge had previously presided over marriages in unusual locales such as a Broadway theater. "Our view was of the Chagall painting across the plaza at the Metropolitan Opera." After the ceremony the couple returned to their seats and watched the second half of the concert, which featured a new Requiem by composer René Clausen.
The idea for the concert-hall wedding began with the passage last July of New York's same-sex marriage law. It came to pass that since Hurbaugh, a native New Yorker, would be making his Lincoln Center debut as a chorister, they should make a bigger splash out of it. As an added connection: Hurbaugh's parents, both deceased, were at the groundbreaking for Lincoln Center in 1959 and had established a trust which went towards funding the ceremony on Sunday.
Day admitted that as a priest, he had presided over numerous weddings but was initially uncomfortable with being in the spotlight himself. Friends had also questioned his "getting married in Lent in a ceremony bookended by two Requiems." But, he decided, the Latin Mass for the dead ends with In paradisum and its theme of resurrection and new life. Besides, he added, Mozart wrote the piece for a count who had anonymously commissioned a Requiem to commemorate the Feb. 14 anniversary of his wife's death.
"Billy's been performing in choral groups and performance is a big part of his life," Day said. "Music is so central to our life."