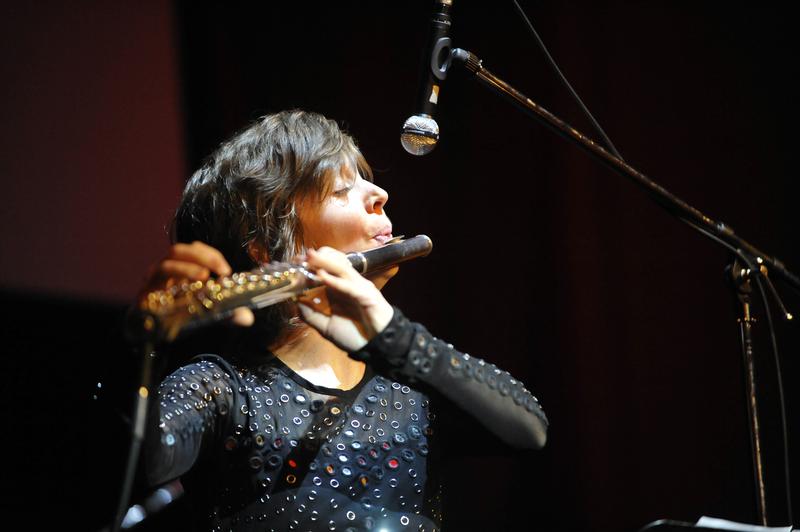 For Maverick Mixtapes, we asked musicians from different musical backgrounds to curate an hour of music that they deemed best fit the ideal of an "American Maverick." Today's featured musician is flutist, concert curator and executive director of the International Contemporary Ensemble, Claire Chase.
"These 19 short tracks represent, for me, some of the boldest and most beautiful moments in the restless and irrepressibly adventurous spirit of 20th century classical music. Each piece has been transformative for me at different junctures in my study of music, and in particular, each of the performances played here has had a profound influence on the way that I hear and make music.
"Included are several performances by the composers themselves, many of them live, as well as several works by composers dedicated to the maverick spirit other composers, such as Feldman for Wolff, Tenney for Nancarrow, Lucier for Tenney. Also included are two recordings of my own, of marvelous works by Crumb and Carter, two artists who continue to have a deep and generous impact on the music of our time.
"I cover some of the sizzling, pivotal moments in the 70s free jazz and experimental music explosion, from Laurie Anderson to George Lewis to Anthony Braxton to John Zorn, and I end with an excerpt of an ebullient, forward-looking improvisation in 1999 by the legendary Pauline Oliveros. Happy listening!" -Claire Chase
Playlist
Edgard Varese: Un Grand Sommeil Noir
Charles Ives: "Arguments" (mvt 2) from String Quartet No. 2
Henry Cowell: Aeolian Harp and Sinister Resonance
Ruth Crawford-Seeger: Andante for Strings
Conlon Nancarrow: Prelude for player-piano (1935, arr. 2012 by Trimpin)
John Cage: A Flower
Earle Brown: December 1952
Pauline Oliveros: Sound Patterns for mixed chorus
Morton Feldman: Christian Wolff in Cambridge
George Crumb: opening vocalise from Vox Balanae
Christian Wolff: Exercise No. 1
James Tenney: Spectral Canon for Conlon Nancarrow
Laurie Anderson: New York Social Life
George Lewis: Cycle
Anthony Braxton: Impressions
Elliott Carter: Esprit Rude/Esprit Doux
John Zorn: Lonely Woman
Alvin Lucier: Tribute to James Tenney
Pauline Oliveros: Pauline's solo (excerpt)