Listen: Alarm Will Sound Perform John Cage and Edgard Varèse
On Sunday, March 18 at 3 pm, Alarm Will Sound under the direction of Alan Pierson performed music by John Cage, Edgard Varèse, Conlon Nancarrow, and Elliott Sharp often in arrangements from ensemble members themselves and also offered the world premiere of Charlie Wilmoth's Still Life with Benzedrine and CNN. The show, recorded live at Abrons Arts Center, was part of Carnegie Hall's Neighborhood Concerts series and a complement to the overarching and ongoing American Mavericks Festival with San Francisco Symphony. 
In order to provide some context for the highly theatrical first half -- which focused on works by Cage and selections from his vast and enigmatic series of Song Books -- we interviewed Cage scholar and the afternoon's music director, Rob Haskins, and Alarm Will Sound's staging director and designer, Nigel Maister. The sound design for the production was by Jason Price. 
Program
John Cage: 0'00"
John Cage: Selections from Song Books
John Cage: Selections from Indeterminacy
John Cage: Variations IV
John Cage: Winter Music
John Cage: Aria
John Cage: Selections from Concert for Piano and Orchestra
John Cage: Selections from Atlas eclipticalis
Charlie Wilmoth: Still Life with Benzedrine and CNN (world premiere)
Conlon Nancarrow: Player Piano Study No. 2 (arr. Gavin Chuck)
Edgard Varèse: Poème électronique (arr. Evan Hause)
Elliott Sharp: Coriolis Effect 
Interview: John Cage's Song Books
AA: John Cage seems to embody the spirit of maverick music-making in America, but with the passage of time, certain breakthroughs tend to overshadow others. Can you talk about his innovations in vocal and theatrical music, as made evident in the Song Books?
Rob Haskins (RH): The key innovation of Song Books resides in its incredible diversity. Within it one finds songs composed entirely according to Cage's own taste, such as the recomposition of "The Wonderful Widow of Eighteen Springs" in Solo 49 ("The Year Begins to be Ripe"); the provocative (and often hilarious) so-called cheap imitations whereby he used chance operations to change only the notes of a pre-existing composition by another composer, so that something of the original's identity remains (for instance, Solo 47, modeled on the Queen of the Night's second aria from The Magic Flute); theater pieces that recall his own Theatre Piece (1960) as well as the more performance-art-inspired works of the Fluxus group (Solo 46, which instructs the performer to prepare something to eat); as well as compositions that employ every other kind of method Cage had used in his work from 1956 to that time.
One also finds a tremendous range of style in the music, made still more complex because Song Books can be combined with other indeterminate Cage works. The obligatory, recurring refrain of Solo 35 (which sets the Thoreau text, "The best form of government is no government at all") contains a number of tonal-sounding melodies, all in a foursquare meter, that must count as some of the most banal music Cage ever wrote. Against such music may be counterpointed the crystalline complexity of Winter Music (as well as pieces like Solo 48, which resemble both it and Atlas Eclipticalis); such music represents a watershed in compositional complexity that would be exceeded only by the later Freeman Etudes and other similar pieces. For the rest of his life, Cage was finally liberated to explore a wider universe of sound than he'd heretofore allowed himself.
Finally, because Song Books offers its performers the possibility of choosing and superimposing its individual numbers in any form or fashion, Cage realized, perhaps for the first time in his career, the genuine possibility of a theatrical work that truly embodied a multiplicity of experience made by him alone: he called it "a circus situation"—a simultaneous presentation of unrelated music, image, and movement so dense that no one thread of continuity could overwhelm any other, no one performer's individual actions could disrupt the aesthetic experience of the whole, and no one element forced the audience to experience a particular emotion but rather, allowed many different emotions to arise.
There's a common misconception that some of Cage's Song Books grant performers license to do whatever they want. Speak about the particular brand of discipline that singing Cage requires.
RH: Cage's art invites performers to explore and embody modes of experience that are totally unfamiliar to them. While this indeed has resulted in some famous instances of performers doing whatever they want, the best Cage performers of today have come to understand that they need to imagine and cultivate the widest range of possibilities for their actions and, once this has been done, draw upon these possibilities as spontaneously as possible. This discipline, for performers of Cage, goes well beyond the old adage, "Amateurs practice until they get it right; professionals practice until they can't get it wrong"; rather, it obligates performers to create countless different actions and countless possible scenarios in which their actions must be perfected.
Nigel Maister (NM): I think the work opens up to a kind of freedom that's deceptive. What I mean by this is that, yes, on one level it appears as if anything goes, but in fact what's more interesting to the serious performer is to really engage with the material and try to realize the instructions Cage gives. These instructions can be quite simple, but they can also be extremely complex—maddeningly complex, in fact. And the fact that many of the scores are notated in non-traditional ways, adds to both the challenge and the complexity for performers/interpreters. The discipline, it seems to me, is that performing Song Books implies submission to a process—a process of marshaling all the imaginative possibilities that the individual pieces provide the performer and reconciling those with a depth of technique and a serious intent to realize the Cagean instructions as fully and whole-heartedly as possible.
Conjure the visual environment in which the Song Books were performed for those listening at home, and explain what choices went into your staging and lighting.
NM: I wanted to both capture some of the feel I got from looking at the early pictures of Cage performing, especially him performing pieces that involved electronics, and simultaneously to highlight the eclecticism and inventiveness of the material. So there is a decidedly lo-fi, DIY feeling to the stage design: performers sit on the floor or at several "stations" scattered across the stage, and they sit at old desks and tables, and on an eclectic set of chairs—most of this furniture is domestic and much of it is vintage. Desk lamps of varying vintages light each "station." It looks a little like an eclectic yard sale! The apparent domesticity of the individual stations is contrasted with the prevalence of microphones and electrical cords that litter the space. Some additional notes: objects to be used in solos are spread around the stage; a number on a stand indicates in what solo they will be used. There are two sources of projections: an old overhead projector on which the instructions for some of the solos are projected or created in real-time (one example: a solo—#89—requires the choosing of a seat in the audience . . . the process by which this seat is chosen is illustrated on the overhead projector) and a laptop connected to a video projector on which instructions for other solos are typed or which translate some of the scores into a contemporary, internet idiom.
Finally, in a (somewhat) tongue-in-cheek homage to Cage's toy piano works, and in celebration of the spirit of play that infuses the work, a lot of childhood references are evident in the staging: the onstage percussionist plays toy instruments; a child's desk and chair are used, and in this production we used a child as a performer in one of the key roles. For the listener who is dependent on a purely aural experience of the event, it should be noted that many of the instruments play from outside of the stage area or even of the auditorium (as per the directions in Variations IV) and there are numerous events (the conductor of Atlas Eclipticalis enters the stage on a bicycle [Solo 55]) that are not audible. Additionally, you will hear things like spoken text (Cage's wonderful Indeterminacy stories), an amplified typewriter (Solo 15), the sound of a forest fire (Solo 8), heavily amplified and distorted breathing (Solo 22)—these and many other elements are electronically manipulated. The sound engineer (Jason Price, Alarm Will Sound's trumpet player) is an intrinsic collaborator on almost everything that happens during the performance.
What in the scores for/spirit of the Song Books find voice in each performance and what allow for the greatest variability and range of interpretation?
RH: The solos—all of Cage's music, really—prompt each and every performer to be completely within him- or herself even as he/she performs with a group and experiences the other performers' immersion in themselves. The greatest variability and range of interpretation occurs, at least for me, when performers feel a kind of empathy with each other and with their environment that seems to arise serendipitously from their own openness to the unexpected, and that kind of openness can only occur when the performers are disciplined in the manner I described earlier.
The manuscript scores for the Song Books can often stand alone as works of impactful visual art. Was his graphical notation just a means to an end, or did it have purely visual merits for Cage as well?
RH: I think Cage used unusual notation to get out of himself, as it were—to suggest new kinds of musical experience and activity through the changing notation. Having done this, though, he also realized that the appearance of the notation always influenced the way in which one views and acts in the world; that, I think, is why Cage's manuscripts have so frequently and so successfully been shown in galleries. Once Cage turned considerable attention to making visual art in 1978, he became even more sensitive to the relationship between visual art and perception generally: his art is neither representational nor abstract, but rather an index that points toward the endless juxtapositions and relationships of phenomena in the world.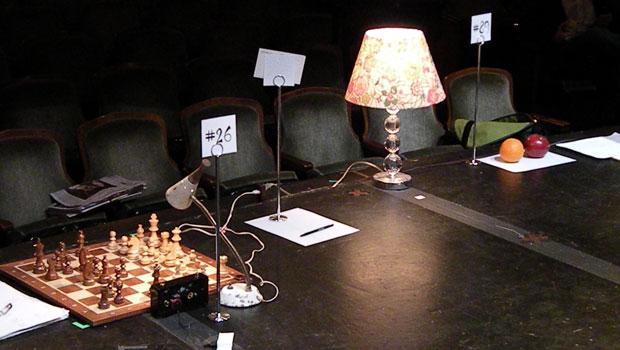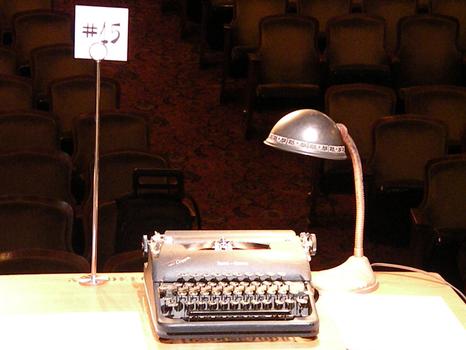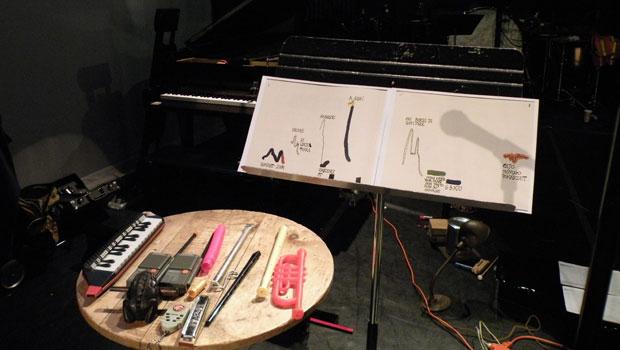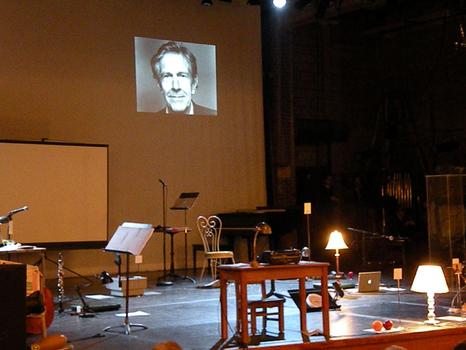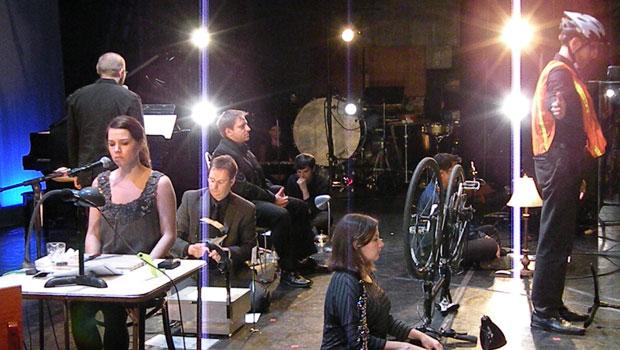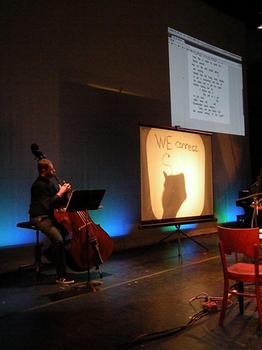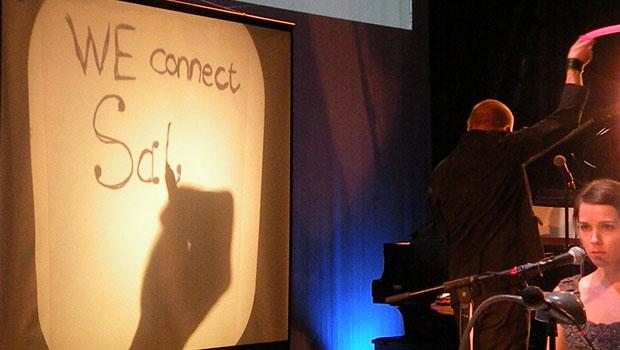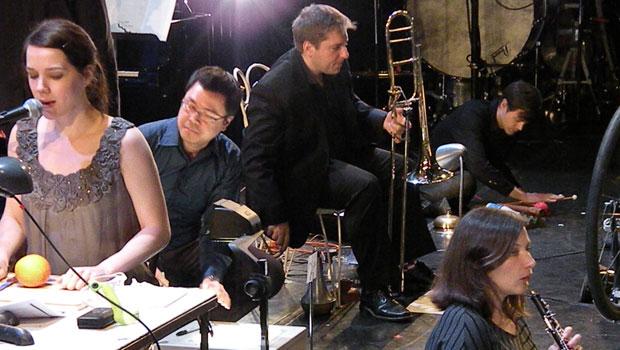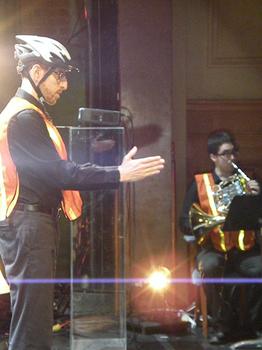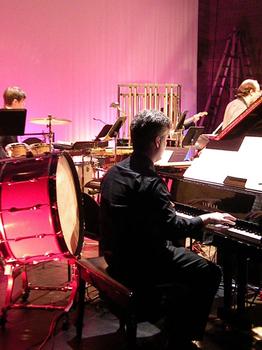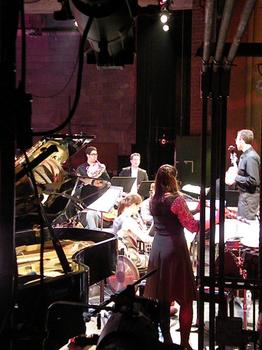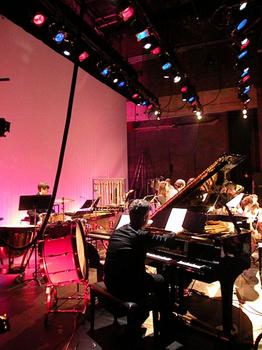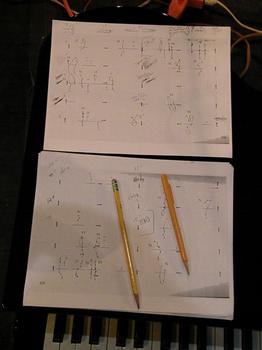 of